Quick Look: Corsair Force MP600 Gen4 PCIe x4 NVMe SSD on AMD X570
By
CORSAIR Force MP600 Gen4 PCIe x4 NVMe M.2 SSD
The wait is finally over, PCIe Generation 4.0 has arrived thanks to AMD's X570 motherboard chipset. Intel has been dominating CPU and next generation peripherals advancement for so many years that frankly, was completely unexpected for AMD to leapfrog its competitor.
PCIe Gen 4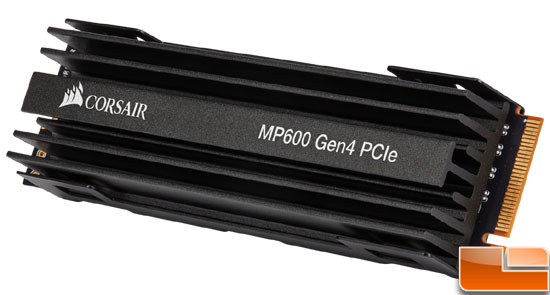 What is PCIe Gen 4 and why should we care? PCIe is the communication medium used for things like discrete graphics, audio, and network cards. There are other uses as well, such as high speed storage. PCIe uses "lanes" to communicate with the CPU and motherboard PCH/chipset. In each successive generation, the PCIe "lanes" roughly double in speed. In PCIe Gen 3, each lane is capable of 1GB per second bi-directional transfer. There is some communication protocol overhead, so in reality, you would never reach the maximum of 1GB/s. Intel made the M.2 2280 form factor mainstream with the Intel Z97 chipset, which is used almost exclusively for high speed storage. The Intel Z97 chipset was limited in the number of lanes given to M.2, which in all but a couple of motherboards was stuck at a maximum of 2x PCIe Gen 3 lanes. Intel Z170 implementations of M.2 saw mostly a single slot, with 4x PCIe Gen 3 lanes, and with the Z270 chipset we saw motherboard makers with sometimes two, even three, M.2 slots.
M.2 drives have continued to evolve in speed over the last 4 years. With the Samsung SM951 drive we got our first taste of the incredible speed that was possible from the tiny "gum stick" form factor. In that review we saw "blazing" speeds of up to 2259MB/s read and 1547MB/s at a total capacity of 512GB.
As we all know technology marches on, and today we are looking at a state of the art consumer SSD from Corsair. With PCIe Gen 4 each lane is capable of 2GB/s, which allows a 4x PCIe M.2 slot capable of up to 8GB/s!! Corsair has taken 1TB of their latest 3D TLC NAND and coupled it with a PCIe Gen 4 controller, then dialed it up a notch, giving us the Corsair Force Series MP600 1TB.
How fast does it go? How does an official specification of 4950MB/s read and 4250MB/s write strike you? That is nearly 5 Gigabytes per second of read and 4.3 Gigabytes write. If you need to load up a large amount of data quickly, this beast has you covered! Take a look at the specifications below and then continue on to see how it looks and how it performed on our test bench.
Corsair Force Series MP600 1TB Specifications
Form Factor: M.2 2280
Capacity: 1TB
Max Sequential Read: Up to 4950MB/s
Max Sequential Write: Up to 4250MB/s
Max Random Write QD32: Up to 600k IOPS
Max Random Read QD32: Up to 680k IOPS
Power Consumption: 6.5W Average
Power Consumption Standby: 1.1W
Dimensions: 80mm x 23mm x 15mm
NAND Type: 3D TLC
Endurance: 1,800 TBW
MTBF: 1,700,000 Hours
Encryption: AES 256-bit
Warranty: 5 Years
Price: $249.99
Let's unbox this drive on the next page.