Quick Look: Corsair Force MP600 Gen4 PCIe x4 NVMe SSD on AMD X570
By
CORSAIR Force MP600 Unboxing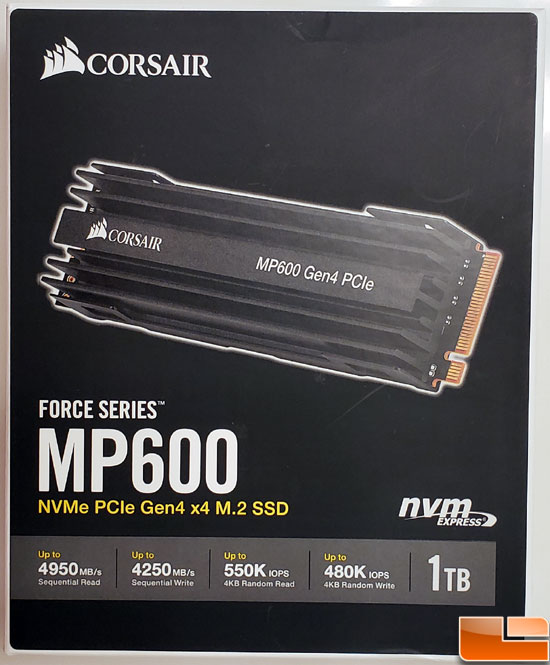 The box for the Corsair Force MP600 1TB clearly shows the product name, capacity, and all of the information about the speeds the drive is capable of.
Inside, we see that Corsair has provided plenty of protection for the Force MP600. It would take a very heavy object falling on the package to impact the drive!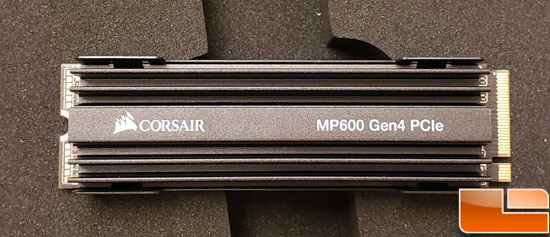 For most anyone used to seeing M.2 drives over the last few years, the first thing that you will notice different with the Corsair Force MP600 1TB is the heatsink. One of the downsides to all of that juicy speed is that the controllers tend to run on the warm side. Until now it was possible for most controllers to operate without a heatsink, despite the heat generated on large sequential transfers. Drive manufacturers implemented throttling techniques to keep the controller temperatures within spec, but for some enthusiasts, that is just not good enough. There are a number of M.2 heatsink solutions on the market today, and most motherboard manufacturers have developed passive heatspreaders to go along with their high end motherboards. Some work, so do not, so it is very good to see Corsair stepping up to offer an enthusiast level drive with an aluminum heatsink to match. This allows the controller and NAND to operate at peak speeds more often during a heavy load, and look great while doing so. The PCB of the Corsair Force MP600 matches many of today's high end motherboards that come with dark colored PCB's. The matte black finish of the aluminum heatsink adds a great subtle look once installed.

The heatsink appears to be easily removable if the need arises by simply sliding the tabs off, I am not sure that I would recommend it, however.

The backside of the drive includes the product details sticker. Enough with the looks, we want to see how fast this thing goes! But first, we need to see what our test system is.