Samsung SM951 512GB M.2 PCIe SSD Review
By
Samsung SM951 PCIe 3.0 x 4 M.2 PCIe SSD Testing
The Samsung SM951 M.2 PCIe SSD has been the talk of the enthusiast community for months and it has been without a doubt one killer looking drive. The only problem is that Samsung is using these drives for OEM products and is not really putting any effort into getting these drives into the consumer market as a stand-alone storage drive. We've been e-mailing and bugging our contacts at Samsung for a sample of this drive since 2014 and we finally was shipped a brand new drive directly from Samsung to try out!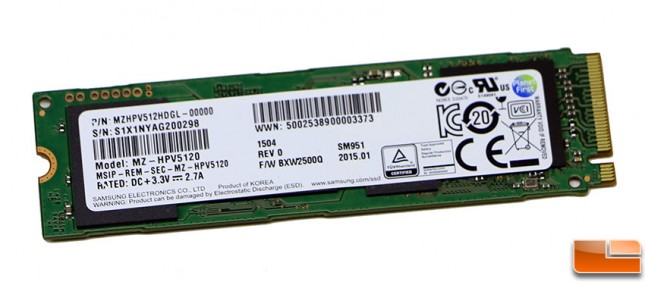 The drive we received is the Samsung SM951 512GB M.2 PCIe SSD AHCI model that is listed as model MZ-HPV5120 with the full part number of MZHPV512HDGL-00000. This is not one of the newer NVMe-capable devices, but we are grateful that Samsung blessed us with this sample to torture test and try out on our test systems! The Samsung SM951 series use the PCI Express 3.0 x 4 and feature Samsung UBX 3-core controllers that are paried with 16nm MLC NAND Flash memory. This combination on our 512GB sample is good for sequential read speeds of up to 2150 MB/s and sequential write speeds of up to 1500 MB/s! The peak random 4K Read/Write performance is placed at a respectable 90k/70k according to information that is available online. Not bad for a drive that runs $499.95 shipped and if that is too rich for your blood there is a 256GB version available as well with slightly lower sequential write speeds!
Samsung SM951 M.2 PCIe SSD Drives
Part Number
Capacity and Features
Sequential (R/W)
Max 4K IOPS (R/W)
Price
MZ-HPV2560
M.2 Form Factor 256GB
2150/1200 MB/s
90k/70k IOPS
$264.95
MZ-HPV5120
M.2 Form Factor 512GB
2150/1500 MB/s
90k/70K IOPS
$499.95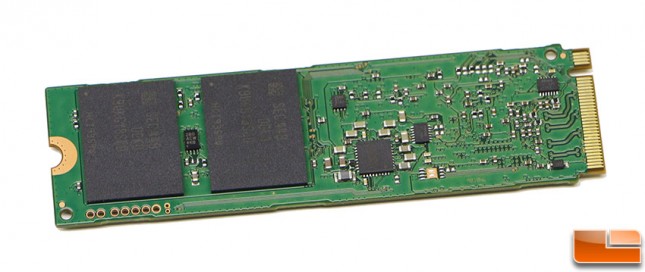 The back of the drive has two NAND Flash packages, so to actually see the controller you need to remove the product label and void your warranty.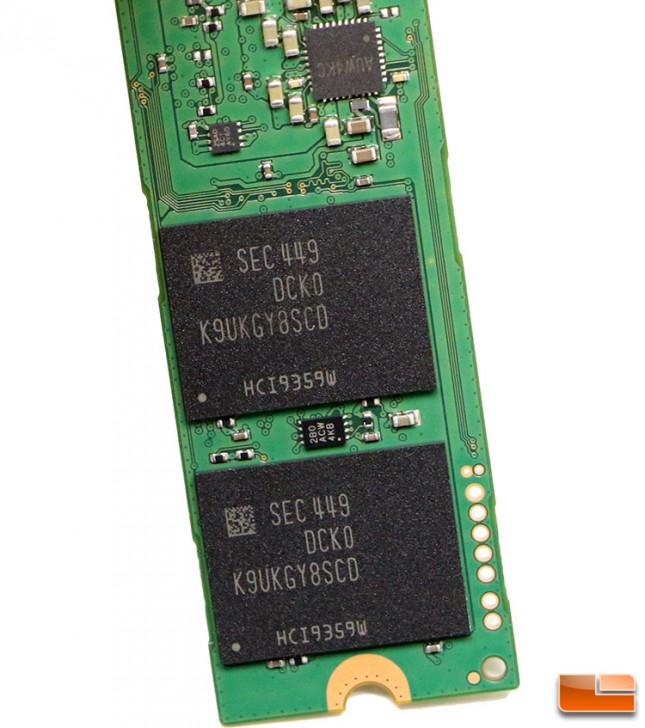 The 16nm NAND chips on our Samsung SM951 are labled K9UKGY8SCD-DCKO.

Here is what the front of the Samsung SM951 SSD looks like with the label removed. You can see another two NAND packages, which means there are four total on this 512GB drive. You can also see the Samsung UBX controller and 512MB DRAM cache chip that were hidden before we removed the label.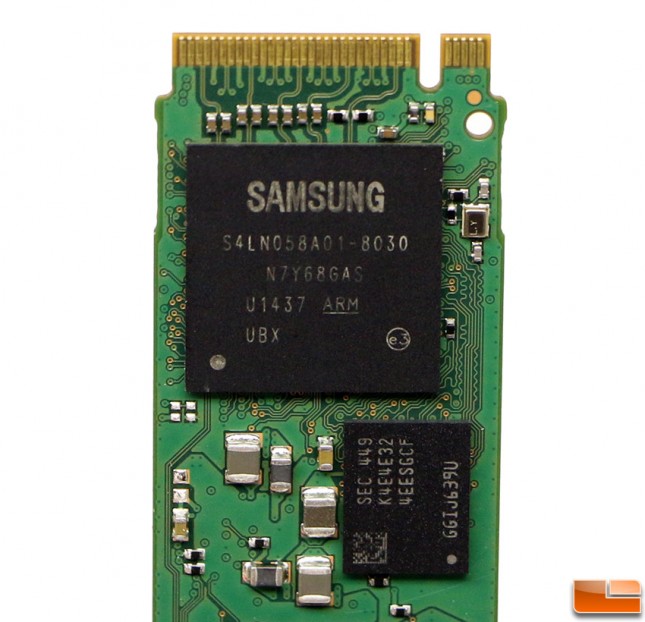 The Samsung UBX controller is ARM-based 3-core SoC that was labeled S4LN058A01-8030 on our test sample. Samsung claims this drive has an idle power consumption of just 50mW and a peak active power consumption of 6.5W.
Now that we know the basics of the Samsung SM951 we can take a look at performance!