PowerColor PCS+ AXR9 390X 8GB Video Card Review
By
PowerColor PCS+ AXR9 390X 8GB Video Card
Last week, AMD brought 'new' Radeon R9 300 series video cards to market that are essentially updates of the Radeon R9 200 series cards to ensure gamers have the performance they need be it for online gaming or in eSports competitors. The AMD Radeon R9 390X might not be the fastest card in fastest card in the stable, but AMD took their previous flagship video card that's been battling NVIDIA's flagship cards and gave it a few tweaks under the hood. Those tweaks are basically higher clock speeds and requiring 8GB of GDDR5 memory to be on all Radeon R9 390X cards. AMD was able to do this without increasing the cards Thermal Design Power (TDP) as they have the 28nm Hawaii GPU manufacturing process figured out and refinements over the years have allowed for higher clock speeds and improved efficiency. AMD believes that these improvements are enough to ensure Hawaii will be competitive in the market that is quickly embracing 4K and Virtual Reality (VR) gaming.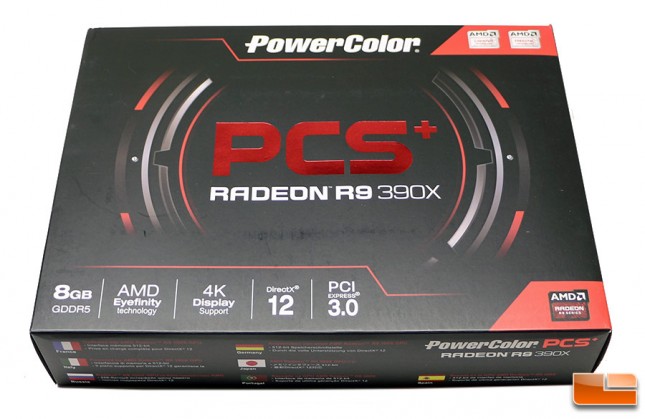 Today we have the pleasure of looking at our very first AMD Radeon R9 390X 8GB video card! The first card that we'll be reviewing is the PowerColor PCS+ AXR9 390X 8GB graphics card that is sold under part number AXR9 390X 8GBD5-PPDHE. This is the only R9 390X card offered by PowerColor for the time being, so it should be fairly easy to locate.
| | | |
| --- | --- | --- |
| | PowerColor PCS+ R9 390X | PowerColor PCS+ R9 290X |
| GPU | AMD Hawaii | AMD Hawaii |
| Stream Processors | 2816 | 2816 |
| GPU Clock | 1060 MHz | 1050 MHz |
| Pixel Fillrate | 67.8 GPixel/s | 67.2 GPixel/s |
| Texture Fillrate | 186.6 GTexel/s | 184.4 GTexel/s |
| Memory Amount | 8GB GDDR5 | 4GB GDDR5 |
| Memory Bus | 512-bit | 512-bit |
| Memory Clock | 1500 MHz | 1350 MHz |
| Memory Bandwidth | 384.0 GB/s | 345.6 GB/s |
| Warranty | 2-Years | 2-Years |
| Release Date | June 2015 | January 2014 |
| Launch Price | $449.99 | $649.99 |
| Street Price | $449.99 Shipped | $309.99 Shipped |
The Radeon R9 290X and Radeon R9 390X share the same 28nm GCN Hawaii GPU, so both have 2,816 Stream Processors and the same overall feature set. The PowerColor PCS+ AXR9 390X has a 1060 MHz GPU core clock, which is a modest 10 MHz improvement over the PowerColor PCS+ AXR9 290X. The really noticeable difference will be on the memory side where the frame buffer was increased from 4GB to 8GB and the clock speed was bumped up from 1350 MHz all the way up to 1500 MHz. It's always nice to see speed improvements, but we reviewed the PowerColor PCS+ AXR9 290X 4GB video card back in March 2014 and was able to overclock it up to 1192MHz Core and 1500MHz on the 4GB of GDDR5 memory without increasing the voltage of the card. That is something we think is important to note as the PowerColor PCS+ AXR9 290X is available now $309.99 shipped after rebate and the PowerColor PCS+ AXR9 390X is $140 more expensive at $449.99 shipped. Will doubling the memory and changing a few things here and there make the PowerColor PCS+ AXR9 390X stand out from the PowerColor PCS+ AXR9 290X?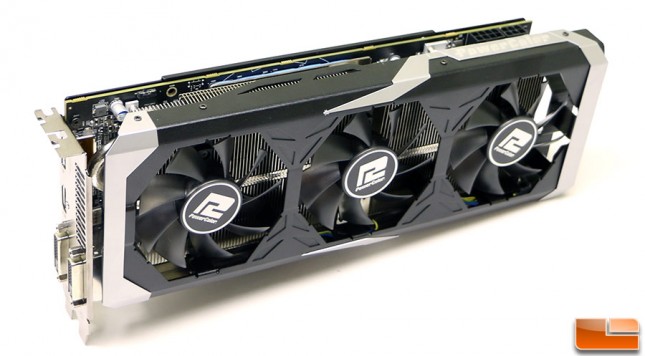 The PowerColor PCS+ R9 390X looks similar to the R9 290X card that it updates as PowerColor did change a few things on the metal fan shroud to help improve the looks. The three fan design comes with PowerColor Mute Fan Technology delivers intelligent fan controlling to provide noiseless environment as well as reducing the power consumption when the GPU temperature is lower than 60C. The heatsink itself has also been changed to a four heatpipe design with one 10mm super pipe, two 8mm pipes and one 6mm pipe. These heatpipes are soldered to the GPU baseplate as well as the two heatsink fin arrays. Under the hood we also learned that PowerColor gave the PCS+ R9 390X the Gold Power Kit, which means this card has a Digital PWM solution with an 8 phase (6+1+1) board design. PowerColor says this helps with power efficiency and stability to ensure this card has more than enough power at both stock and overclocked settings.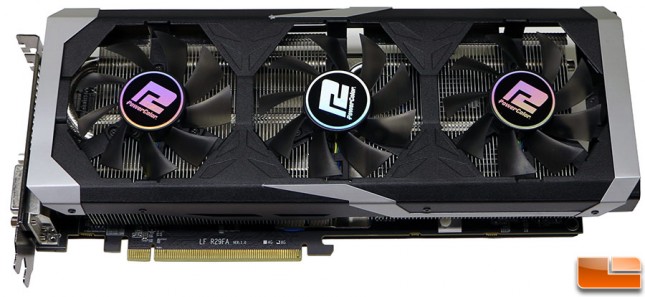 The PowerColor PCS+ R9 390X GPU cooler has a three fan design that comes with PowerColor Mute Fan Technology. Mute Fan Technology is a fancy term saying that the fans won't spin for a 0dB noiseless environment until the GPU temperature hits 60C and then the fans come on. PowerColor says that this also saves power as the fans don't need any power at idle!
Will it fit? The PowerColor PCS+ AXR9 390X 8GB graphics card measures in 11.25-inches in length with the PCB itself measuring 10.5-inches in length. The thickness of the R9 390X Vapor-X OC is exactly 2.0 inches thick when we checked with our digital dial calipers and that means it will require the use of three PCI-E slots rather than just taking up two.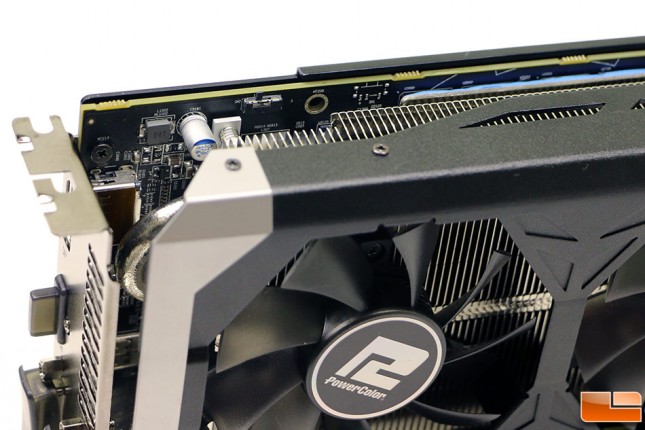 There is a BIOS switch on the PowerColor PCS+ AXR9 390X 8GB, but PowerColor just put one BIOS on the card. This switch is still useful though as if a BIOS every gets corrupted you can just switch over to the other one.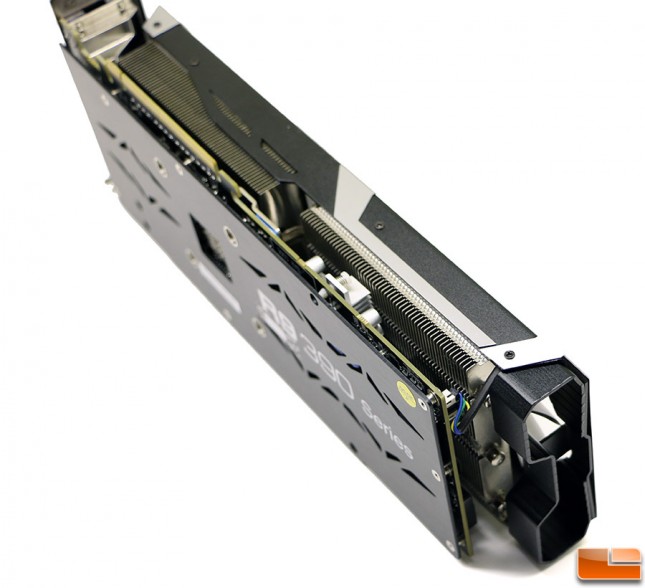 It should be noted that the metal backplate on this card is spaced 0.25-inch away from the PCB by metal spacers. We arent sure why PowerColor spaced the backplate so far away as it wont fit in the primary PCIe x16 slot on some motherboards that have the memory that are right next to the graphics card slot. Our test system uses an ASUS P9X79-E WS motherboard and it this card wont fit in the primary slot, so we had to run it in the next x16 slot!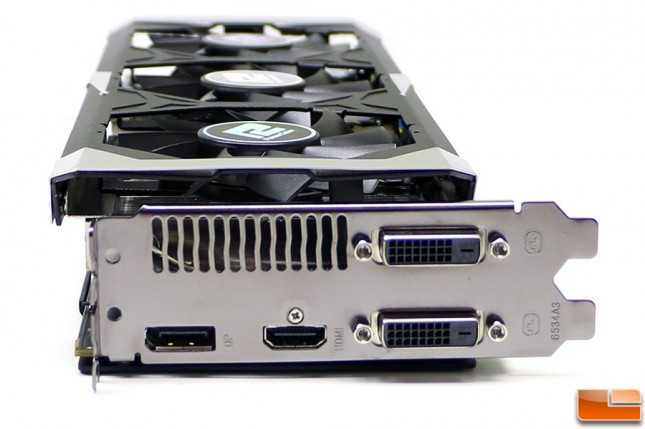 When it comes to display outputs the design team left it untouched and went with the standard AMD connections. This means you have a pair of Dual-Link DVI-D, HDMI 1.4a and DisplayPort 1.2 outputs. The DVI outputs support screen resolutions up to 2560×1600 and the DP and HDMI ports support screen resolutions up to 4096×2160. There is a high-flow hot air exhaust bracket, but not much air is exhausted out of a case since the GPU coolers aluminum cooling fins are arranged vertically and not horizontally.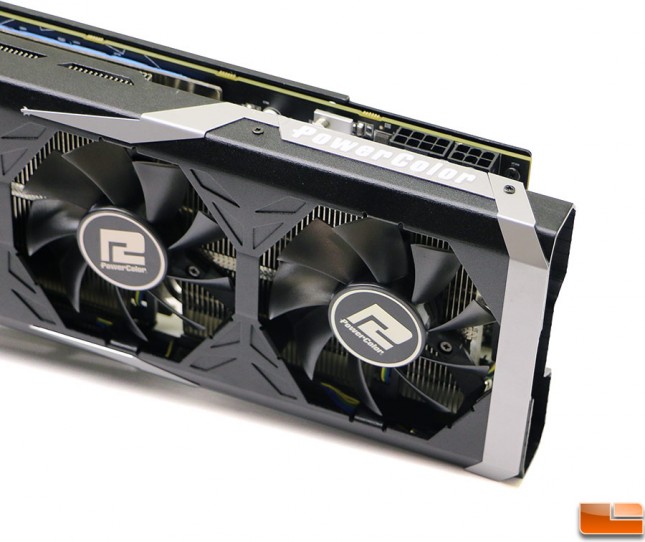 The PowerColor PCS+ AXR9 390X has one 8-pin and one 6-pin PCIe power connector that must be used for proper operation and PowerColor recommends using a 750 Watt or larger power supply. Multiple cards can be used for an AMD CrossFire setup and no bridge or interconnect is needed on this card series since all the communication is done over the PCI Express 3.0 bus. If you get a second, third or fourth card you can just enable CrossFire in AMD's Catalyst Control Center and go about your day.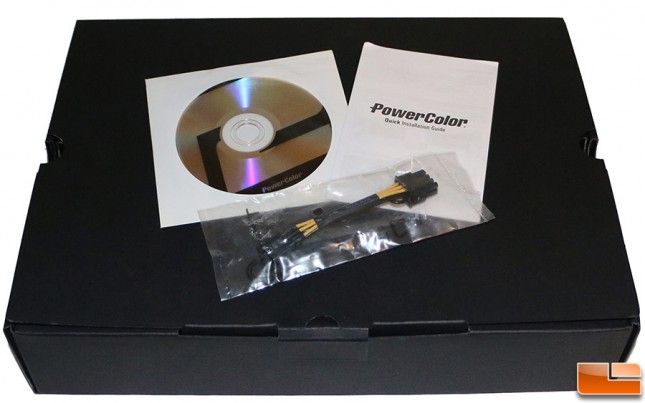 When it comes to the accessory bundle you get a 6-pin PCIe power to 8-pin PCie power adapter, a quick setup guide and the driver/utility disc. This is a pretty basic bundle for a high-end card, but hopefully there is a game bundle or something else being offered by the retailers at the time of purchase that you can get in on.
Let's take a look at the test system and move along to benchmarking!