PowerColor PCS+ AXR9 290X 4GB Video Card Review
By
PowerColor Slaps a Massive PCS+ Cooler To Their 290X
The AMD Radeon R9 290X graphics card was a powerful card when it came out in October 2013, but the reference design ran hot and it was clear that the enthusiast community wasn't too keen on the thought of having a video card that was pegged at 94C in their system. It took the Add-In-Board partners a number of months to come out with custom designed and cooled AMD Radeon R9 290X cards, but pretty much every board maker now has a custom 290X board on the market with a GPU cooler that can tame the heat generated on these Hawaii-based graphics cards. Today we have the PowerColor PCS+ R9 290X 4GB GDDR5 (PCS+ stands for Professional Cooling System) that has been designed from the ground up to be an enthusiasts dream card. This card is sold under part number AXR9 290X 4GBD5-PPDHE and retails for around $569.99 shipped on both Newegg and Amazon. When this card was released just weeks ago it was $649.99 and the price has been decreasing nicely since and has just dropped $10 in the past week to reach the $569.99 price point. This makes it $20 more than the PowerColor AXR9 290X that is listed at $549.99 shipped with lower clock speeds and the reference GPU cooler. We don't expect this card to go much lower than $569.99 for the time being as it is just $20 more than the brands reference design and $180 less than the water cooled version from PowerColor.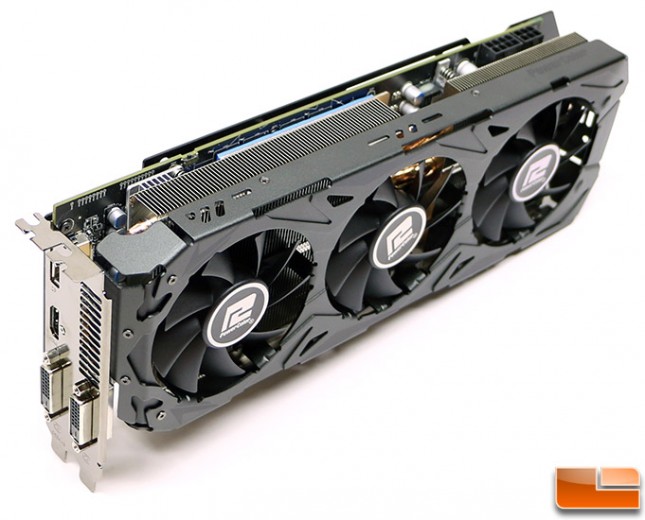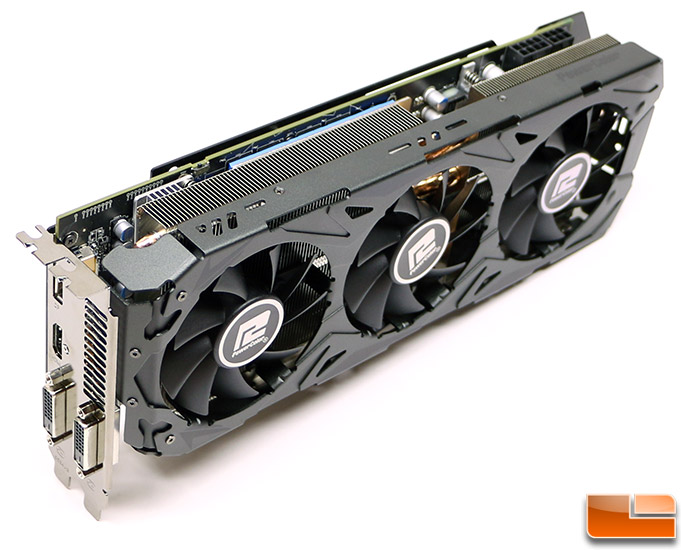 The PowerColor PCS+ AXR9 290X 4GB graphics card is powered by a single 28nm AMD Hawaii GPU that has 2,816 stream processors running at 1050MHz and the 4GB of GDDR5 memory on a 512-bit wide bus is is clocked at 1350MHz (5400MHz effective). As you can see from the image above, PowerColor was serious about cooling performance! You have a pretty big dual-slot card here that measures 11.75-inches in length that features a large heatsink with copper heat pipes behind the blacked out triple fan cooling solution. PowerColor did a great job with the GPU cooler on this card as the fan shroud is made out of metal and has a touch appearance that looks like it was done for function instead of beauty. All that metal does increase the weight of this card as it comes in at 2.22 pounds or just over 1kg!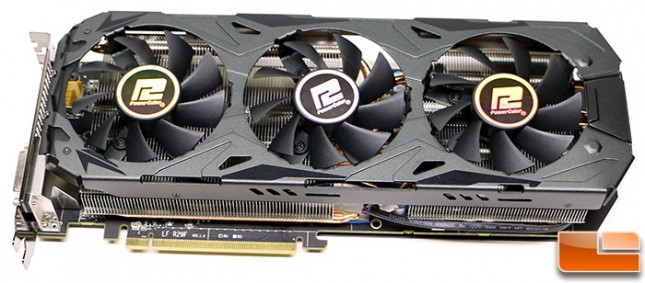 The PowerColor PCS+ AXR9 290X 4GB has three 80mm cooling fans (actual fan blade measurement is 75.0mm) that each have 9-blades on them to keep the factory overclocked AMD Hawaii GPU nice and cool. PowerColor claims that the PCS+ cooling design allows for a 25% decrease in temperatures and a 17% reduction in noise compared to the AMD Radeon R9 290X reference card. In the image above you can see that PowerColor is using two aluminum coon fin arrays that have five copper heatsinks routed through them to better disperse the heat from the GPU to the cooling fins. The five copper heat pipes (four are 6mm and one is 8mm in diameter) are attached to a copper heatsink plate that sits directly on the GPU.
One thing we noticed when taking pictures of this card is that the PCB on this card has a spot to mark if it is a 4GB or 8GB version. Does this mean that PowerColor is planning on releasing AMD Radeon R9 290X 8GB cards in the future? We aren't sure, but it does appear that this PCB was designed to handle 8GB of memory!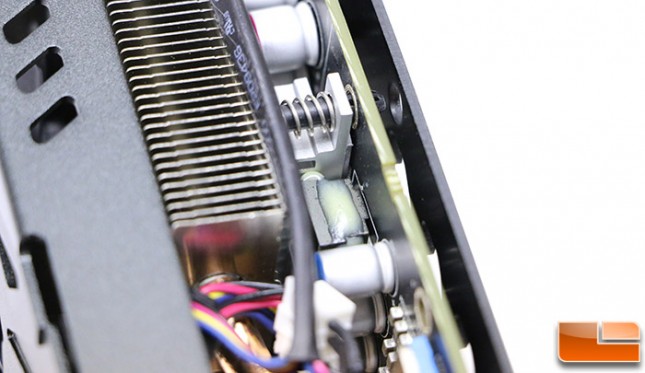 Is that glue on the chokes? It looks like PowerColor wrapped all four sides of the chokes on this board to keep the coil whine to a minimum. PowerColor went with a multi-phase power design (5+1+1) for a total of 7 phases on this particular board. From what we can tell PowerColor went with the AMD reference design on the PCB and just changed out some of the capacitors, added some glue to the chokes and called it a day. There are blue thermal pads on the Hynix GDDR5 memory to dissapate heat to the GPU cooler and all of the critical digital PWM components have aluminum heatsinks on them.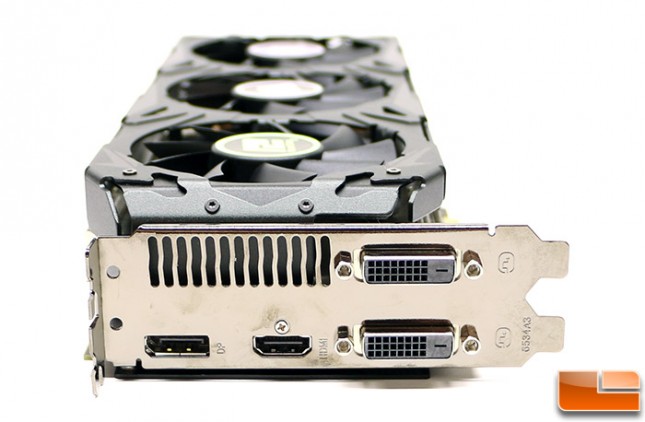 The PowerColor PCS+ Radeon R9 290X supports up to six displays off a single card. All of the video outputs are full sized and you have DisplayPort 1.2 with Multi-Stream Transport, HDMI 1.4b and a pair of Dual-Link DVI outputs. The DVI outputs support screen resolutions up to 2560×1600 and the DP and HDMI ports support screen resolutions up to 4096×2160.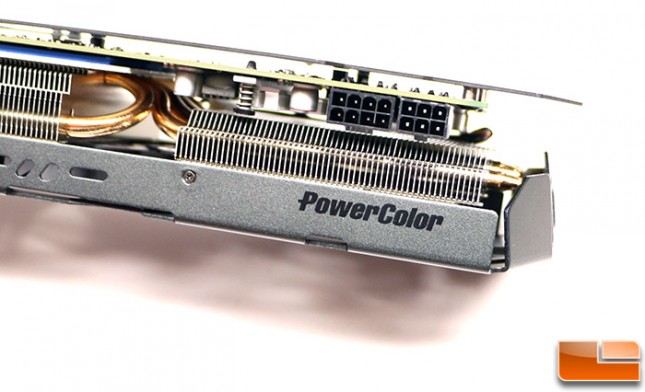 The PowerColor PCS+ AXR9 290X 4GB video card has one 8-pin PCIe and one 6-pin PCIe power connector located along the top edge of the card that are both needed for proper operation. PowerColor suggests using a 750W or greater power supply for proper single card operation.Note that the backplate and GPU cooler extend well beyond the PCB.
It should be noted that the metal backplate on this card is spaced 0.25-inch away from the PCB by metal spacers. We aren't sure why PowerColor spaced the backplate so far away as it won't fit in the primary PCIe x16 slot on boards with memory slots or something else that butts up close to the graphics card slot. Our test system uses an ASUS P9X79-E WS motherboard and it won't fit, so we had to run it in the next x16 slot! This shot also shows the five copper heatpipes and the two separate aluminum cooling fin arrays.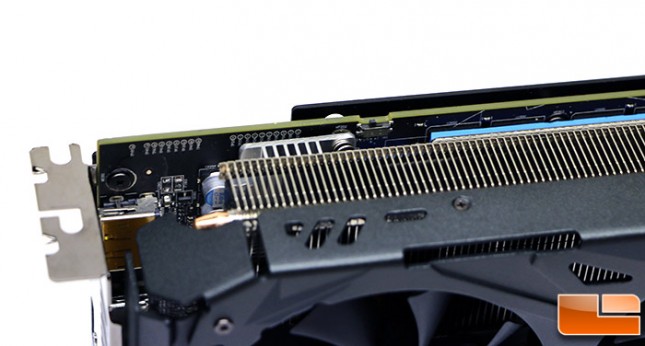 There is a BIOS switch on the PowerColor PCS+ AXR9 290X 4GB, but PowerColor just put one BIOS on the card. There is no Silent or Uber mode on this card as this factory overclocked card should never come close to the 95C threshold and that means no throttling and better performance. This switch is still useful though as if a BIOS every gets corrupted you can just switch over to the other one. There are also no CrossFire interconnects on this card as they are no longer needed to run CrossFire. If you get a second, third of fourth card you can just enable CrossFire in AMD's Catalyst Control Center and go about your day.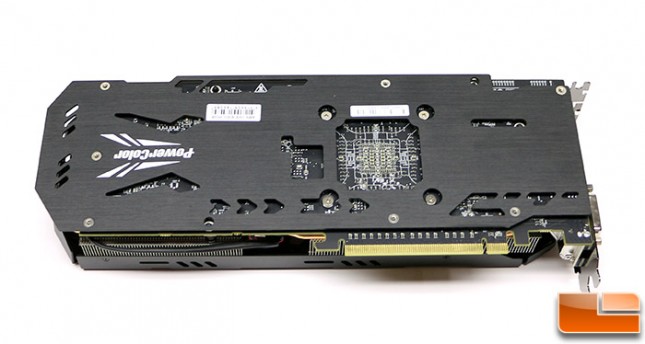 Here is a quick look at the metal backplate that is on the back of the card. It looks nice, but is spaced 1/4″ off the PCB and that will cause installation on a fair number of boards on the market.
Let's take a look at the retail box or accessory bundle before we move along to benchmarking!