Samsung XP941 256GB M.2 PCIe SSD Mini Review
By
First Look At M.2 PCIe Gen2 x4 SSD Performance
One of the most exciting new features of the Intel H97 and Z97 chipsets is the increased data transfer speeds available for storage drives. The new chipsets support the SATA Express specification and the chipsets support two lanes of PCI Express 2.0 to Solid-State Drive speeds to a theoretical 10Gbps. This means that there is a new way around the SATA III 6Gbps bottleneck that has been hindering performance for some time. Many board manufacturers are also placing M.2 PCIe slots on motherboards since the pair of PCIe Gen 2 lanes can be used for either SATA Express or M2.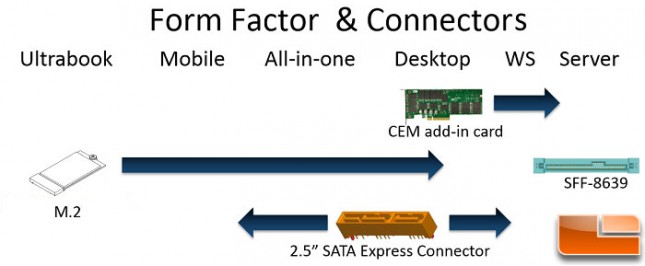 What is the big difference? A very high level explanation would be to say that M.2 was designed to replace mSATA cards. This makes M.2 ideal for smaller devices like ultrabooks, tablets and Small Form Factor (SFF) solutions like the Intel NUC, ASUS Chrome and Gigabyte Brix series. SATA Express takes a more traditional storage drive approach with a fairly wide connector and the SATA Express drive needs to be connected with a cable. If you wanted to go a bit more in depth… M.2 is not designed to support both PCIe and SATA at the same time on the same host, whereas with SATA Express, the host can support both device types in the same "socket" but the traces are in different places for each interface. The only way you know if a motherboards M.2 slot supports PCIe or SATA is to check the product specifications. Devices that connect to SATA Express are either SATA or PCIe, but not both at the same time. This is why people are wrong when they say that the M.2 standard is the small form factor implementation of the SATA Express. It is very similar, but it technically isn't SATA Express. At one time the SATA Express group was trying to convince people that M.2 should be part of SATA Express, but later reascended the offer.
So, the M.2. PCIe based SSDs are looking like one of the best ways to get around the SATA III 6 Gbps performance bottleneck. Many of the Intel Z97 motherboards support PCIe Gen2 x2 M.2 devices and some companies have already released products that support PCIe Gen2 x4 or even PCIe Gen3 x4 devices. The ASRock Z97 Extreme6 motherboard boasts an "Ultra M.2 Gen3 x4" socket that allows for theoretical transfer speeds of up to 32Gb/s. ASRock enabled this functionality by skipping the chipset and directly connecting the storage drive to the processors PCIe Gen3 lanes! All of a sudden SATA III 6Gbps devices sound pretty slow don't they?

So, you want to toss your SATA III SSD into the trash right now and go out and purchase a board and M.2 PCIe SSD right? What can you get? Sadly, not much as there are very few M.2 SSDs on the market today. The Samsung XP941 M.2 PCIe SSD is one of the few drives available and it boasts sequential read speeds of up to 1,170 MB/s and sequential write speeds of up to 950 MB/s. The XP941 is advertised as having 4K random read (QD=32) performance of up to 122,000 IOPS, and 4K random write (QD=32) performance of up to 72,000 IOPS. The Samsung XP941 series uses an in-house PCIe controller along with Samsung 19nm MLC NAND. It is the only M.2 drive that we could find available for purchase that uses the PCI-Express 2.0 x4 interface. We found 128GB, 256GB and 512GB drives at RamCity over in Australia that will ship worldwide. The pricing shown on the RamCuty website are in AUD, but ALSO includes 10% GST, which is required by Australia law to be included in prices, although it only applies to Australian customers. Anyone buying from overseas will see the GST automatically removed from the price once they enter their shipping country in the shopping cart or on the checkout page. So this makes the prices for the XP941 in USD roughly as follows, and will fluctuate up or down depending on what is happening with the USD/AUD exchange rate, and whether or not the customers own bank charges additional fees to convert to AUD from their own currency.
The price per GB breaks down to $1.07 to $1.55 per GB, so you are paying a premium to get these high performing drives. Amazon also has a few retailers carrying these drives as they have the Samsung XP941 128GB drive for $269 plus $6.75 shipping right now.
Our friends over at RamCity put together this very nice comparison chart that compares the Samsung XP941 to the Samsung 840 EVO and 840 Pro SSD series.
We got our hands on an ODM notebook from Taiwan that was running a Samsung XP941 256GB M.2 PCIe Gen2 x4 SSD under part number MZHPU256HCGL and had to run some benchmarks to see how the drive performs. The 256GB version of the Samsung XP941 is rated at 1080 MB/s read and 800MB/s write when it comes to sequential performance. The random 4k read/write speeds are 120,000 IOPS and 60,000 IPS, respectively. These speeds are slightly slower than the flagship 512GB model, but are still fast.
CrystalDiskInfo 6.1.12 Readout:
We weren't able to alter the Windows 8.1 install on the notebook, so our numbers will be on a system that had been used for 27 hours. This will mean that our numbers won't represent fresh out of the box performance numbers, but we were down for s0me real performance numbers that truly show what the performance is after deployment. Just keep in mind that no preconditioning was done to the drive before tests!
CrystalDiskInfo 6.1.12 shows that both NCQ, S.M.A.R.T. and TRIM are supported by the drive. Notice that the interface does not show up as PCI Express, which is a software glitch in this utility. The firmware version that we are running at the time of testing was UXM6501Q.
Let's have a look at the performance!