Patriot Hellfire M.2 480GB NVMe SSD Review
By
Patriot Hellfire M.2 NVMe SSD – First Look At Phison E7
The Patriot Hellfire is the first M.2 PCIe SSD released by Patriot and it just happens to be an aptly name for the PCIe Gen 3 x4 SSD that has sequential read/write speeds of 3,000 MB/s and 2,400 MB/s, respectively. Things are also great on the 4K Random Read/Write performance as the Phison 5007-E7 controller supports the NVMe 1.2 host controller interface specification. You are talking about having up to 170,000 IOPS for 4K Random Reads and when it comes to 4K Random Write performance you will get either up to 185,000 IOPS on the 240GB HellFire M.2 drive or up to 210,000 IOPS on the 480GB drive. Yes, there are just two capacities available; 240GB ($129.99 shipped) and 480GB ($229.99 shipped). That makes picking one out super simple and the pricing is fairly competitive with the M.2 PCIe NVMe SSD market. They are about $30 more than the Samsung SSD 960 EVO and $50 less than the Samsung SSD 960 PRO when looking at comparable capacities. Patriot is aiming the Hellfire M.2 series at content creators, gamers and PC enthusiasts, which doesn't come as a shock since this is their flagship series of storage drives.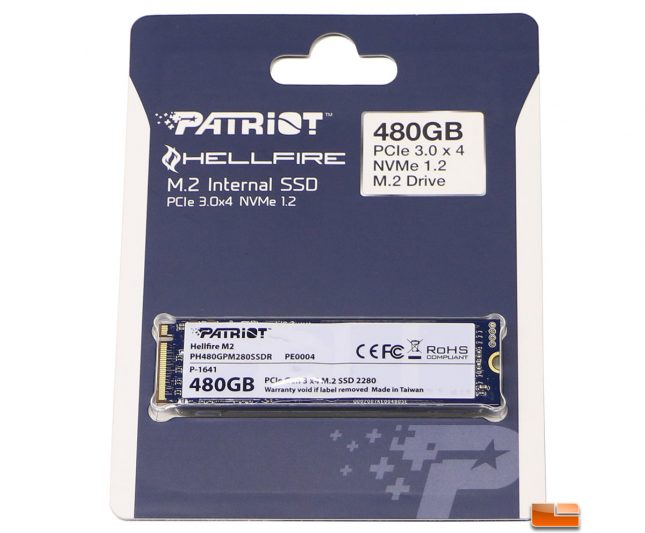 Patriot Hellfire M.2 Features:
Phison 5007 Series M.2 PCIe Gen 3 x 4
DRAM Cache:

240GB = DDR3L 256MB
480GB = DDR3L 512MB

TRIM support (O/S dependent)
Static and Dynami Wear-Leveling
Bad Block Management
Advanced Garbage Collection
Operating Temperature – 0 ~ 70C
ECC Recovery: Up to 120bits/2KB
MTBF: 2,000,000 hours
4K Aligned Random Read: 170K
4K Aligned Random Write:

240GB = 185K IOPs
480GB = 210K IOPs

ATTO: Sequential Read & Write Transfer:

240GB: Up to 3000MB/s Read | Up to 2300MB/s Write
480GB: Up to 3000MB/s Read | Up to 2400MB/s Write

CDM: Sequential Read & Write Transfer:

240GB: Up to 2740MB/s Read | Up to 1090MB/s Write
480GB: Up to 2550MB/s Read | Up to 1260MB/s Write

Max Power:

Read: 240GB/480GB: 2.8W
Write: 240GB/480GB: 5.5W

Endurance:

240GB: 115 TBW
480GB: 230 TBW

Warranty: 3-Years
Patriot fails to impress on the warranty side of things as the Hellfire M.2 drives come with a bare minimum 3-year warranty as many other PCIe SSDs come with a 5-year or longer warranties. The endurance ratings are also on the low side at 115 Terabytes Written (TBW) on the 240GB drive and that doubles up to 230 TWB on the 480GB drive. Lower cost M.2 PCIe NVMe drives like the entry-level Intel 600p 256GB/512GB are rated at 144TBW and 288 TBW, but to be fair more expensive drives like the Samsung SSD 960 EVO 250GB/500GB drives are rated lower at 100 TBW and 200 TBW, respectively. Just keep an eye on the Media Wearout Indicator (MWI) S.M.A.R.T. value on any SSD that you purchase as it looks at the finite program/erase cycles the SSD has consumed and give you a look at how much life is left.
The Patriot Hellfire M.2 drive is a double-sided M.2 PCIe drive that uses the 2280 form factor. This means that it can't be used in low profile solutions that require single-sided modules. That isn't necessarily a bad thing as the Patriot Hellfire M.2 doesn't look like it is designed for notebook use. In fact, Patriot fails to mention any power numbers or anything about thermal throttling on their site or product sheet, which in the past is usually bad sign. We asked and found that both the 240GB and 480GB drives use up to 5.5 Watts of power, but have not been given any of the idle information just yet.

Under the large label on the front of the Hellfire M2 you'll find the Nanya 512MB low-power DDR3 DRAM cache chip, Phison 5007 eight-channel quad-core controller and two Toshiba 128GB 15nm MLC NAND Flash chips. We spoke with Phison and found out that the E7 controller is rated at up to 125C and that the temperature sensor is located on the controller itself and not externally like some other designs. This is interesting as Patriot rates the operating temperature as being between 0 ~ 70C (We have been told that this is the room temperature range and not for the device itself).

Flipping the drive over you'll find two more Toshiba 128GB 15nm MLC NAND Flash chips and a spot for more LP-DDR3 memory.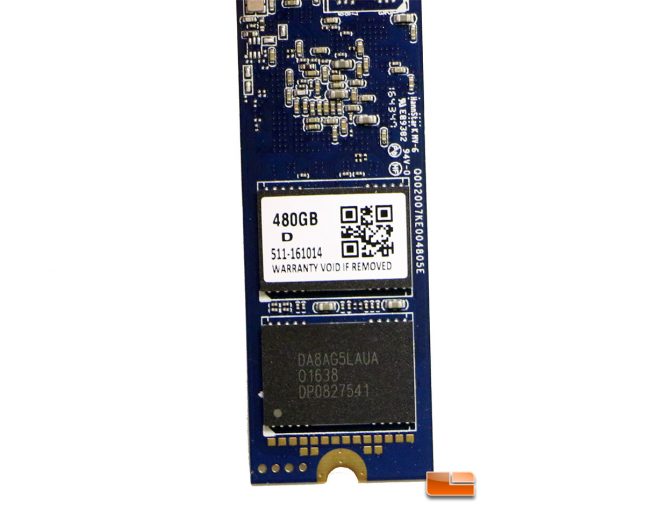 Here is a closer look at the Toshiba planar 15nm MLC NAND Flash chip for those that wanted to see the part number. The drives warranty label is also on the back.
The Patriot Hellfire M.2 drive can be used with the Hellfire M.2 toolbox, which is a free utility that allows end users to access more of the drives features. This utility will let you check how much of the drives endurance is left, show how much space is being use, the S.M.A.R.T. details, perform a secure erase and even update the firmware. The user interface isn't that pretty to look at, but it works and is certainly better than nothing.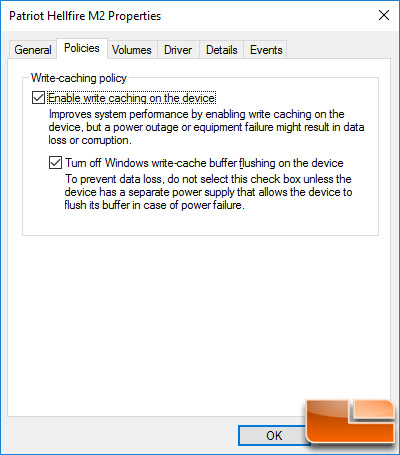 The Patriot Hellfire M.2 PCIe SSD series does not require NVMe drivers to work properly on a PC. That said, you need to understand that standard Windows NVMe driver in Windows 10 and Windows 8.1 doesn't pass the Force Unit Access (FUA) command. FUA commands bypass the DRAM cache on the SSD and write directly to the drives cache resulting in really bad performance. Storage review sites that use AS SSD, Anvil and PCMark may show low write performance due to this. You can do registry hacks to disable FUA or simply turn off Windows write-cache buffer flushing in Windows Device Manager for the storage drive you want to benchmark. Companies like Intel, Samsung and OCZ have released special NVMe drivers for some of their NVMe drivers to remedy this situation. We'll show you AS SSD and Anvil scores with Windows Write-Cache Buffer Flushing on and off to ensure you'll see some performance numbers that look like what you'll get at home.
Let's take a look at the test system and then jump into the benchmarks.