OCZ Vector 180 480GB SSD Review
By
The Vector Gets More Reliable
Ever since OCZ went through a bit of a transformation after the departure of then CEO Ryan Peterson, they've renewed their focus to prioritize quality and reliability. Prior to then, time to market appeared to be the main driver and it showed with OCZ having several product gaffes on both hardware and firmware fronts. Under the guidance of current CEO Ralph Schmitt, their track record has been much improved and being under the auspices of Toshiba only helps to strengthen their commitment to this philosophy. I kick off the article in this fashion for two different reasons. First is the fact that the new Vector 180 drive that we'll be looking at has promised greater reliability, which stands out as its most prominent improvement. This is not without some irony as the original embargo and subsequent release of the Vector 180 was delayed because of reports from a few product reviewers who had "issues" with the sample drives that were sent out (we were not privy to the details). Even though some these were engineering samples and not production models, OCZ pulled the plug on the launch date of 2/27/15 to allow for a full investigation into the claims. Delaying a product launch can be costly and a coordination nightmare (I feel your pain Mia!) so it's not a decision to take lightly. I'm not so sure sure that the "old" OCZ would've taken this conservative approach to put the brakes on. Likely they would've launched as planned with fingers crossed and a strategy to handle any issues through customer support. I don't point all of this out to besmirch their reputation. Quite the opposite. I applaud OCZ's decision and transparency on this and wanted to let consumers know that they are true to their word when they say that quality is a priority for them. For the record, we had no issues at all with the 480GB drive we received and as such, we'll move on to the overview and evaluation portion of our review.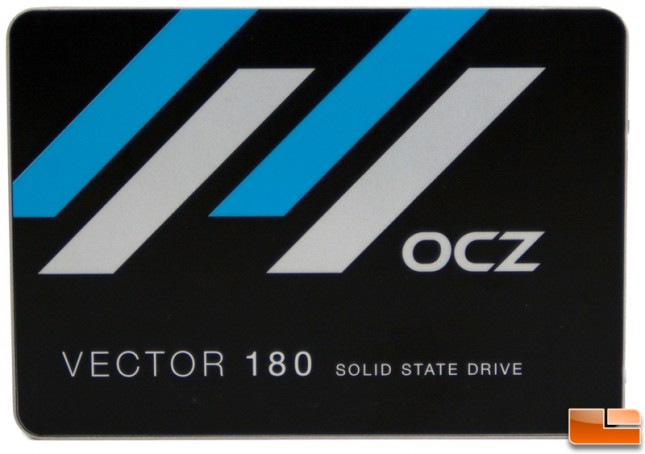 The Vector 180 takes the place of the Vector 150 which was previously OCZ's flagship drive and it's hard to believe that it's been over a year since we tested that drive. OCZ has increased the capacity this time around with the largest drive nearing the terabyte mark at 960GB. However, they still offer a 120GB drive for those with more meager storage needs. Many of the drive makers have been dropping this capacity drive, especially with their enthusiast level drives so this is a break from the trend. In terms of performance, there isn't any change in the specifications from the Vector 150 with 550MB/s read and 530MB/s writes being the same for both. Likewise with the IOPS at 100,000/95,000 reads/writes. The biggest change as we mentioned is the inclusion of a Power Failure Management Plus (PFM+) technology. It monitors for power anomalies (e.g. power loss) and then leverages the built in capacitor for power to protect system-critical routines. Finally, the firmware creates a new mapping table snapshot and writes that to non-volatile flash to mitigate data loss before the drive finally shuts down. We've seen many enterprise and enthusiast level drives with similar features and it's a welcomed feature on the new Vector drive which certainly adds to the reliability. In addition, where the Vector 150 drive carries a standard 5-year warranty, the Vector 180 brings along OCZ's 5-year ShieldPlus warranty which means "NO shipping costs and NO hassle" with warranty claims.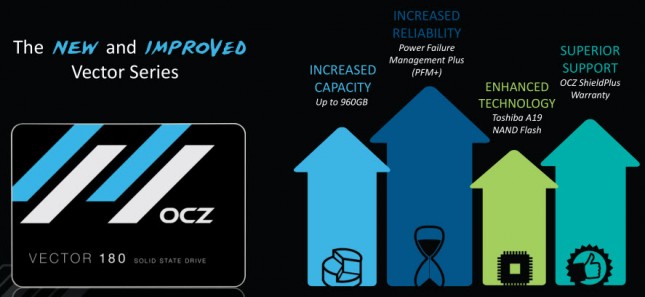 OCZ Vector 180 Specifications and Features:
| | | | | |
| --- | --- | --- | --- | --- |
| Capacity: | 120GB | 240GB | 480GB | 960GB |
| Part Number: | VTR180-25SAT3-120G | VTR180-25SAT3-240G | VTR180-25SAT3-480G | VTR180-25SAT3-960G |
| MSRP: | $89.99 | $149.99 | $269.99 | $499.99 |
| Sequential Read Speed: | 550 MB/s | 550 MB/s | 550 MB/s | 550 MB/s |
| Sequential Write Speed: | 450 MB/s | 530 MB/s | 530 MB/s | 530 MB/s |
| Random Read (4KB QD32): | 85,000 IOPS | 95,000 IOPS | 100,000 IOPS | 100,000 IOPS |
| Random Write (4KB QD32): | 90,000 IOPS | 90,000 IOPS | 95,000 IOPS | 95,000 IOPS |
| Steady State Rdm Write (4K QD32): | 12,000 IOPS | 20,000 IOPS | 23,000 IOPS | 20,000 IOPS |
Physical Specifications:

Usable Capacities (IDEMA): 120GB, 240GB, 480GB, 960GB
NAND Components: Toshiba A19nm Multi-Level Cell (MLC)
Interface: Serial ATA (SATA) 6Gb/s (SATA III)
Form Factor: 2.5 inch, 7mm height (fits ultra-thin notebooks)
NAND Controller: OCZ Barefoot 3 M00
Dimensions: 99.7 x 69.75 x 7 mm
Drive Weight: 115g

Reliability / Security Specifications:

MTBF: 2.3 million hours
Encryption: AES-256
Data Path Protection: BCH ECC corrects up to 44 random bits/1KB
Product Health Monitoring: Self-Monitoring, Analysis and Reporting Technology (SMART) Support
Endurance: Rated for 50GB/day of host writes for 5 years under typical client workloads

Compatibility:

Serial ATA: Fully compliant with Serial ATA International Organization: Serial ATA Revision 3.2. Fully compliant with ATA/ATAPI-8 Standard Native Command Queuing (NCQ)
Operating System: Windows, Linux, Mac OSX
Power Requirements: Standard SATA Power Connector
Targeted Applications: Client workstations and laptops

Environmental:

Power Consumption Idle: 0.85W Active: 3.7W
Operating Temperature: 0C ~ 70C
Storage Temperature: -45C ~ 85C
Shock Resistance: 1000G/0.5ms
Vibration (Operational): 2.17 Grms (7-800 Hz)
Vibration (Non-operational): 3.13 Grms (5-800 Hz)
Altitude (Operational): -1,000 ft. to 10,000 ft.
Altitude (Non-operational): -1,000 ft. to 40,000 ft.
Certifications: UL C/US, FCC, CE, C-Tick, KCC, BSMI, VCCI, WEEE

Additional:

Performance Optimizations: TRIM (requires OS support), Idle Time Garbage Collection
Service & Support: 5-Year ShieldPlus Warranty, Toll-Free Tech Support, 24 Hour Forum Support, Firmware Updates
Included Software: Bundled with Acronis True Image HD* cloning software registration key
Included Accessories: 3.5 SSD desktop adapter bracket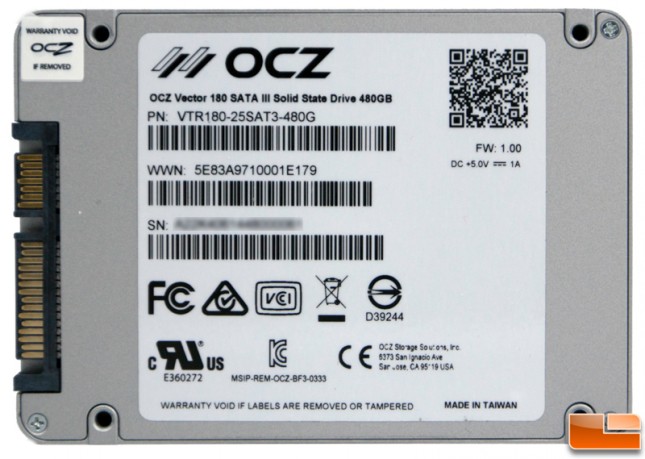 Included with the drive is an OCZ branded 2.5″ to 3.5″ adapter plate, an Acronis True Image 2013 HD cloning software registration key. Absent are any stickers which were omnipresent with almost all SSD package for a time and we actually miss them (who doesn't love stickers?) but it seems most drive makers are getting away from this practice. OK, let's go take a look at the inside of the Vector 180 drive!