OCZ Vector 150 240GB SSD Review
By
OCZ Attempts To Vector Back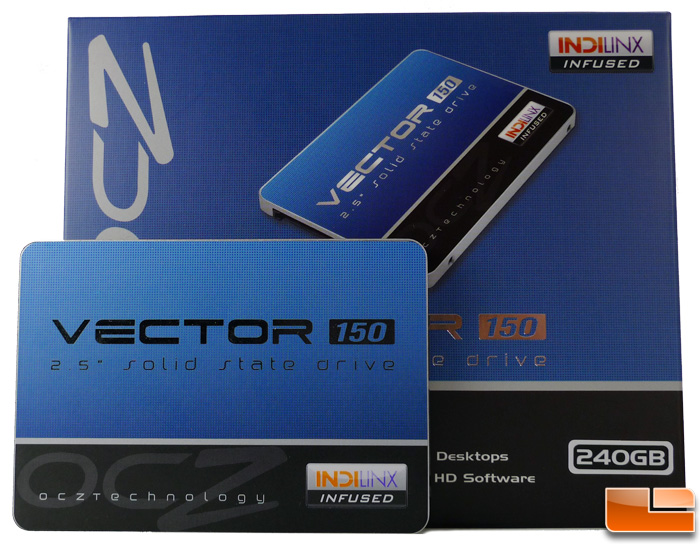 It was this time last year that we wrote about our affinity for the then brand new Vector series drive from OCZ which flaunted their homegrown Indilinx Barefoot 3 M00 controller. We had high praise not only for the performance but also for OCZ's persistence with their Indilinx acquisition made a year or so prior, finally reaping the rewards with a finished product they could be proud of. The drive was a hit with the reviewer and consumer communities alike and the Vector effectively stole the OCZ performance crown from the once prominent Vertex line. That said, the success hasn't been enough to pull the company out of a difficult financial position they've been mired in since Ryan Petersen bolted from the company and left now CEO Ralph Schmitt to pick up the pieces. However, they are forging on with a revised business model and the same hard work that once made them one of the premiere SSD makers in the consumer market. Time will tell how it pans out.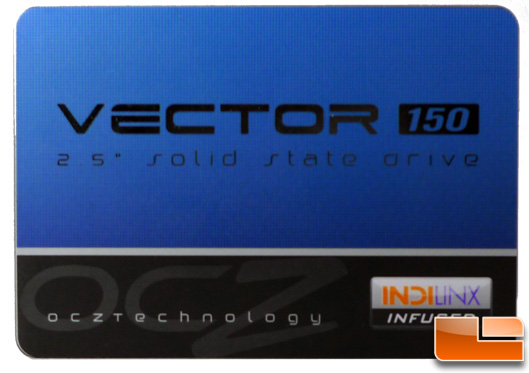 To that end, they've unveiled the latest incarnation of the Vector drive named the Vector 150 which I'm sure they hope brings good fortune. Similar to the original Vector drive, it carries the same Barefoot 3 M00 controller but shrinks the MLC NAND die size down from 25nm to 19nm, following the industry trend. A reduction in NAND architecture generally yields less endurance but in comparison to the original Vector drive, the Vector 150 ups the anticipated endurance from a rating of a five year 20GB/day to 50GB/day which is quite an improvement. To accomplish this, they've upped the spare area allocation and although not stated by OCZ, we suspect that the firmware has been improved to optimize write amplification so as to incur less overall NAND wear. As such, we see drive capacities listed at 120GB, 240GB and 480GB for the Vector 150 whereas the original Vector offers 128GB, 256GB, and 512GB. With this, they've been able to offer the same excellent 5-year warranty which is a trend we hope to continue to see. The MSRP's we have been given are $129.99, $239.99 and $499.99 respectively for the 120GB, 240GB and 480GB drives respectively.
OCZ Vector 150 Features and Specifications:
Part Numbers:

120GB: VTR150-25SAT3-120G
240GB: VTR150-25SAT3-240G
480GB: VTR150-25SAT3-480G

Max Sequential Reads:

120GB: 550MB/s
240GB: 550MB/s
480GB: 550 MB/s

Max Sequential Writes:

120GB: 450MB/s
240GB: 530MB/s
480GB: 530 MB/s

Max Random Read IOPS (4K QD32):

120GB: 80,000
240GB: 90,000
480GB: 100,000

Max Random Writes IOPS (4K QD32):

120GB: 95,000
240GB: 95,000
480GB: 95,000

Steady-State Random Writes IOPS (4K QD32):

120GB: 12,000
240GB: 21,000
480GB: 26,000

Controller: Indilinx Barefoot 3
NAND Components: 19nm Toshiba MLC Flash
Warranty: 5 Years
Interface: SATA 3.0 (6Gb/s)
Form Factor: ultra-slim 7mm, 2.5 inch
Power Consumption (active): 2.5W
Power Consumption (idle/standby/sleep): 0.55W
Reliability Specifications:

Data Path Protection: BCH ECC corrects up to 44 random bits/1KB
Encryption: 256-bit AES-compliant
Product Health Monitoring: S.M.A.R.T. Support
Endurance: Rated for 50GB/day host writes for 5 years under typical client workloads
Performance specifications are nearly identical to the original Vector with sequential reads maxing out at 550MB/s and sequential writes hitting 530MB/s and IOPS being just a touch lower topping out to 100k reads and 95k writes. But it's not just raw speed to take into account. OCZ noted prominently in their launch press kit that this drive offers the industry's best sustained performance – outpacing even that of the original Vector drive. Though this is labeled an enthusiast drive, the sustained performance is more of interest to enterprise type users where the use case is more prevalent. Another notable change from the original Vector is the inclusion of the 256-bit AES-compliant encryption feature that many enterprise and even consumer users are starting to look for as a standard feature.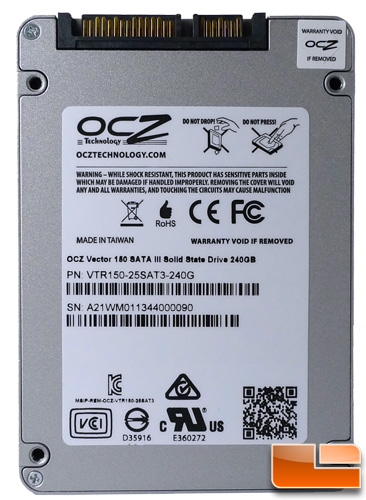 Included with the drive is a 2.5″ to 3.5″ adapter plate along with the usual warranty booklet and the obligatory sticker professing one's love for OCZ SSDs. They've also thrown in a license key for the 2013 Acronis cloning software – a tool we use frequently and highly recommend. Don't forget about the free toolbox utility that's downloadable directly from OCZ. This suite of software and accessories is similar to that offered by Samsung, Intel and others and typical for a drive of this caliber.