OCZ RevoDrive 350 480GB PCIe SSD Review
By
PCIe For The Masses
OCZ Storage Solutions was the first to venture into the PCIe SSD drives for consumer machines back in mid 2010 and the last one we saw was a hybrid version from late 2011. Not many other companies were keen on putting out PCIe drives for consumer applications and back then, most if any, drives weren't even hitting the SATA III threshold. However, as the SATA III bandwidth continues to be a limiting factor for a growing number of drives and the next generation SATA interface still out a ways on the horizon, it's a good time to leverage the ample bandwidth PCIe brings. So, OCZ has forged ahead with the RevoDrive series and sent over the shiny new RevoDrive 350 480GB drive for us to bang on for a bit and as always, we were duly impressed.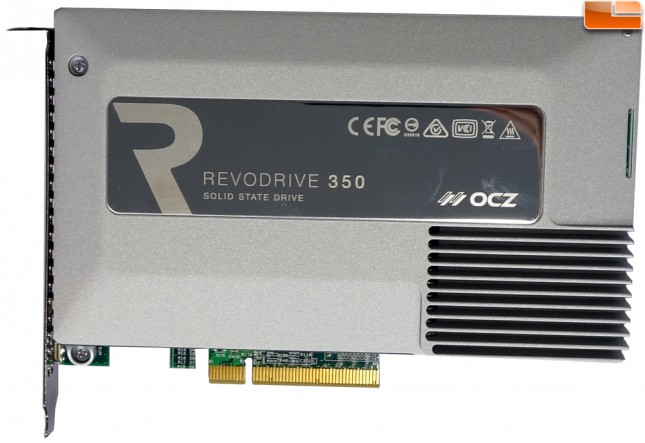 The partially mirrored aluminum cover has a decent sized heat sink in the corners to keep the RevoDrive 350 running cool while it puts out impressive performance. The 240GB drive hosts two SandForce 2282 controllers and the 480GB and 960GB drives double up on that with four controllers each. The controllers are coordinated with OCZ's Virtualized Controller Architecture (VCA) 2.0 which affords performance of up to 1800MB/s reads and 1700MB/s writes. This is three to four times faster than the fastest SATA III drives thanks to the PCIe x8 interface with much more bandwidth availability. This designed is borrowed from OCZ's enterprise grade Z-Drive 4500 so the design is sound and of course, with OCZ being a Toshiba company now, the drive is lined with Toshiba NAND.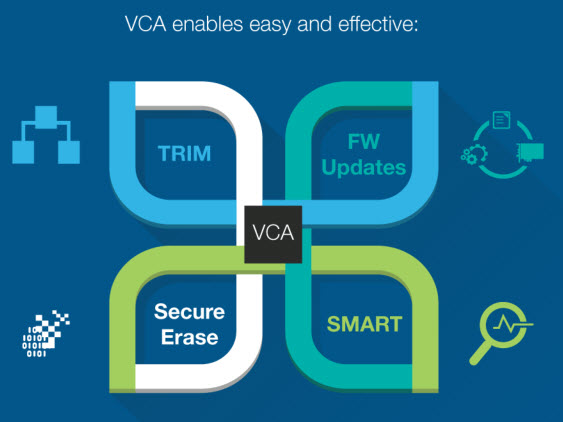 OCZ RevoDrive 350 Features and Specifications:
Performance:
240GB
(RVD350-FHPX28-240G)
480GB
(RVD350-FHPX28-480G)
960GB
(RVD350-FHPX28-960G)
Retail Availability:
June 19th-20th
Current Pricing:
$529.99
$829.99
$1299.99
Max Read:
1000 MB/s
1800 MB/s
1800 MB/s
Max Write:
950 MB/s
1700 MB/s
1700 MB/s
Max Rdm Read IOPS (4K QD32):
45,000
90,000
135,000
Max Rdm Write IOPS (4K QD32):
80,000
140,000
140,000
Physical Specifications:
Controller:
LSI SandForce 2282 (x2 on 240GB, x4 on 480GB/960GB) with VCA 2.0 Technology
NAND Components:
19nm Toshiba Multi-Level Cell (MLC) Flash
Interface:
PCI Express Gen. 2 x8
Form Factor:
Full Height, Half Length
Reliability Specifications:
Encryption:
128-bit AES-compliant
Product Health Monitoring:
S.M.A.R.T.
Endurance:
Rated 50GB/day host writes for 3 yrs under typical client load
Environmental Specifications:
Power Consumption:
Idle: 9.5W Active:14.0W (480GB capacity)
Operating Temp:
0C ~ 55C
Airflow:
300LFM @55C
Shock Resistance:
500G/0.5ms
Vibration (operational):
2.17Grms (7-800Hz)
Vibration (non-operational):
3.13Grms (8-800Hz)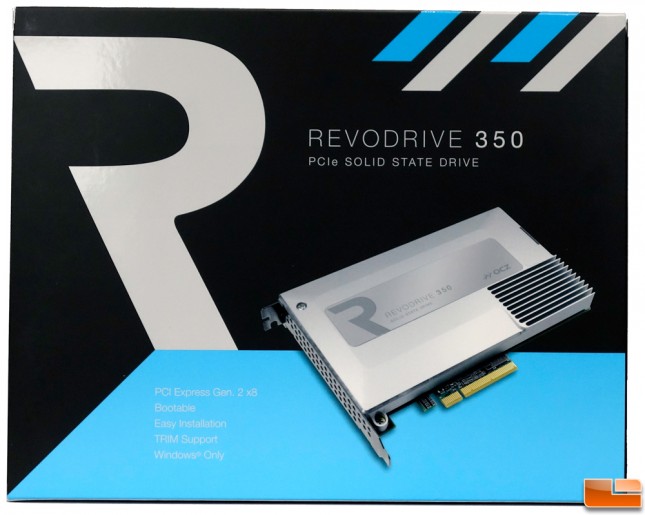 The drive comes with a mini CD that has the driver needed for the proper operation of the drive. It can be used as a boot drive or secondary drive but there's little reason to use it for anything other than a boot drive. Being an OS drive is where you get the most bang for your buck performance.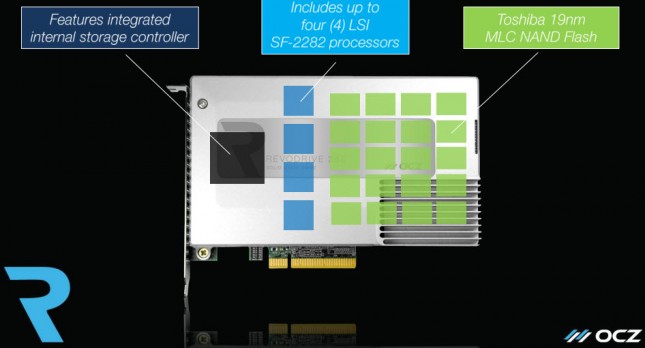 As we mentioned, it's been awhile since we've tested a PCIe based drive and never on this platform so for the test results, we compare them to the SATA III drives we've tested as a point of reference. Obviously, it's not a 'fair' comparison but the other drives provide a good yardstick to measure against.