OCZ RevoDrive Hybrid 1TB PCI-E SSD Review
By
OCZ RevoDrive Hybrid – Storage Worlds Collide
OCZ is always coming up with new and interesting ways to implement SSD storage solutions. So, what happens when they take the speed of a PCI-E based RevoDrive and combine it with the storage capacity of a traditional spinning platter drive? It's a mash-up drive known simply as the RevoDrive Hybrid and takes the best aspects of both types of hardware to give users what they have been asking for the most in storage solutions. Namely, high speed with expansive storage. However, it's a mixed bag so to speak as the speed part of the equation will ebb and flow based on usage patterns as we'll discuss further. This is very similar in practical application to Intel's Smart Response Technology (SRT) which we previously looked at on the Z68 platform. So while the concept isn't new, the delivery is. This promises to be fun!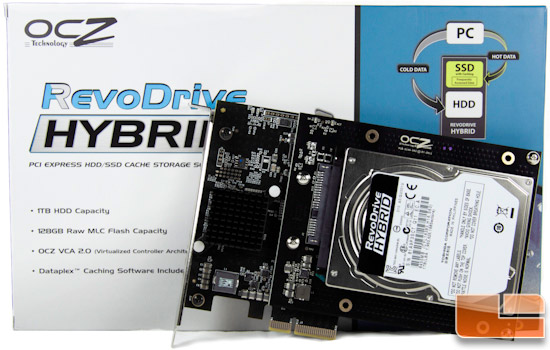 Most of you are probably cognizant of the previous RevoDrives but for those who aren't, here's the scoop. They're PCI-E based SSDs with twin SandForce controllers in a RAID array which put up monster numbers. Improvements have been made like with the Virtualized Controller Architecture, now in version 2.0. This technology is the key to the RevoDrive operation by aggregating performance across a pool of Virtual Logical Drives (LUNs) using virtualization. We'll dig out the rendering we exhibited when we looked the RevoDrive 3 X2 to make things a little clearer.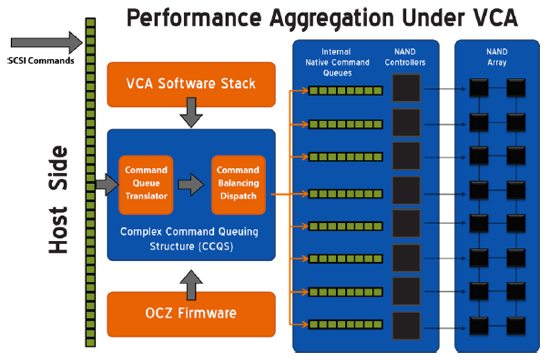 The RevoDrive Hybrid is a bit different from its brethren, obviously, as it uses a 1TB 5400 RPM HDD as the primary storage. The intelligent caching algorithms determine what data is "hot", or the most frequently/recently used and caches that data to the SSD NAND for nearly instantaneous access – to the tune of up to 910MB/s reads and 810MB/s writes. The remaining "cold" data is stored on the hard drive for the occasional use where it will be served up a little slower, upon first recall at least. With 100 GB of SSD space, there's more room for "hot" data than most people have on OS drives – especially if they are using an SSD. This means booting up, opening your favorite apps and files will feel no different than using a more traditional SSD with ample room to store all of you media files and anything else you'll need. At $475.00, what is effectively a 1TB SSD is roughly the same price as many of the 240 GB enthusiast SSDs. So, those that want the speed but also need the storage can potentially get quite a value.
RevoDrive Hybrid 1TB Features:
Available in 1TB Capacity
100GB Dedicated Cache
PCI-Express Gen. 2 x4 Interface
Full height form factor
OCZ SuperScale Storage Controller
Virtualized Controller Architecture 2.0
Included Caching Software Key
ECC, Encryption 128-bit & 256-bit AES-compliant
SMART monitoring
167.64 (L) x 98.42 (W) x 22.15mm (H)
Weight: 289g
Operating Temp: 5C ~ 50C
Storage Temp: 0C ~ 60C
Power Consumption: 8.1W idle, 10W active
MTBF: 600,000 hours
3-Year Warranty
Compatible with Windows 7 32-bit and 64-bit
RevoDrive Hybrid 1TB Specifications:
Read: Up to 910 MB/s
Write: Up to 810 MB/s
Max Random Write 4KB: 120,000 IOPS
Average Write: 65,000 IOPS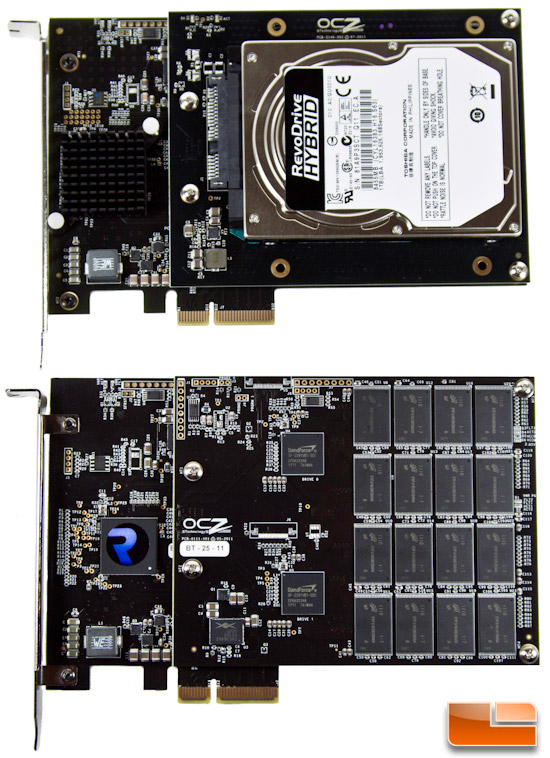 As you can see, the overall size of the drive is the same as what we saw with the previous RevoDrives. OCZ put together a slick video introducing the RevoDrive Hybrid…
Let's look a little closer.