NVIDIA GeForce GTX 950 Video Card Roundup – ASUS, EVGA and Zotac
By
Stock GeForce GTX 950 Performance, Noise, Heat and Power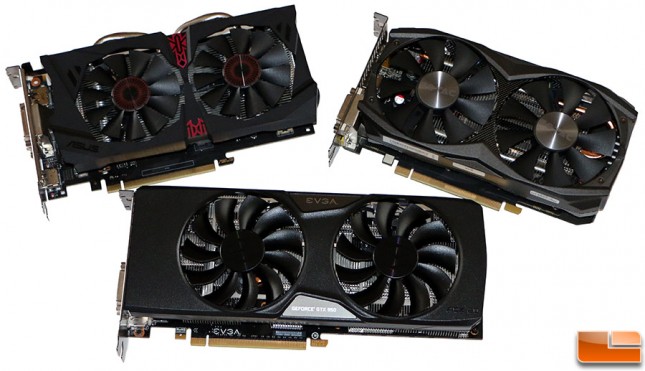 We've explored the performance of the GeForce GTX 950 extensively in a number of benchmarks and even look at its memory bandwidth in our initial launch article, so we'll forgo that level of in-depth testing and just take a quick look at the relative performance of these cards to see if anything stands out. We'll be using 3DMark Fire Strike and Battlefield 4 for our tests.
GPU
base
clock
(MHz)
GPU
boost
clock
(MHz)
Memory
speed
(MHz)
Idle
GPU
Voltage
Load
GPU
Voltage
Gaming
GPU
clock
(MHz)
ASUS GeForce GTX 950 STRIX 2GB
1165
1355
6612
0.862
1.200
1417.5
EVGA GeForce GTX 950 FTW 2GB
1203
1405
6612
0.850
1.193
1455.5
Zotac GeForce GTX 950 AMP! 2GB
1203
1405
7020
0.843
1.200
1442.8
Before we get into the test results here are the clock speeds of each card and finally their observed voltages and peak core clock that were shown in GPU-Z 0.8.5 while we were running the benchmarks. The cards boost clock is not the maximum clock speed that the card will run at and thanks to NVIDIA's GPU Boost 2.0 algorithm you'll see cards able to go well beyond the rated clock speeds if the parameters are right. This is where a better GPU cooler might come into play as it should allow for higher boost clock speeds. The EVGA and Zotac GeForce GTX 950 cards have the same exact base and boost core clock speeds, but we found the EVGA GeForce GTX 950 was actually running topping out 13 MHz faster than the Zotac card and it was doing so with slightly less voltage! The ASUS GTX 950 Strix actually boost clock speed went up the most above the rated boost speed, but it was still the lowest in the group.
Battlefield 4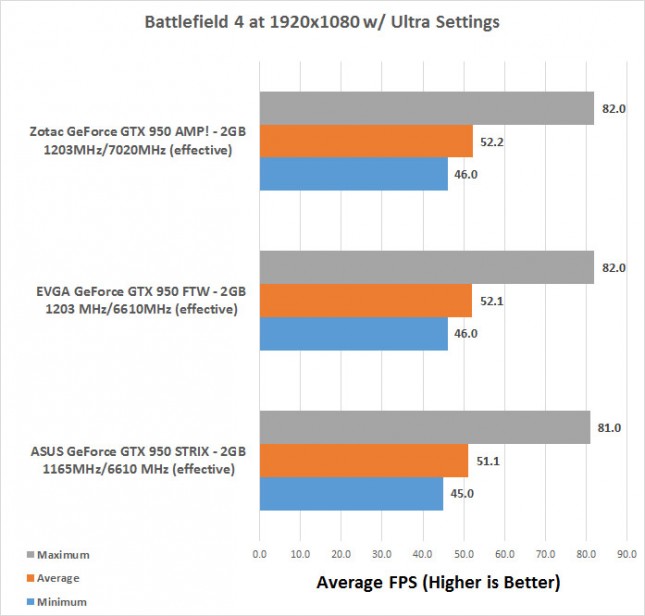 Benchmark Results: In Battlefield 4 with Ultra settings at Full HD 1080P resolutions we found that all three video cards were very close with the Zotac GeForce GTX 950 AMP! Edition video card performing the fastest on average by just one tenth of a FPS thanks to the higher memory clock speeds. The differences here are too small to actually tell a difference when gaming though, so performance is basically a wash.
3DMark 2013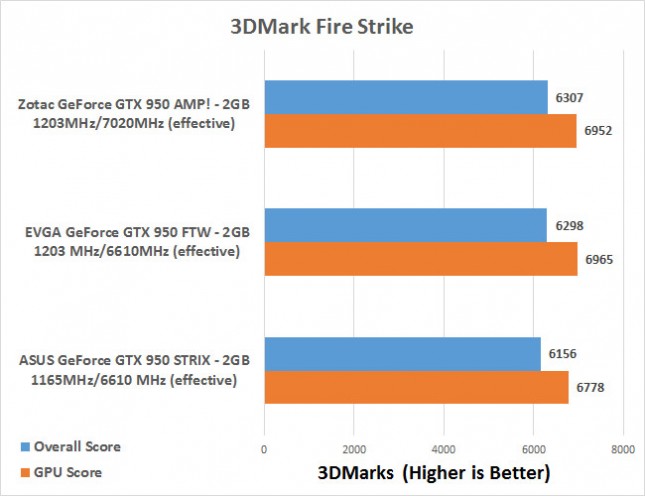 Benchmark Results: The 3DMark Fire Strike benchmark had the EVGA GeForce GTX 950 FTW leading in the GPU test, but again the Zotac GeForce GTX 950 AMP! and ASUS GeForce GTX 950 STRIX weren't too far behind.
Temperature & Noise Testing
Since gaming performance is basically a wash one of the most important things when picking out a GeForce GTX 950 will be the noise, temperature and power consumption numbers and the temperatures and noise levels on these cards does vary greatly.
ASUS GeForce GTX 950 STRIX 2GB Idle and Load Temps: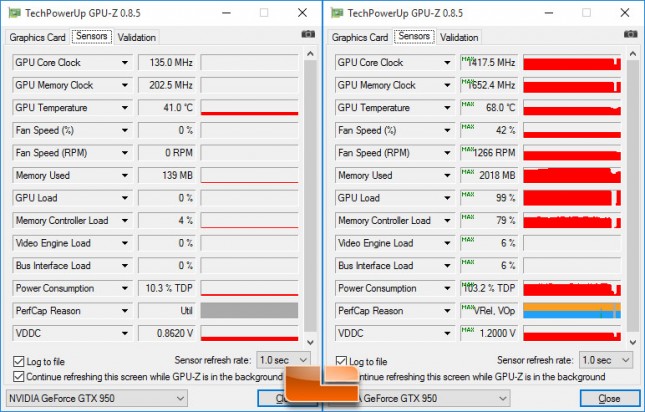 EVGA GeForce GTX 950 FTW 2GB Idle and Load Temps: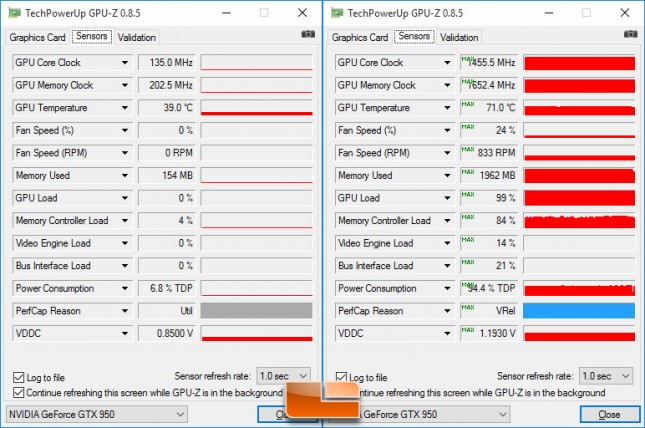 Zotac GeForce GTX 950 AMP! Edition 2GB Idle and Load Temps: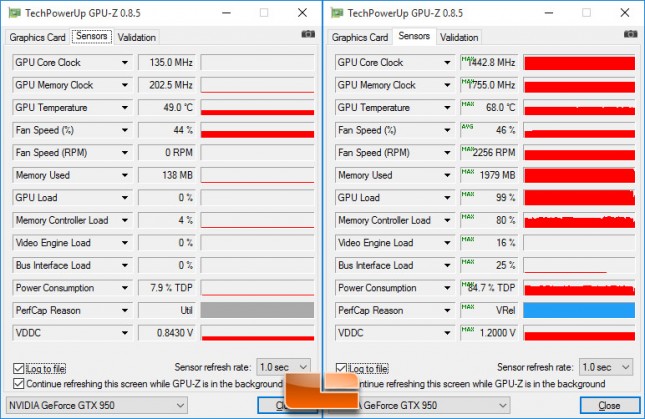 When it comes to temperatures the Zotac GeForce GTX 950 AMP! and ASUS GeForce GTX 950 STRIX both topped out at 68C, but the fans on the Zotac card were running at 2300 RPM and the ASUS card was at just 1300 RPM, so there was a huge noise difference between the two cards. The EVGA GeForce GTX 950 FTW had the highest temperature of 71C, but the fans were running at just over 800 RPM and was the quietest of the bunch. At idle the ASUS and EVGA GTX 950 cards were around 40C, but the Zotac GeForce GTX 950 AMP! was much hotter at idle and was at 49C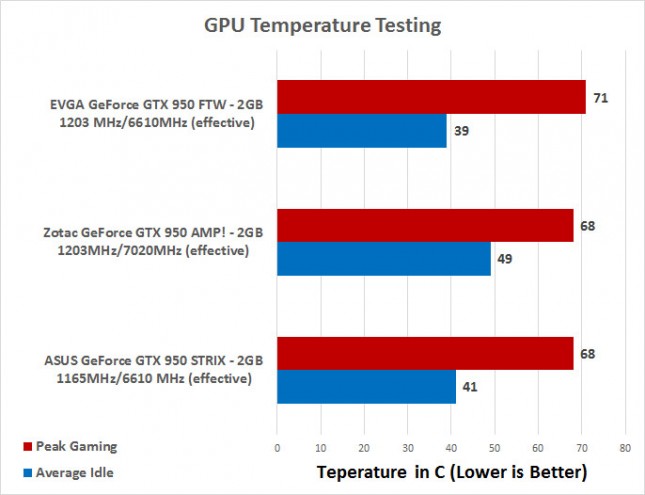 Sound Testing
We test noise levels with an Extech sound level meter that has 1.5dB accuracy that meets Type 2 standards. This meter ranges from 35dB to 90dB on the low measurement range, which is perfect for us as our test room usually averages around 36dB. We measure the sound level two inches above the corner of the motherboard with 'A' frequency weighting. The microphone wind cover is used to make sure no wind is blowing across the microphone, which would seriously throw off the data.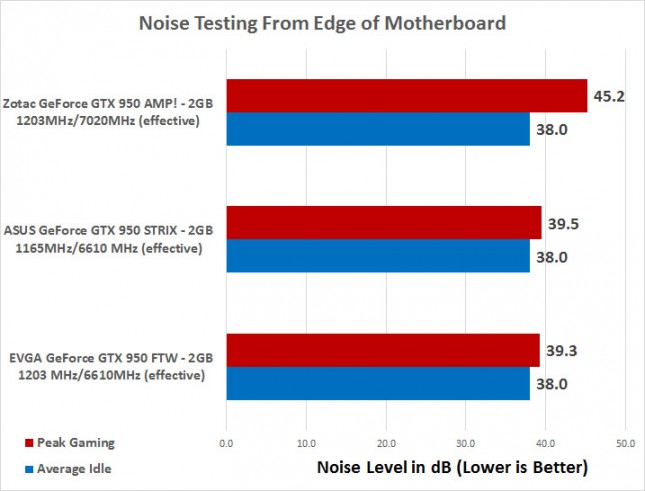 All of the cards have no fans spinning at idle, so the idle noise is the same on all of the cards. The only reason the system is above ambient noise levels is due to CPU's water cooler fans and pump noise. All of the cards two fans run while gaming and the ASUS GeForce GTX 950 STRIX and EVGA GeForce GTX 950 FTW were basically identical in regards to noise levels. The Zotac GeForce GTX 950 AMP! Edition card on the other hand was much louder than the other two cards and came in at roughly 45 dB versus the ~39.5 dB seen on the ASUS and EVGA cards. We didn't notice any choke noise while gaming on any of the cards.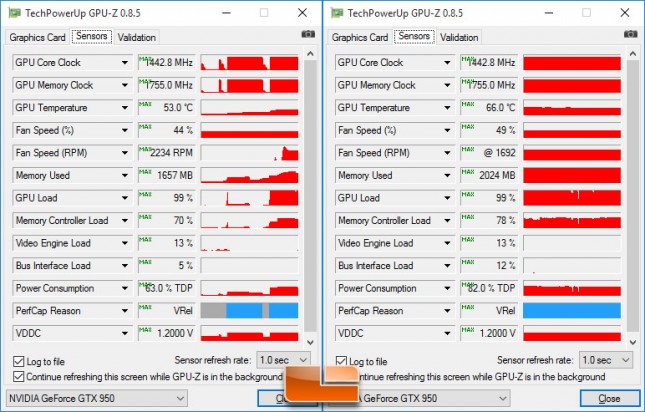 The reason the Zotac GeForce GTX 950 AMP! Edition card has what we feel is a poorly programmed fan profile for this card. When you launch a game the fan goes from being off to basically 100% for a split second before settling down to where it is supposed to be. It should be noted that this initial 'fan burst' put the card at over 2200 RPM and the noise level was slightly over 50 dB. We ignored this number for our gaming noise chart, but it needs to be pointed out. You go from dead silence to the fans screaming at 2200 RPM for a couple seconds and then it settles down to around 1700 RPM or 45 dB while playing game titles for extended periods of time.
GTX 950 Power Consumption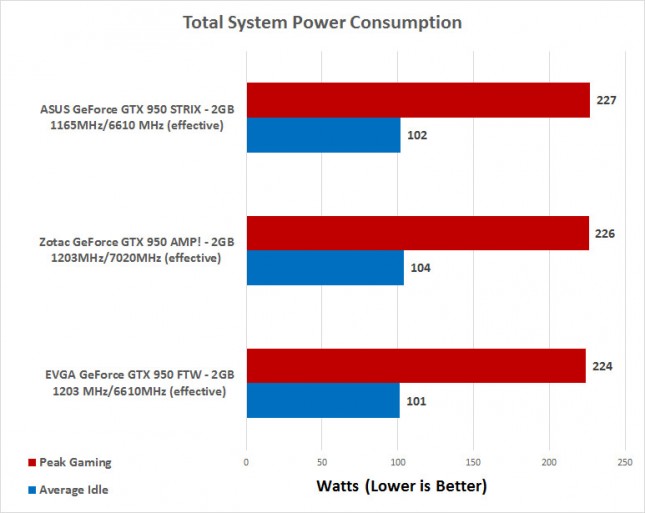 When it comes to power consumption all the cards were within 3 Watts and idle and load, so there is no significant difference between any of them despite the different clock speeds, fans an so on.
Let's take a look at what happens when we overclock the cards.