NVIDIA GeForce GTX 950 Video Card Roundup – ASUS, EVGA and Zotac
By
Closer Look – EVGA GTX 950 FTW 2GB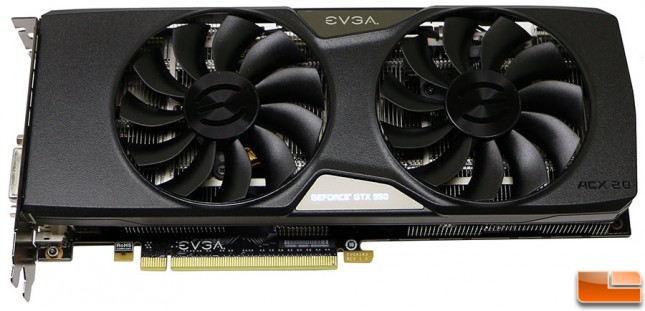 Next up we have the EVGA GeForce GTX 950 FTW 2GB video card, which just happens to be the flagship GTX 950 card for EVGA. This card has the most extreme factory overclock of four GTX 950 models offered by EVGA and it has a slew of features that you won't find on other cards like features the ACX 2.0 GPU cooler, dual BIOS chips, 8-pin PCIe power connector, a beefy 6+2 power phase design and a backplate. This card is what we'd actually call overbuilt, but since it costs the same as the other cards it will be seen to some as offering the most features for the best price.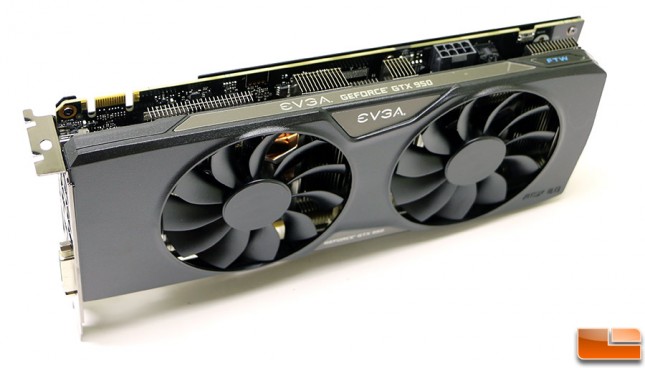 The EVGA GeForce GTX 950 FTW is the longest card in the roundup at 256.5mm in length, but EVGA needed that length to include the largest GPU cooler in the group as well as the 8-phase (6+2) power design that should give you more than enough power for gaming and overclocking. The GPU cooler uses three copper heatpipes that help transfer the heat from the GPU to the two cooling fin arrays. The two double ball bearing fans on the card have are 0db models, so they'll only spin up when the card reaches a certain operating temperature.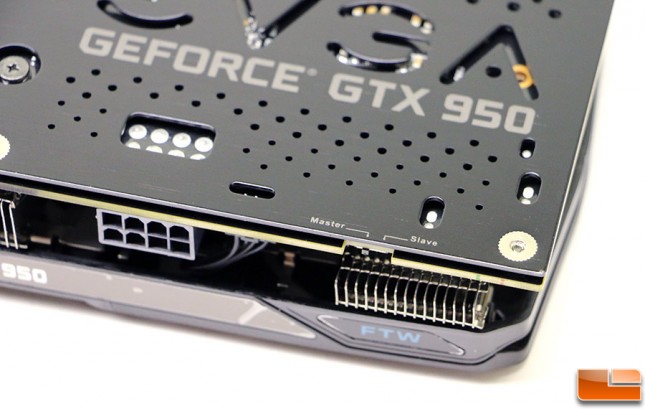 Along the top edge of the EVGA GeForce GTX 950 FTW you'll find a single NVIDIA SLI multi-GPU interconnect, front-facing 8-pin PCIe power connector and the switch for the cards two BIOS chips. With the 8-pin power design it means that this card can get 225 Watts of power from the system even though it's only got a total power draw of 125 Watts. EVGA suggests just a minimum of a 350 Watt power supply for proper operation, so you can see how this power design is likely total overkill.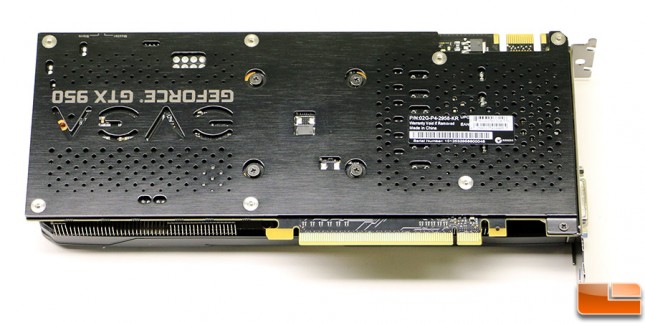 The EVGA GeForce GTX 950 FTW comes with a full coverage black back plate that is closely seated to the back of the card and should not interfere with memory slots or any other components located directly behind the primary PCIe slot.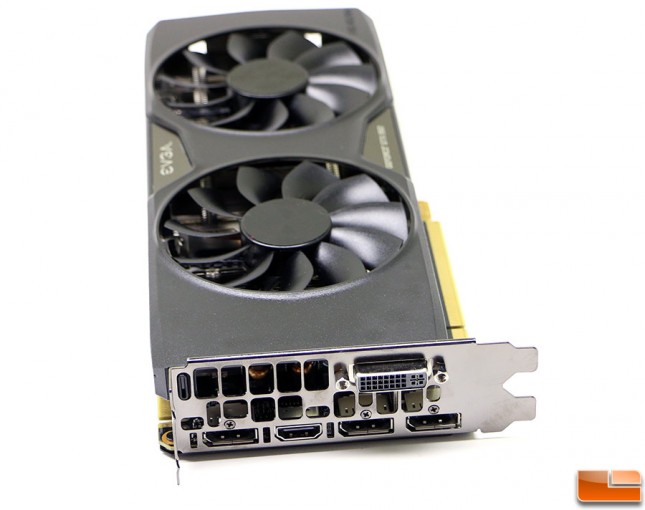 EVGA went with three DisplayPort 1.2 outputs as well as single HDMI 2.0 and one Dual-Link DVI-D header when it comes to video outputs.
The EVGA GeForce GTX 950 FTW video card isn't the smallest of the three cards, but it has the most robust design features of the three cards that we are looking at today.