NVIDIA GeForce GTX 950 Video Card Roundup – ASUS, EVGA and Zotac
By
Closer Look – ASUS GTX 950 STRIX 2GB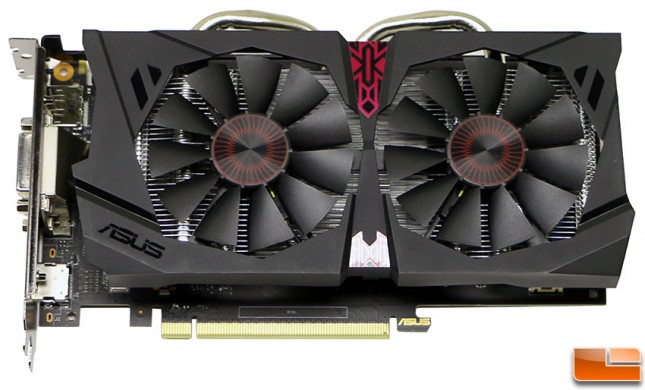 The ASUS STRIX GTX950 DirectCU II OC 2GB video card features the usual black design with red accents and measures in at 220 x 125 x 40 mm in dimension. This makes the STRIX-GTX950 just 8.7-inches in length, so you shouldn't have any issues fitting inside your PC case.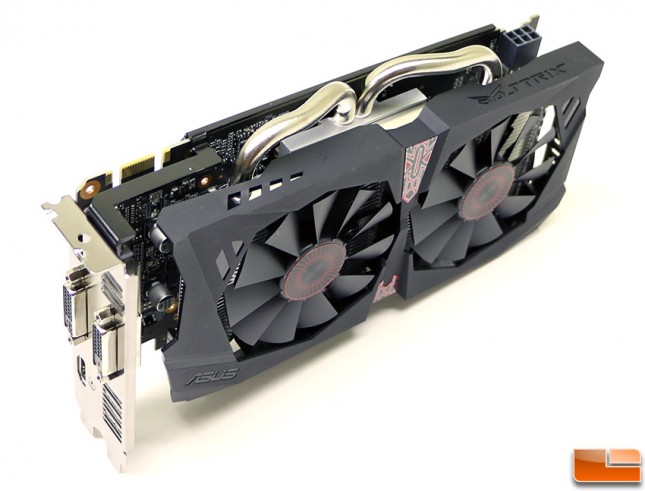 The STRIX GTX 950 has a 5-phase (4+1) Super Alloy II Power design that should give you plenty of smooth power and minimal choke noise. Up top you'll also see the two 8mm heatpipes that help transfer the heat from the GPU to the cooling fin arrays. The two wing-blade fans on the STRIX GTX 950 are 0db models, so they'll only spin up when the card reaches a certain operating temperature.
Along the top edge of the ASUS STRIX GTX 950 you'll find a single NVIDIA SLI multi-GPU interconnect for those that might want to combine two of these cards together for even greater performance. On the other end of the top edge of the PCB there is the rear-facing 6-pin PCIe power connector. ASUS recommends at least a 350W power supply for their NVIDIA GeForce GTX 950 video card and that the +12V rail has a current rating of 24 Amps or higher.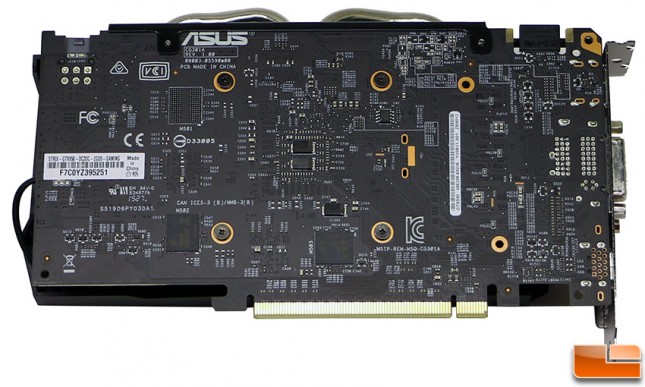 The ASUS GTX 950 STRIX 2GB video card does not come with a black back plate and we noticed that there are locations for more memory to be added, so it is possible that 4GB versions could be made down the road if there is market demand for such a card.
ASUS went with three DisplayPort 1.2 outputs as well as single HDMI 2.0 and Dual-Link DVI-I when it comes to video outputs. ASUS includes a DVI to VGA adapter in the accessory bundle, so the STRIX-GTX950-DC2OC-2GD5 should be able to connect to pretty much any monitor that you own or that is coming out in the years ahead. It is nice to see some many DisplayPort connections as that it what you need to run NVIDIA G-Sync monitors and you can easily run a set of them out of the box with this card.

Here you can make out the two 8mm thick heat pipes that make up the DirectCU II GPU cooler. These heat pipes make direct contact with the GPU to ensure the best possible heat transfer. The ASUS GTX 950 STRIX 2GB video card has the ability to run at different clock speeds, but you'll need to install ASUS GPU Tweak II software to set the mode. If you don't install ASUS GPU Tweak II software and just run the cards with the lastest NVIDIA GeForce drivers it will default to OC Mode clock speeds.
Gaming Mode: 1140 MHz Base / 1239 MHz Boost
OC Mode: 1165 MHz Base / 1355 MHz Boost
Let's take a look at the EVGA GeForce GTX 950 FTW video card on the next page!