NVIDIA GeForce GTX 780 Ti Video Card Roundup – Tested at 4K
By
NVIDIA GeForce GTX 780 Ti Roundup With MSI, Gigabyte and EVGA
The NVIDIA GeForce GTX 780 Ti is hands down one the most powerful video cards on the market that money can buy. The GeForce GTX 780 Ti is powered by the fully enabled GK110 'Kepler' GPU that features 2880 CUDA cores. The NVIDIA GTX780 Ti reference card runs at 875MHz core (928MHz boost) and has 3GB of GDDR5 memory running on a 384-bit bus at 1750MHz (7000MHz effective), but there are a number of add-in-board (AIB) partners that have released cards with factory overclocks and custom cooling solutions. If you want to build a kick ass gaming system and don't have any budgetary constraints, the NVIDIA GeForce GTX 780 Ti 3GB card at $659.99 to $769.99 is most certainly the front runner. It should be noted that the NVIDIA GeForce GTX Titan Black is the flagship video card from NVIDIA, but shares the same GPU with different clock speeds and double the amount of memory (6GB) for a cool $1009.99 to $1099.99. Only a select few that are pushing several 4K monitors will need that much memory, so the GeForce GTX 780 Ti 3GB card has the flagship GPU with just the right amount of memory for 99.5% of gamers out there.
If you are looking to improve your graphics performance you might be ready to move up to a GeForce GTX 780 Ti, but which one? There are more than a dozen NVIDIA GeForce GTX 780 Ti cards on the market in North America and many might have a hard time between picking one to purchase. Pretty much all the AIB partners use high-end components and use fancy jargon for their components, so so we know it can be tough to find a card. We got our hands on three factory overclocked cards with custom coolers and will be putting them to the test on our 4K monitor to see how the perform.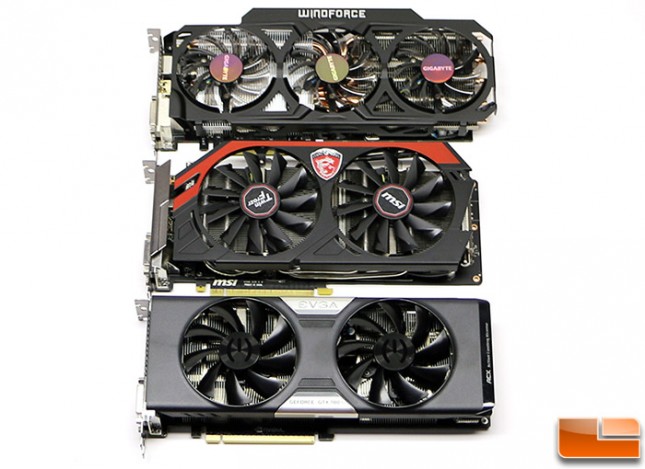 First up we have the GIGABYTE GeForce GTX 780 Ti 3GB (GV-N78TGHZ-3GD) Video Card at $724.99. The Gigabyte GeForce GTX 780 Ti GHz Edition card runs at a 1085MHz base clock, boosting up to 1150MHz. The 3GB of Hynix GDDR5 memory runs at 1750MHz (7000MHz) and is connected to a 384-bit bus. The card uses a Gigabyte WINDFORCE 3X 450W GPU cooler that is equipped with two 8mm and four 6mm cooper heat-pipes. One of the noteworthy changes on this card is that Gigabyte was the only company that we are looking at today that includes two 8-pin on their overclocked card to help deliver over 250w+ of power to the card.
The MSI GeForce GTX 780Ti GAMING 3GB Video Card that runs $689.99 (currently $669.99 after rebate). The MSI GeForce GTX 780 Ti Gaming card features the TwinFrozr IV GPU cooler with dual fans along with heatpipes and one Superpipe for improved cooling performance. This card is pre-overclocked like the rest, but can be used with the MSI Gaming App that will allow you to run the card in one of three performance modes :
OC Mode: 1020MHz Core (Boost Clock:1085MHz) – 1750MHz Memory
Gaming Mode: 980MHz Core (Boost Clock:1046MHz) – 1750MHz Memory
Silent Mode: 876MHz Core (Boost Clock:928MHz)- – 1750MHz Memory
Lastly, the EVGA GeForce GTX 780 Ti Superclocked 3GB w/ ACX Cooler (03G-P4-2884-KR) that retails for $729.99 ($719.99 after rebate). This card is factory overclocked and runs with a 1006MHz base clock with the ability to boost up to 1072MHz. The memory runs at 1750MHz (7000MHz) on the 3GB of GDDR5 memory. One of the key features on this card is EVGA's ACX cooling solution that uses a beefy GPU cooler with a pair of fans that has ball bearings.
So, all the cards cards use the same 28nm GK110 core with 2880 CUDA Cores (5 Graphics Processing Clusters, 15 Streaming Multiprocessors) along with 240 texture units and 48 ROPs. The only real big difference between the cards are the GPU coolers and the clock speeds. There are most certainly come component differences between the cards, but none has a capacitor that is known to fail or anything like that. All three brands also back their cards with a 3-year warranty.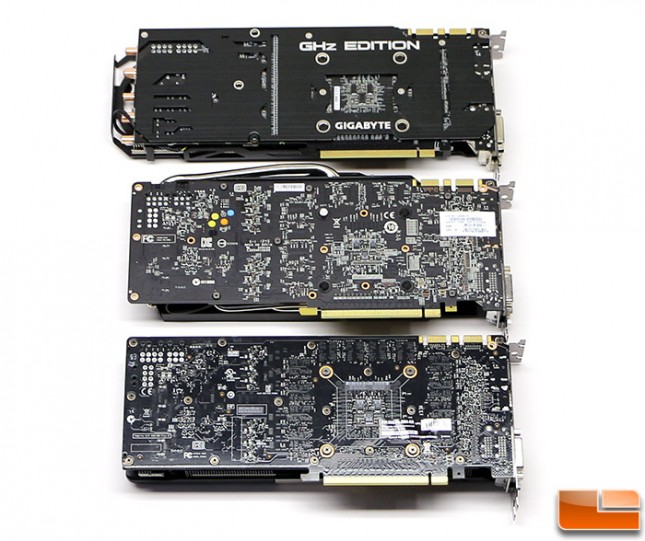 The Gigabyte GeForce GTX 780 Ti GHz Edition was the only GeForce GTX 780 Ti card of the trio that came with a blackplate. We are big fans of backplates as it makes the card look finished and protects the components on the back.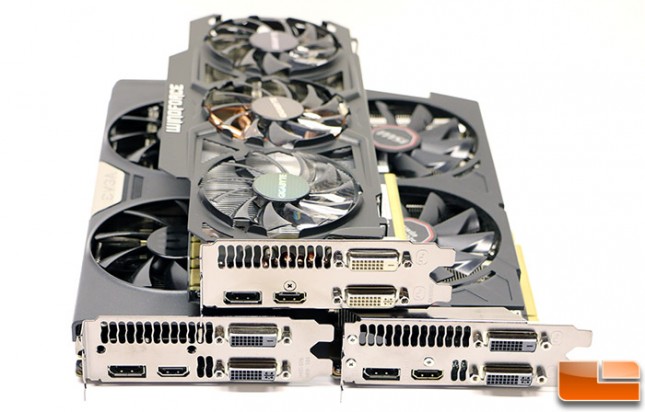 When it comes to video outputs EVGA, Gigabyte and MSI all use NVIDIA's standard configuration of DisplayPort, HDMI and two DVIs. The EVGA and MSI cards have a couple more exhaust holes in the bracket, but not all of the fan exhaust is routed out the back on any of these cards, which means this shouldn't really matter. The HDMI is connector on the Gigabyte and MSI cards is gold plated, but again we have never seen any difference in image quality between standard and gold plated HDMI connecters over the past six years or so. All of the cards share the same four connectors and that means you can run up to four panels. You can run three screens as an NVIDIA Surround gaming arrangement and then the fourth display can be an accessory display for web surfing, chat, e-mail and so on. All of the cards support up to a 240Hz max refresh rate, 2048×1536 resolutions on analog and 4096×2160 on digital.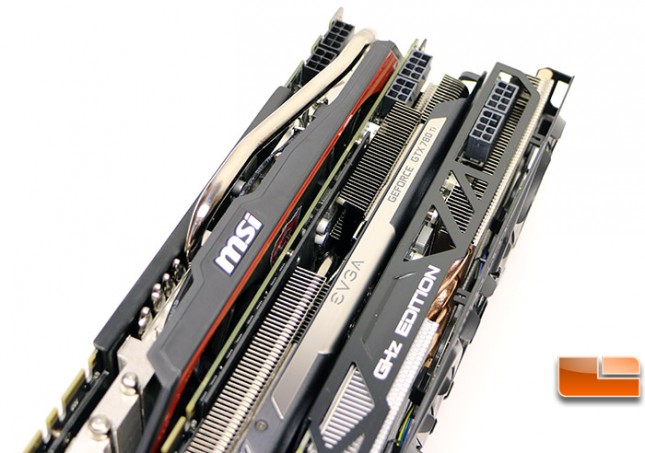 When it comes to power connectors all of the cards have the power connectors located along the top edge at the end of the card. The MSI and EVGA GeForce GTX 780 Ti cards have a 6-pin and 8-pin PCIe connector, while the Gigabyte card has a pair of 8-pin connectors. Most of the companies recommend a 600W power supply with a +12 Volt current rating of at least 42 Amps.
Now that you should have a pretty good feel for the general differences between these cards we can skip along to taking a look at the test system and get to benchmarking!