MyDigitalSSD SBXe 960GB SSD Review
By
Anvil Storage Utilities
Anvil Storage Utilities 1.1.0
Along with the move to a new platform, we decided to make a change in one of the benchmarks. There's a relatively new benchmark called Anvil Storage Utilities that is in beta but close to production. It's a very powerful tool that measures performance through a variety of tests which can be customized.
Anvil SSD Benchmark with 100% Compression (incompressible data):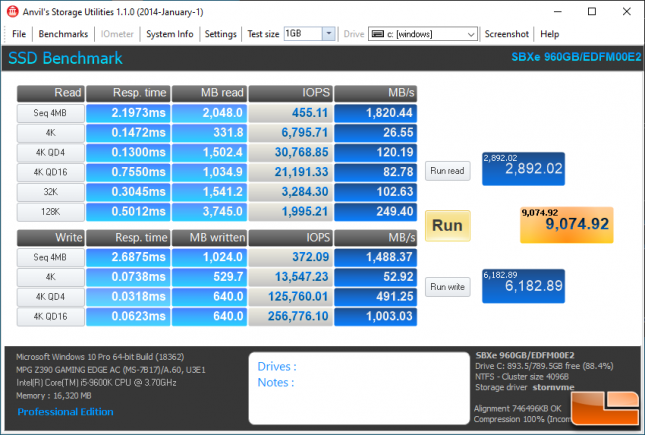 Benchmark Results: The benchmark results from the most recent build of Anvil SSD Benchmark showed that with 100% compression (incompressible data) that MyDigitialSSD SBXe 960GB M.2 NVMe drive had an overall score of 9,074.92 points. The drive topped out at 1,820.44 MB/s read and 1,488.37 MB/s write on the sequential performance test with 4MB file sizes. Random 4K QD16 performance hit 21,200 IOPS on read and 256,800 IOPS write.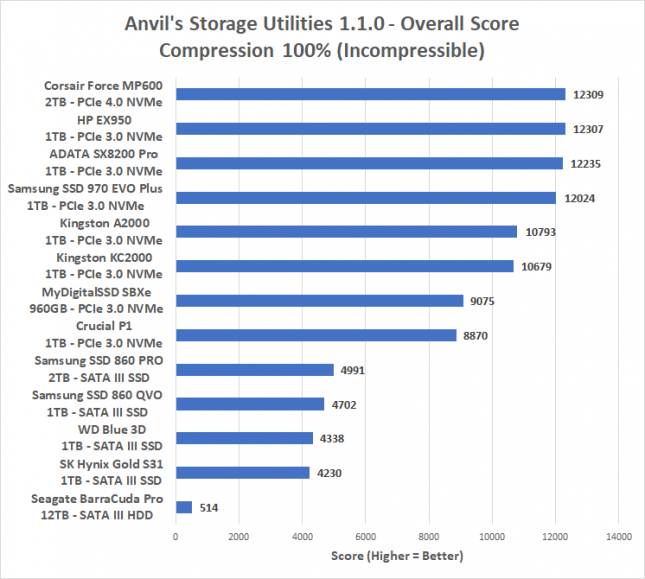 This overall score puts the MyDigitalSSD SBXe 960GB drive just ahead of the Crucial P1 1TB drive on this particular benchmark and miles ahead of the other SATA III SSDs. The SBXe is not going to give any mainstream or high-end SSDs a challenge from the looks of it.