MyDigitalSSD SBXe 960GB SSD Review
By
Meet the SBXe or is it SBX ECO – Pick one MyDigitalSSD!
If you are looking for an M.2 NVMe SSD on a budget you'll likely run across the Super Boot eXpress Eco (SBXe) series by MyDigitalSSD. This series was created to offer their customers as much speed as possible for the least amount of money. So, what does a bottom barrel get you as far as performance here at the end of 2019? How about sequential Read/Write performance of up to 2500/2100 MB/s on a 960GB drive for $89.99 shipped without any rebates to mess with. If that has you intrigued keep reading and see if the SBXe series is right for you.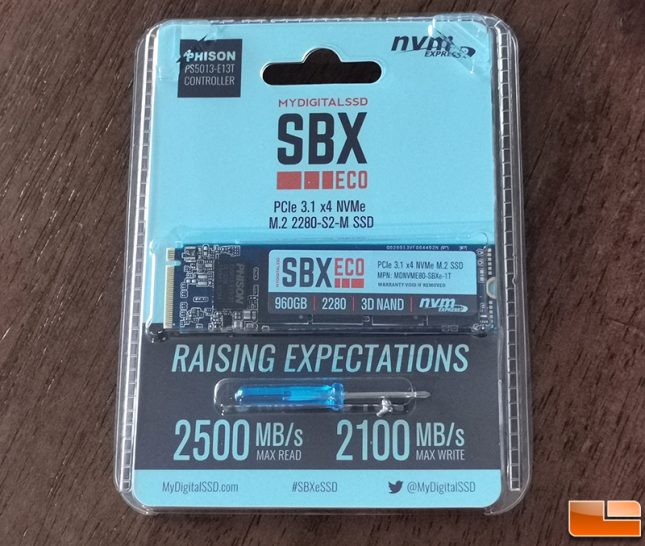 MyDigitalSSD offers the SBXe series of M.2 2280 PCIe 3.1 x4 NVMe SSDs in 120GB, 240GB, 480GB and 960GB capacities. The performance and endurance ratings differ on every model, so be sure to take a look at the specifications table below. MyDigitalSSD sent over the 960GB model for Legit Reviews to take a look at and it does have the fastest speeds of the four models. As we mentioned just a moment ago you are looking at up to 2.5 GB/s read and 2.1 GB/s write speeds for sequential performance. Random 4K numbers are rated at up to 295,000 IOPS read and 430,000 IPOPS write. Not bad numbers for a $0.09 per GB entry-level NVMe drive.
MyDigitalSSD SBXe Series Specifications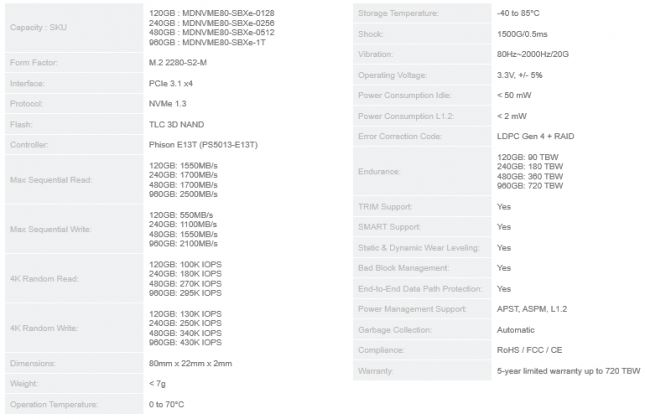 This drive features the Phison PS5013-E13T 4-channel controller that used the PCIe Gen 3.1 x4 interface without DRAM. DRAM-less drives cost less to make and rely on the Host Memory Buffer (HMB) that is available on later versions of Windows 10 for caching purposes. Having a dedicated memory chip sitting next to the controller is better, but a DRAM-less design doesn't hurt performance that bad and lowers build costs. The Phison PS503-E13 controller is paired with Toshiba 64-Layer 3D TLC NAND Flash (BiCS3).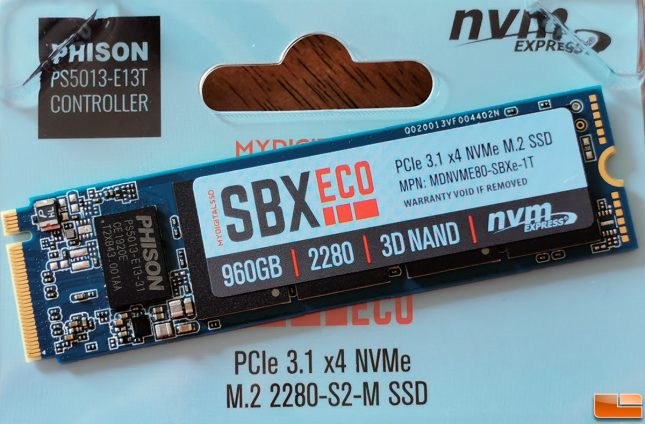 MyDigitalSSD appears to be using Phison reference design for this SSD and it has a blue PCB with a mostly blue product label. The nice thing about this drive is that it is single-sided, which means it should fit in all desktops and laptops that have an open M.2 2280 (80mm) slot for a PCIe drive.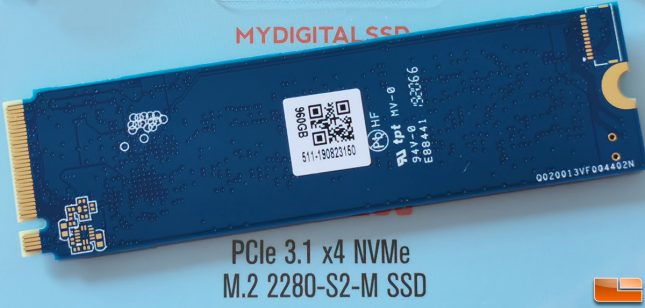 Here is a quick blurb about the Phison E13T controller from the manufacturer along with a promotional video.
The Phison E13T controller was designed to provide an enhanced user experience at a competitive cost, without sacrificing quality. The E13T safeguards data with end-to-end data path protection, thermal throttling, and a powerful low-density parity-check (LDPC) ECC algorithm for improved drive reliability – preventing data corruption while maintaining peak performance and low power consumption.

Additionally, the E13T controller supports APST, ASPM, and L1.2 power saving modes to maximize notebook battery life along with the Secure Erase command to sanitize all user data and restore factory settings.
Let's take a quick look at the SSD test system and then move along and see how this DRAM-less drive performs against other consumer 1TB class drives.