MyDigitalSSD SBX 512GB NVMe SSD Review
By
NVMe SSD On The Cheap – MyDigitalSSD SBX
If you've never used an SSD before you are in for a treat as an SSD is the single biggest performance upgrade that can be done to your computer. A decade ago a good SATA II SSD would run you around $7 per gigabyte, but these days you can pick up an entry-level M.2 PCIe NVMe SSD for very close to $0.25 per GB. One company has been making a name for themselves in the entry-level SSD market and that would be an American company called MyDigitalSSD.
MyDigitalSSD has been around for over a decade and they have a close relationship with Phison. MyDigitalSSD has utilized that relationship with Phison and has been releasing some really good drives in recent years when it comes to value. Last year, Legit Reviews took a look at the MyDigitalSSD BPX 480GB M.2 PCIe NVMe drive with the Phison E7 controller and MLC NAND Flash and found it to be one of the best values around. The follow-up to MyDigitalSSD's BPX series is called the SBX series and it features the newer Phison E8 controller and the latest 64-layer 3D TLC NAND from Toshiba.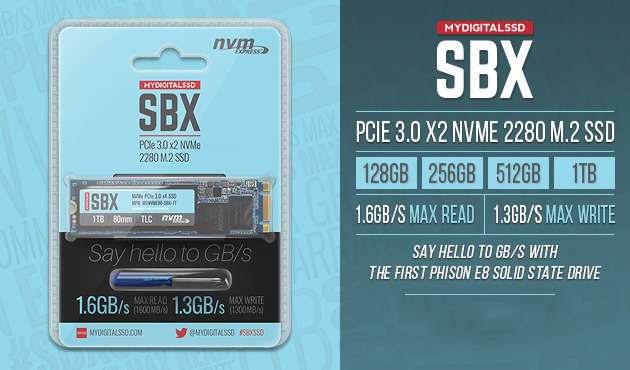 MyDigitalSSD currently offers the SBX (Super Boot eXpress) series in four capacities; 128GB ($44.99 shipped), 256GB ($69.99 shipped), 512GB ($139.99 shipped) and 1TB ($299.99 shipped). These are some of the lowest prices around and that is because MyDigitalSSD is able to sell at very cheap prices due to having very little overhead. They are essentially selling drives based off the Phison reference design, so they are able to keep costs lower than their larger rivals. MyDigitalSSD has also been able to release Phison drives sooner than the other companies, so they are first to market.
Direct competitors to this drive that are also using the Phison E8 controller would be the Patriot Scorch 512GB drive ($154.99 shipped) and the Kingston A1000 480GB ($144.79 shipped). When the Kingston A1000 480GB drive (our review) was released in April 2018 it had an MSRP of $306 and a street price of $218.40, but thanks to pressure from MyDigitalSSD's aggressive pricing structure it has caused others to drastically cut prices. MyDigitalSSD might not be a brand that you have heard of, but they are having a big impact on entry-level SSD pricing!
MyDigitalSSD rates their SBX series as having sequential speeds of up to 1,600 MB/s read and 1,300 MB/s write and the 4K Random Read/Write performance is rated at up to 240,000 IOPS for 4K Random Reads and 180,000 IOPS of 4K Random Writes. MyDigitalSSD backs the SBX series with a 5-year limited warranty the endurance ratings for the series is equally impressive. The endurance ratings are 120 TBW on the 128GB drive, 200 TBW on the 256GB drive and 375 TBW on the 512GB drive and 800 TBW on the 1TB drive.
MyDigitalSSD SBX Series Features:
Form Factor: Single-Sided M.2 2280
Interface: PCIe Gen 3.0 x2
Capacities: 128GB / 256GB / 512GB / 1TB
Controller: Phison E8 (PS5008-E8)
NAND: Toshiba 64-layer 3D TLC (BiCS3)
Sequential Read: Up to 1600 MB/s
Sequential Write: Up to 1300 MB/s
4K Random Read: Up to 240K IOPS
4K Random Write: Up to 180K IOPS
Operating Temperature: 0C to 70C
Power Consumption: <5W
Endurance:

128GB: 120 TBW
256GB: 200 TBW
512GB: 375 TBW
1TB: 800 TBW

Warranty: 5-Years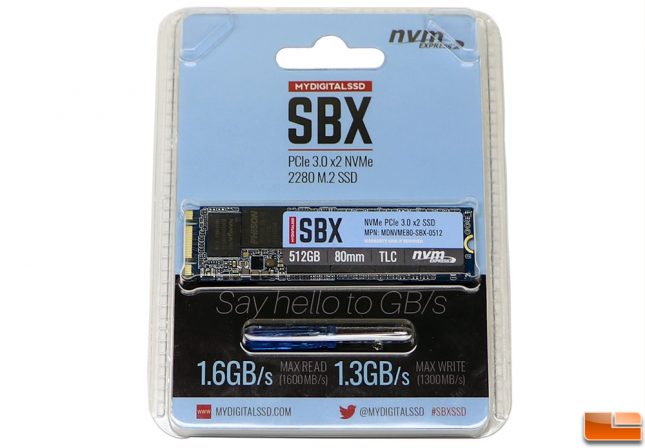 The drive that well be reviewing is the MyDigitalSSD SBX NVMe PCIe 3.0 x2 SSD that is 512GB in capacity and sold under part number MDNVME80-SBX-00512. The SBX series ships at full capacity with no over-provisioning.

Next to the label on the front of the SBX 512GB drive youll find the Nanya 512MB low-power DDR3 DRAM cache chip and the Phison PS5008-E8 four-channel quad-core controller and four 128GB 3D TLC NAND Flash chips. You don't need any special NVMe driver for this SSD controller as it works fine with the native NVMe drivers in Windows 10.

On the back of the this single-sided M.2 2280 drive you'll find just the warranty label and no surface mounted components.
Let's take a look at the test platform and then move along to the performance benchmarks.