Kingston A1000 960GB PCIe NVMe SSD Review
By
Kingston Brings First Value PCIe NVMe Drive To Market
The A1000 Solid-State Drive (SSD) is Kingston's first entry-level PCIe NVMe solution and it is available today in capacities of 240GB, 480GB and 960GB. As Kington's starting point for PCIe NVMe drives, the A1000 series will sit underneath the KC1000 series that was introduced last year. This affordable drive series boasts speeds that are twice as fast as a traditional SSD using the SATA III interface and around 20x faster than the old school spinning 7200RPM hard drive. We are talking about sequential read/write performance of up to 1500 / 1000 MB/s and random 4K read/write performance of up to 120K / 100K IOPS. Not bad performance numbers from an entry-level PCIe NVMe drive series that uses a single-sided M.2 2280 form factor design. Kingston is targeting users that are trying to breath life into an old system or are building a new system on a budget and want to run the latest drive technology. Kingston is using the Phison E8 (PS5008-E8) controller with Toshiba 64-Layer BiCS3 3D TLC NAND Flash memory on the A1000 drive series.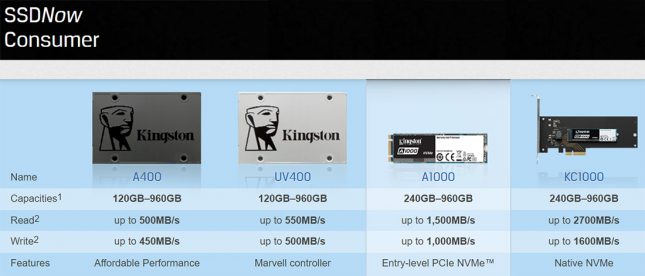 Pricing on entry-level products is crucial as there is no shortage of low-cost SSDs on the market, so what does this 'affordable' PCIe NVMe series cost? The Kingston A1000 240GB drive is $119.60, the 480GB drive is $218.40 and the largest 960GB drive is $403.00. That prices the Kingston A1000 series just below the popular Samsung 960 EVO and Intel SSD 760p drive series.
Kingston A1000 PCIe NVMe SSD Features and Specifications:
Form Factor: M.2 2280
Interface: NVMe PCIe Gen 3.0 x2 Lanes
Capacities: 240GB, 480GB, 960GB
Controller: Phison E8 (PS5008-E8)
NAND: Toshiba 64-Layer BiCS3 3D TLC
Sequential Read/Write:

240GB: up to 1500/800MB/s
480GB: up to 1500/900MB/s
960GB: up to 1500/1000MB/s

Random 4K Read/Write:

240GB: up to 100,000/80,000 IOPS
480GB: up to 100,000/90,000 IOPS
960GB: up to 120,000/100,000 IOPS

PCMARK Vantage HDD Suite Score: 150,000
Total Bytes Written (TBW):

240GB: 150TB
480GB: 300TB
960GB: 600TB

Power Consumption: .0117W Idle / .0756W Avg / .458W (MAX) Read / 0.908W (MAX) write
Storage Temperature: -40C to 85C
Operating Temperature: 0C to 70C
MTBF: 1,000,000
Warranty/support: Limited 5-year warranty with free technical support.
The drive that we will be testing for this review is the Kingston Technology A1000 PCIe NVMe 960GB model that is sold under part number SA1000M8/960G. The MSRP on this drive is $564.00, but street pricing has already shaved 28% off and that brings the price down to $403.00 or just under $0.42 per GB. The Kingston A1000 960GB NVMe drive has an endurance rating of 600 TBW when it comes to lifetime writes. That works out to meaning that you can write roughly 328.8 GB of data to the drive per day over the 5-year warranty period and be fully covered.

The A1000 series looks pretty much like any other M.2 2280 'gumstick' drive. You have the common blue PCB with a sticker covering all the major components. Under the label there are four TLC NAND chips, one Micron DDR3L cache chip and the Phison E8 controller. The only thing included with the drive is an activation key for Acronis True Image HD software and a basic 'getting started' guide.

The back of the single-sided PCB is bare as one might expect.
Let's take a look at the test system we'll be using and then jump into the performance numbers on a handful of popular benchmarking utilities that you can run at home to see how much faster this drive may be than what you currently have.