MSI Z77A-GD65 Gaming Series Motherboard Review
By
MSI Z77A-GD65 Gaming Motherboard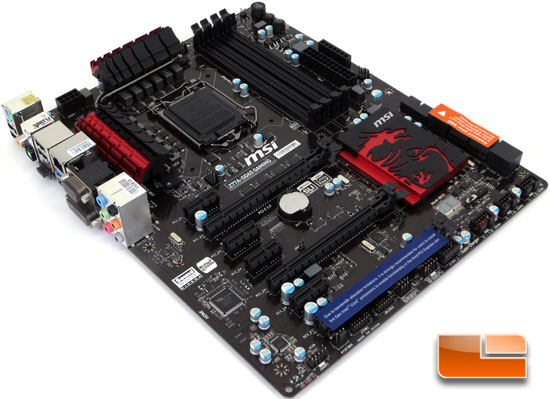 Micro Star International, more commonly known as MSI recently sent us over one of their recently released Intel Z77 Gaming motherboards. What they sent over isn't your average mom and pop motherboard. The MSI Z77A-GD65 Gaming motherboard is a beast of a motherboard and geared for those looking only for the best. Although there are several others in the MSI Gaming Series, the MSI Z77A-GD65 Gaming is the top dog of the series. The MSI Z77A-GD65 Gaming is available for as little as $169.99. The Z77A-G45 Gaming and Z77A-G43 are available for $139.00 and $109.99. Each of the boards has its respective place, but we are going to focus on the flagship board of the gaming series the Z77A-GD65 Gaming.
The MSI Z77 series of motherboards are built with the intent of giving gamers the top features and technology so that the can be at their best and not have to worry about their hardware. According to MSI the Gaming boards have 'The best weapons at hand'.
The highest frag and the lowest lag with Killer E2200
Game networking
Military Class III components
Gaming device port
Optimized for multiple graphics cards
Boosting performance thanks to OC Genie II
Top quality audio solution with Sound Blaster Cinema
Supports DDR3 3000 memory for super fast loading
Each of the above features adds to the performance of the Z77A-GD65 Gaming motherboard and would make a great addition to any gamers arsenal.

The Killer E2200 Intelligent Networking Platform is built for maximum networking performance for online games and high-quality streaming media. Featuring Advanced Stream Detect, Killer E2200 automatically detects and accelerates game traffic ahead of other network traffic for smoother, stutter-free in-game performance and the competitive edge. With this exclusive, automatic traffic prioritization, games and real-time chat get priority over low-level system chatter, giving you the lowest latency for game data on the most controllable network hardware available. Through the detection and prioritization of gaming traffic you can finally fully utilize your network without fear of being kicked from an on-line game because of high ping. This enables true multi-tasking without manually enabling or disabling applications, updates and installations. Killer networking actually allows you to use your PC 24 hours a day.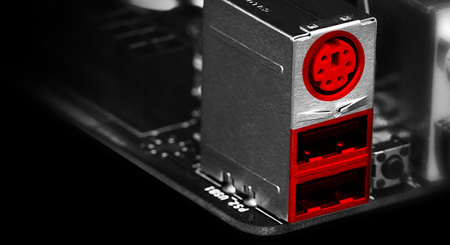 You want more FPS, lower ping, but why use a pro-gaming mouse with old-fashioned standards? MSI Gaming Device Port is optimized for high polling rate mice (500 to 1000 Hz) which lowers your mouse's response time from 8 milliseconds to 1 millisecond! This gives a much smoother mouse response in games. The additional gold plating on the ports enhances the durability drastically and ensures your PS/2 and USB ports are always working when you ship out to a LAN party.
Gaming Benefits
More Responsive
Smoother Gameplay
Faster Reactions
Technical Benefits
3x More Gold than regular connectors
10x longer lifetime when plugging and unplugging
Prevents Oxidation
The onboard audio performance of a motherboard is almost always questionable for some and good enough for others. Lately though each motherboard manufacturer has found ways to try and set themselves aside from the crowd. Some have replaced the typical Realtek audio codec with another, others have had the Realtek audio codec set up to use third party software. In the case of the MSI Z77A-GD65 Gaming, MSI is utilizing Creative Sound Blaster Cinema software to hopefully boost the sound quality quality and performance of the onboard Realtek ALC898 Hi Definition audio Codec. I would have liked to see MSI step it up a notch and use an actual Creative Audio chip, after all, MSI is going after the die-hard gamers out there that are likely using dedicated sound cards.

Many of the remaining features are the same technologies that we have seen on MSI motherboard in recent times. All the components on the MSI Z77A-GD65 Gaming motherboard are Military Class III Components. The Military Class III Components consist of DrMOS II, Hi-c Cap, Solid CAPS, and Super Ferrite Chokes. Below is the explanation of each of these components from MSI
DrMOS II
DrMOS is the next-gen Mosfet which is used to deliver the power for the CPU. MSI DrMOS does not waste much power, stays cool and is more power efficient than other powersaving solutions. Because DrMOS is a 3-in-1 chip it delivers much more power with less components needed. This solution gives you the power to break world records.
Hi-C CAP
A Hi-c CAP is a very small, but super-efficient capacitor. Besides ensuring enough spacing around a CPU socket to install large coolers, it also allows for 93% energy efficiency. Thanks to Hi-c CAP's MSI mainboards are the most energy efficient in the market.
Solid CAP
With their aluminum core design, Solid CAP's have been a staple in high-end design mainboard designs and provides lower Equivalent Series Resistance (ESR) as well as its over-10-year lifespan.
Super Ferrite Choke
Super Ferrite Chokes use a Ferrite core that is Super-Permeable. This allows the Super Ferrite Chokes to run at a 35 degree Celsius lower temperature, have a 30% higher current capacity, a 20% improvement in power efficiency and better overclocking power stability.
Beyond the Military Class III technologies, we have features such as Super Charger, Click BIOS II, Total Fan Control, and the ever so important Dragon Heat-Sink… Each of these features plays an important roll in the performance of the MSI Z77A-GD65 Gaming motherboard (yes even the Dragon Heat-sink that is over-sized to aid in heat dissipation).
MSI Z77A-GD65 Gaming Motherboard Specifications
CPU (Max Support)

Supports 3rd Gen Intel Core i7 / Core i5 / Core i3 / Pentium / Celeron processors for LGA 1155 socket

Chipset

Intel Z77 Express Chipset

Main Memory

Support four DDR3 DIMMs 1066/1333/1600*/1866*/2000*/2133*/2200*/2400*/2600*/2667*/2800*/3000*(OC) DRAM (32GB Max)
Supports Dual-Channel mode

Slots

3 x PCIe 3.0 x16 slots
4 x PCIe 2.0 x1 slots

On-Board SATA

SATAIII controller integrated in Intel Z77 chipset

Up to 6Gb/s transfer speed.
Supports two SATA ports (SATA1~2) by Z77

SATAIII controller integrated in ASMedia ASM 1061 chipset

Up to 6Gb/s transfer speed.
Supports two SATA ports (SATA7~8) by ASM 1061

SATAII controller integrated in Intel Z77 chipset

Up to 3Gb/s transfer speed.
Supports four SATA ports (SATA3~6)

RAID

SATA1~6 ports support Intel Rapid Storage Technology enterprise (AHCI / RAID 0/1/5/10) by Intel Z77

USB 3.0

2 USB 3.0 rear I/O ports by Intel Z77
1 USB 3.0 onboard connector by Intel Z77

Audio

Chipset integrated by Realtek ALC898
Supports Sound Blaster Cinema

LAN

Supports one PCI Express LAN 10/100/1000 Fast Ethernet by Killer E2205 Gigabit

Multi-GPU

Supports ATI CrossFire Technology
Supports NVIDIA SLI Technology
Supports Lucid Virtu Universal MVP

Internal I/O Connectors

ATX 24-Pin power connector
8-pin ATX 12V power connector
CPU x 1 / System x 4 FAN connectors
3 x USB 2.0 connectors
1 x USB 3.0 connector
1 x IEEE 1394 connecto
1 x Multi BIOS Switch
1 x TPM Module connector
1 x Front Panel connector
1 x Front Panel Audio connector
1 x Chassis Intrusion connector
1 x Debug LED panel
1 x Voice Genie connector (optional)
1 x MultiConnect Panel connector (optional)
1 x V-Check Points Set
1 x Power button
1 x OC Genie button
1 x Reset button
1 x Clear CMOS jumper

Back Panel I/O Ports

1 x PS/2 keyboard/mouse port
1 x Clear CMOS button
1 x Coaxial S/PDIF-out port
1 x Optical S/PDIF-out port
4 x USB 2.0 ports
2 x USB 3.0 ports
1 x RJ45 LAN jack
1 x 6 in 1 audio jack
1 x HDMI port with max. resolution up to 1920×1200 @60Hz
1 x DVI-D port with max. resolution up to 1920×1200 @60Hz
1 x VGA port with max. resolution up to 2048×1536 @75Hz

BIOS

The motherboard BIOS provides "Plug & Play" BIOS which detects the peripheral devices and expansion cards of the board automatically.
The motherboard provides a Desktop Management Interface(DMI) function which records your motherboard specifications.

Dimension

30.5cm(L) x 24.5cm(W) ATX Form Factor