Kingston A1000 960GB PCIe NVMe SSD Review
By
Final Thoughts & Conclusions
The Kingston A1000 PCIe NVMe 960GB drive is an entry-level PCIe NVMe solution. It doesn't sit on top the benchmark charts or have the best sustained write speeds that we have ever seen, but the performance numbers are on par with the very best SATA III SSDs at very low queue depths and right in the middle of the pack with PCIe NVMe drives at higher queue depths. This is a good starting point for Kingston's mainstream PCIe NVMe drive series on the performance side. For someone looking to upgrade an older system, they'll get much faster system boot ups, quicker application loads and lightning fast data transfers. Kington is heavily targeting those with SATA drives looking to make the move to a PCIe NVMe drive. The Kingston A1000 series will offer a massive performance increase to those using a 5400RPM or 7200RPM hard drive and a noticeable performance improvement to those running older SATA SSDs.
One thing that is worth pointing out is that the Phison E8 controller uses just 2 PCIe 3.0 lanes. When you look back at the performance numbers and see how well Phison is doing with a 2-lane controller versus many more expensive 4-lane controllers the results are pretty impressive. Another benefit of having a 2-lane controller design is that less power is needed. Typical use uses around 0.0756W on average and this drive tops out at 0.908W when writing data. Those are incredibly low power numbers! For example the Samsung SSD 960 EVO 1TB drive has an average power consumption of 5.7 Watts. Kingston might be doing their average power calculations slightly differently, but this is huge as battery life is important for laptop upgrades.

The most important thing about entry-level products is usually their price. When we first saw the MSRP on the Kingston A1000 series we were concerned, but then they popped up on the Kingston website for 28% less.
Kingston A1000 SSD Series Pricing
240GB – SA1000M8/240G – $119.60 ($168.00 MSRP)
480GB – SA1000M8/480G – $218.40 ($306.00 MSRP)
960GB – SA1000M8/960G – $403.00 ($564.00 MSRP)
The Kingston A1000 960GB drive that we benchmarked today runs $403.00 and has a 600 TBW endurance rating with a 5-year warranty. At $0.43 per GB that price doesn't seem too bad, but then we ran across the MyDigitalDiscount SBX PCIe Gen 3.0 x2 drive series. It turns out MyDigitalSSD already has a drive on the market that uses the same Phison E8 controller with Toshiba 64-layer TLC NAND Flash memory. The firmware on the series clearly has different over-provisioning and likely some other differences, but the price points are a bit nutty. The SBX 1TB model is $318.71 ($0.32 per GB) and that makes it 21% less or about $85 cheaper than the Kingston A1000 960GB. MyDigitalSSD has higher performance specifications (1600/1300 MB/s read/write), longer endurance (800 TBW) and the same warranty length at 5 years. MyDigitalSSD is doing a good job in recent years disrupting the SSD market and they are doing it again here in 2018.

At the end of the day Kingston is a little late to the Phison E8 party, but they are a well known company around the globe with unrivaled tech support. You'll often pay a premium for something like that and that is exactly what is happening here. MyDigitalSSD might also be keeping the price down to gain market share and get people talking about them like we are right now. The Kingston A1000 series is something we'd suggest if you can pick it up for the right price. Pricing here at launch isn't bad, but like most all electronics it will drop over time and go on sale from time to time. This drive really looks like a winner for laptops as it has good performance and super low power numbers. We see it doing really well in that market where battery life is key.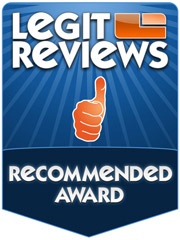 Legit Bottom Line: The Kingston A1000 series has solid sequential speeds speeds, solid endurance ratings and a lengthy 5-year warranty. Hard to go wrong with that on an entry-level product!