Kingston Digital KC1000 960GB PCIe NVMe SSD Review
By
Kingston KC1000 PCIe SSD – First NVMe Drive By Kingston
Today we are going to take a quick look at the Kingston KC1000 NVMe PCIe SSD that came out in June 2017. This drive series is coming up on being a year old, but has some monster performance numbers that can't be ignored. The Kingston KC1000 has up to 2700 MB/s sequential read and 1600 MB/s sequential write speeds. The Random 4K performance numbers are rated at up to 290,000 IOPS Read and 160,000 IOPS Write. Kingston was able to pull off these super-fast performance numbers on the KC1000 by utilizing the PCIe Gen 3.0 x 4 interface and pairing an 8-channel Phison PS5007-E7 controller with Toshiba 15nm 2D Planer MLC NAND Flash.
Performance numbers are nice to talk about, but reliability and endurance are major factors one needs to think about when purchasing a drive to store data on. All drives in the Kingston KC1000 series are backed by a 5-year warranty and free technical support. They have a 2,000,000 hour Mean Time Between Failures (MTBF) rating, which is the predicted elapsed time between inherent failures during normal system operation. The endurance rating on the KC1000 series is also about as good as it gets as the 960GB drive for example has a 1 PB (as in 1,000,000 Gigabytes) Total Bytes Written (TBW) rating or 0.58 Drive Writes Per Day (DWPD) when you factor in the drives 5-year warranty.
These higher-end performance specifications and solid endurance ratings have allowed the KC1000 series be a solid drive choice for desktop and workstation use over the past year. In fact, this drive has been so reliable and without issue, it has yet to need a firmware update. The Kingston KC1000 series is available in 240GB, 480GB and 960GB capacities as a standalone M.2 2280 'gumstick' drive or installed into a HHHL (Half-Height, Half-Length) adapter.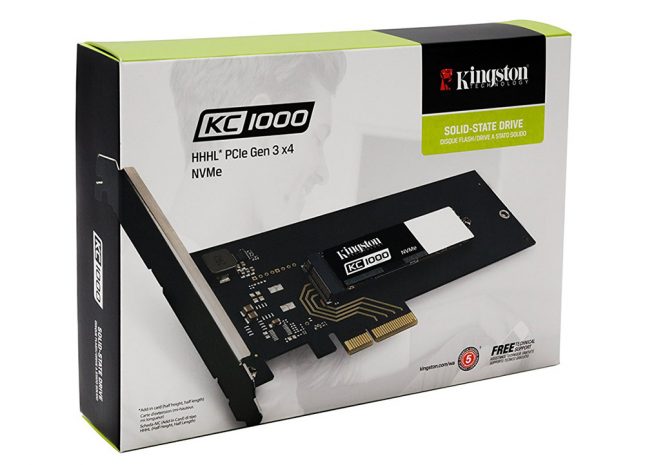 Kingston KC1000 NVMe PCIe SSD Features and Specifications:
Form Factor: M.2 2280
Interface: NVMe PCIe Gen 3.0 x4 Lanes
Capacities: 240GB, 480GB, 960GB
Controller: Phison PS5007-E7
NAND: MLC
Sequential Read/Write:
240GB: up to 2700/900MB/s
480GB, 960GB: up to 2700/1600MB/s
Maximum 4K Read/Write:
240GB: up to 225,000/190,000 IOPS
480GB, 960GB: up to 290,000/190,000 IOPS
Random 4K Read/Write:
240GB, 480GB: up to 190,000/160,000 IOPS
960GB: up to 190,000/165,000 IOPS
PCMARK Vantage HDD Suite Score: 150,000
Total Bytes Written (TBW):
240GB: 300TB and .70 DWPD
480GB: 550TB and .64 DWPD
960GB: 1PB and .58 DWPD
Power Consumption: .11W Idle / .99W Avg / 4.95W (MAX) Read / 7.40W (MAX) write
Storage Temperature: -40C to 85C
Operating Temperature: 0C to 70C
Dimensions:
80mm x 22mm x 3.5mm (M.2)
180.98mm x 120.96mm x 21.59mm (with HHHL AIC standard bracket)
181.29mm x 80.14mm x 23.40mm (with HHHL AIC low-profile bracket)
MTBF: 2,000,000
Warranty/support: Limited 5-year warranty with free technical support.
The drive that we'll be reviewing today is the Kingston KC1000 960GB HHHL model that is sold under part number SKC1000H/960G for $429.99 shipped. This drive was just under $800 when it launched less than a year ago, so it aggressively priced. The Samsung 960 PRO 1TB PCIe NVMe M.2 SSD runs $608.99 shipped and the Samsung 960 EVO 1TB PCIe NVMe M.2 SSD runs $449.99 shipped. The Kingston KC1000 960GB drive comes in lower and includes the M.2 2280 Half-Height Half-Lenth Add-In-Card (HHHL AIC) as an added bonus.
Inside the KC1000 retail box you'll find the drive already attached to the AIC with a full size bracket, an HHL bracket for those that need it, a key for Acronis True Image HD software and a quick start guide.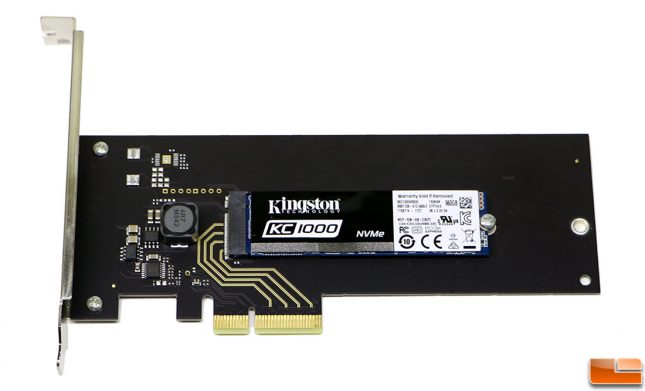 The Kingston Digital KC1000 is an M.2 2280 form factor drive that is double sided. It is designed for use in desktop and notebook computers, but is not intended for server environments. Not all notebooks take double-sided drives, so if you plan on sticking this drive into a notebook you might have issues on some of the thin and light laptops (think Ultrabooks).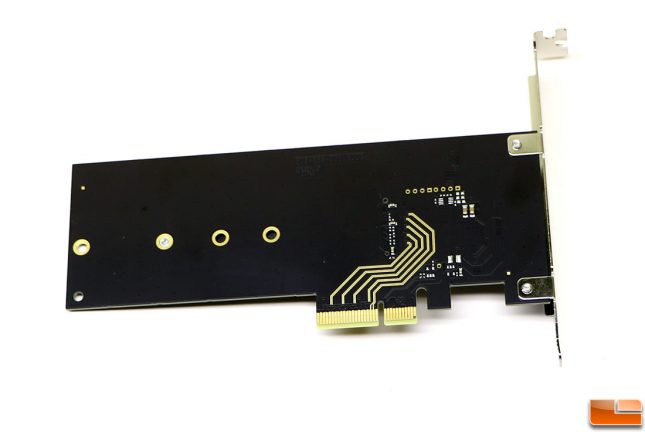 Let's move along and start looking at some performance numbers!