Kingston A1000 960GB PCIe NVMe SSD Review
By
AS SSD Benchmark
AS-SSD (2.0.6485.19676) Benchmark:
We have been running the AS-SSD Benchmark app for over some time now and found that it gives a broad result set.There are now three tests that are found within the tool and we'll show the results from all three of them.
AS SSD – Kingston A1000 960GB: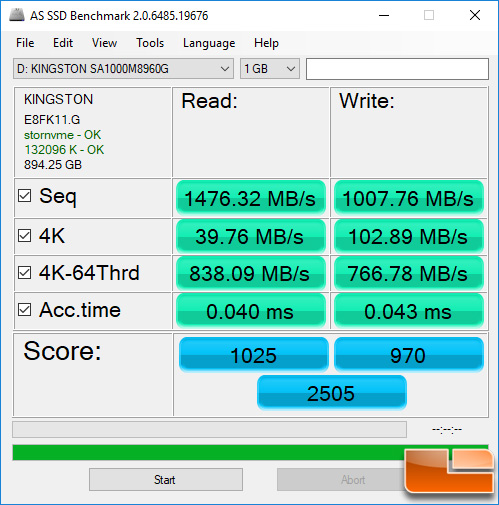 Benchmark Results: On AS SSD, the A1000 960GB drive had an overall score of 2,505 points with sequential read speeds of 1476 MB/s and 1008 MB/s write. The 4K random results were at 39.76 MB/s read and 102.89 MB/s write.
AS SSD Copy Kingston A1000 960GB: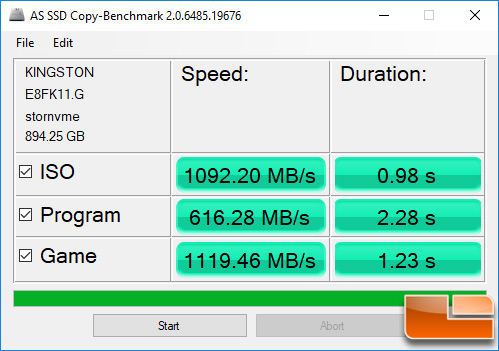 Benchmark Results: The copy benchmark test results were ranging from 616 MB/s in the Program to 11197 MB/s in the Game benchmark.
AS SSD Compression – Kingston A1000 960GB: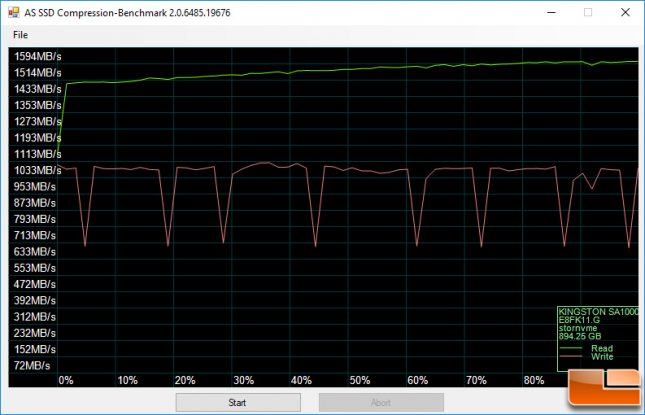 Benchmark Results: For this benchmark chart you would ideally want to see a straight line as you dont want any compression performance loss as the test goes from 0% compressible to 100% compressible data during the benchmark test period. The Kingston A1000 960GB drive showed that read performance increased with more compression and on the write side the performance results showed a number of potholes. Not ideal, but this is an entry-level PCIe NVMe drive and you can see that even in this test that we were able to hit the rated speeds of 1500 MB/s read and 1000 MB/s write.