INTEL NUC Kit NUC5i7RYH Review
By
Intel NUC Gets It's Very First Core i7 Processor!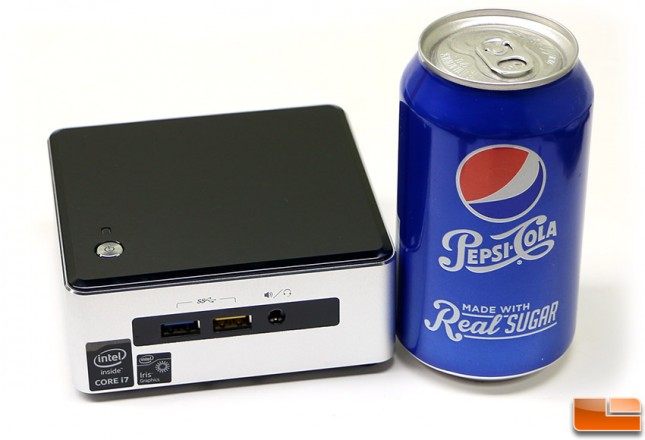 The Intel Next Unit of Computing (NUC) was released in 2012 to little fanfare, but Legit Reviews quickly fell in love with the tiny little PC and thought that there was potential in the potent little systems after the first time we used one. Over the past several years Intel has devoted more time and resources to the NUC team and despite increasing sales and millions in profit, the Intel NUC was never blessed with the opportunity to house an Intel Core i7 processor. We'll never know why it took this long to It could have had to do with thermals, price points, not wanting to hurt other core markets or a whole slew of other reasons. All we know is that higher ups at Intel have had a change of heart this year and have put an Intel Core i7 processor inside the Intel NUC for the first since it came to market in 2012.
Broadwell NUC Model
Key Features
Street Pricing
NUC5i7RYH
Intel Core i7-5557U
Intel Iris Graphics 6100
115 x 111 x 48.7 mm chassis
M.2 and 2.5″ SATA support
$549.95 Shipped
NUC5i5RYK
Intel Core i5-5250U
Intel HD Graphics 6000
115 x 111 x 32.7 mm chassis
M.2 Support Only
$369.06 Shipped
NUC5i5RYH
Intel Core i7-5250U
Intel HD Graphics 6000
115 x 111 x 48.7 mm chassis
M.2 and 2.5″ SATA support
$368.99 Shipped
NUC5i3RYK
Intel Core i3-5010U
Intel HD Graphics 5500
115 x 111 x 32.7 mm chassis
M.2 Support Only
$299.99 Shipped
NUC5i3RYH
Intel Core i3-5010U
Intel HD Graphics 5500
115 x 111 x 48.7 mm chassis
M.2 and 2.5″ SATA support
$278.86 Shipped
From what we have been told by our engineering friends at Intel the only difference between the NUC5i7RYH and the NUC5i5RYH is the processor itself as nothing else was changed on the mainboard, chassis or even the CPU cooler itself. In fact both the the Core i5 and Core i7 versions share the same exact UEFI/BIOS and drivers, so the processor is really the only difference. The NUC5i7RYH is only available in the larger 115mm x 111mm x 48.7mm thick chassis as it offers the best thermal environment for the processor. This means it supports both PCIe M.2 storage that is located on the board itself and a 2.5-inch SATA III drive in the enclosure.
| | | | | | | | | |
| --- | --- | --- | --- | --- | --- | --- | --- | --- |
| Processor | Cache | Base Clock | Boost Clock | Cores/Threads | Max TDP | Graphics | GPU EUs | GPU Clock |
| Core i7-5557U | 4MB | 3.1GHz | 3.4 GHz | 2/4 | 28W | Iris Graphics 6100 | 48 | 300-1100MHz |
| Core i5-5250U | 3MB | 1.6 GHz | 2.7 GHz | 2/4 | 15W | HD Graphcis 6000 | 48 | 300-950MHz |
Since the processor is the only real difference between the NUC5i5RYH and NUC5i7RYH we need to take a closer look at the two processors that are being used in these models as there is a $181 difference in price between the models. The Intel NUC5i5RYH and NUC5i5RYK that we looked at earlier this year are both powered by the Intel Core i5 5250U Dual-Core processor with Hyper-Threading and 3MB of cache. The Core i5-5250U is a 15W TDP processor based on the 14nm Broadwell microarchitecture. It comes with a base clock of 1.6GHz and thanks to Intel Turbo Boost Technology it can get up to 2.7GHz when needed. The Core i5-5250U also has Intel HD 6000 Graphics that is dynamically clocked between 300 and 950MHz.
The new Intel NUC5i7RYH features the Intel Core i7-5557U dual-core processor with Hyper-Threading and 4MB of cache. Besides having more cache the clock speeds have been greatly increased as the base clock is 3.1GHz with a boost clock that is capable of reaching 3.4GHz! Even those Broadwell has some amazing low-power characteristics, this increase in clock speed and cache pushes the Max TDP up to 28W. The Intel Iris Graphics 6100 (GT3) integrated graphics solution is also clocked higher as it can go up to 1100MHz. Intel Iris Graphics 6100 is similar to Intel HD Graphics 6000 as it has 48 Execution Units, but the clock speed are greater.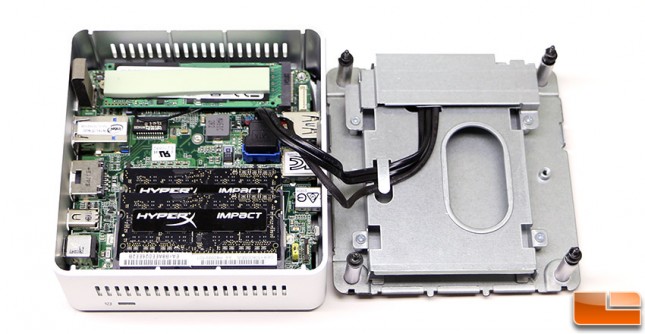 We opted to go with hardware that we used in NUC5i5RYK review so we could directly compare the units performance numbers. This means that we used the Samsung XP941 PCIe 2.0 x4 M.2 SSD and Kingston HyperX Impact 8GB 1600MHz DDR3L SO-DIMM memory kit. Since the units are virtually identical we ask you to go back and look at the NUC5i5RYK review as it better details the internals and has benchmark results for the Intel Wireless-AC 7265 802.11AC wireless card, SATA and M.2 PCIe storage drive testing and frant and rear USB 3.0 port testing. We also talked about how to install the hardware, went over dozens of pages of the BIOS and had some Windows 8.1 setup tips. Hopefully you'll be able to go back and read that review and then can come back to this review and look at the difference in just the processor.
Intel NUC NUC5i7RYH Estimated Windows Build Cost:
If you had to run out and buy all the hardware we are using today you are looking at spending around $873 on the hardware and then another $90 or so for a full copy of Microsoft Windows 8.1. Spending nearly $963 makes this a pricey little system and if we were building one today we'd opt to go with the newer Samsung SM951 M.2 PCIe SSD!
Let's take a closer look at the NUC5i7RYH and get on to benchmarking!