Intel NUC Kit NUC5i5RYK Review – Broadwell Comes to NUC!
By
5th Generation Intel Core 'Broadwell' Processors Come To The NUC Series

The Intel Next Unit of Computing (NUC) is something we've been talking about since the models first came to market in 2012. We loved the design concept that Intel came up with in 2012 and saw that there was a growing market for such a system. Over the past several years we've watched the NUC mature into a very robust platform that easily has the power needed to be the desktop replacement for the vast majority of PC users around the world. The latest Intel NUC won't be replacing high-end gaming or prosumer systems anytime soon, but thanks to the latest Intel 5th Gen Core i3/i5/i7 processors the NUC is packing more horse power than ever.
| | |
| --- | --- |
| Consumer Focused | Commercial Focused |
NUC5i7RYH
Kit, i7, M.2 and SATA support
NUC5i5RYK
Kit, i5, M.2 support only
NUC5i5MYHE
Kit, i5, M.2 and SATA support
NUC5i5RYH
Kit, i5, M.2 and SATA support
NUC5i5MYBE
Board, i5, M.2 and SATA support
NUC5i3RYK
Kit, i3, M.2 support only
NUC5i3MYHE
Kit, i3, M.2 and SATA support
NUC5i3RYH
Kit, i3, M.2 and SATA support
NUC5i3MYBE
Board, i3, M.2 and SATA support
Like the generations that came before, the third generation of the Intel NUC comes as a barebone kit. This means Intel has done 95% of the work for you to ensure you have a rock solid system and all you have to do is supply the memory, storage drive and all of the software. There are nine Intel NUC models coming to market in the weeks ahead. One of the major changes this time around is that Intel has thankfully ditched the mSASTA storage drive interface and moved over to the much faster PCIe Gen 2.0 x4 interface. This will drive build costs up some, but they still over a number of models that have room for a 2.5-inch SATA III drive for those looking to build on a strict budget. The other major change Intel made with this generation was that they went with a soldered down wireless card. All of the models feature the Intel Wireless-AC 7265 solution, which is a dual-band 2×2 card that has a maximum throughput of 867Mbps along with Bluetooth 4.0 and Intel Wireless Display.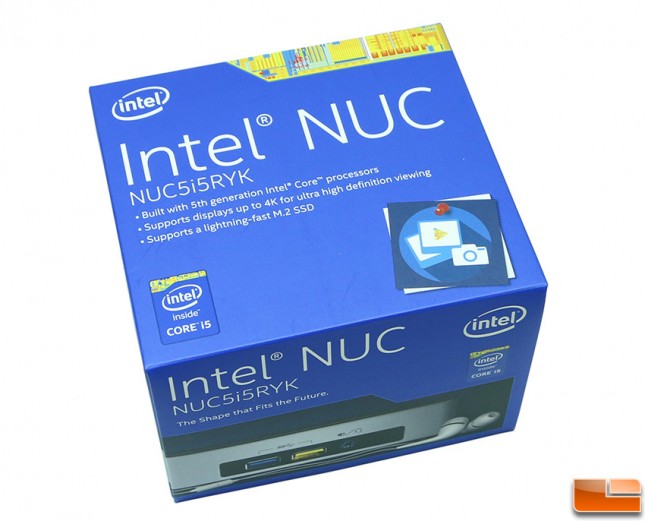 Today, we'll be looking at an early production sample of the Intel NUC NUC5i5RYK that runs $398.47 shipped. This model is currently the flagship model as it comes with the mainstream Intel Core i5 5250U Dual-Core processor with Hyper-Threading. The Core i5-5250U is a 15W TDP processor based on the Broadwell microarchitecture, which means it is made using the 14nm process node. It comes with a base clock of 1.6GHz and thanks to Intel Turbo Boost Technology it can get up to 2.7GHz when needed. This processor supports up to 16GB of dual-channel DDR3L memory (1333, 1600 & 1866MHz) and has Intel HD 6000 Graphics that is dynamically clocked between 300 and 950MHz.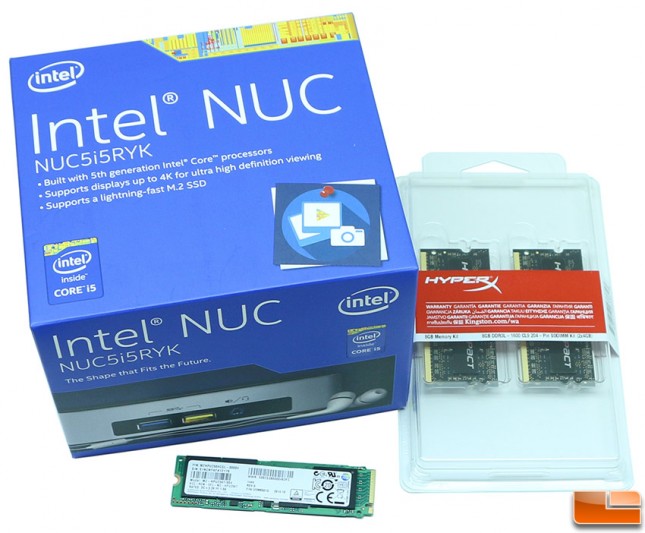 There are a number of DDR3L memory cards and M.2 PCIe SSDs that you could pair with the NUC5i5RYK, but we opted to go with the Samsung XP941 PCIe 2.0 x4 M.2 SSD and a Kingston HyperX Impact DDR3L SO-DIMM memory kit. If you had to run out and buy all the hardware we are using today you are looking at spending around $730 on the hardware and then another $100 or so for a full copy of Microsoft Windows 8.1.
Intel NUC NUC5i5RYK Estimated Windows Build Cost: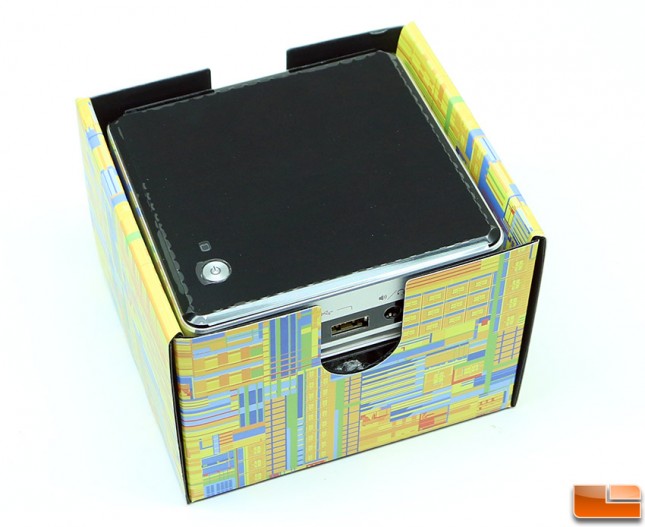 The code name for the Intel NUC NUC5i5RYK is Rock Canyon and inside the retail box you'll find the silver and black colored chassis with protective film covering the finish of the top of the unit. This particular model measures in at 115mm x 111mm x 32.7mm. If you wanted to go with a model that could fit a 2.5″ storage drive that is up to 9.5mm thick you are looking at a model that is 115mm x 111mm x 48.7mm. The second generation Intel NUC with a 2.5-inch drive was 116.6mm x 112.0mm x 51.5mm, so Intel has managed to shrink all the dimensions of the third generation NUC.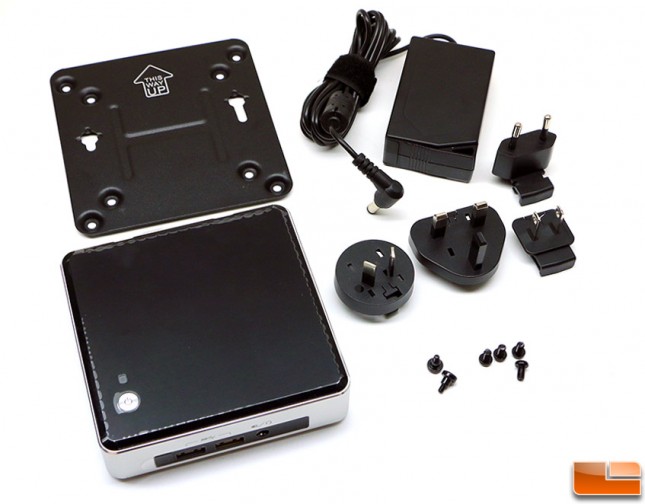 Under the Intel NUC there is the accessory kit that includes the a small AC power adapter with a 4-plug universal wall outlet kit (IEC types A/C/G/I), VESA mounting plate w/ mounting screws, storage drive screws and the instructions (not pictured).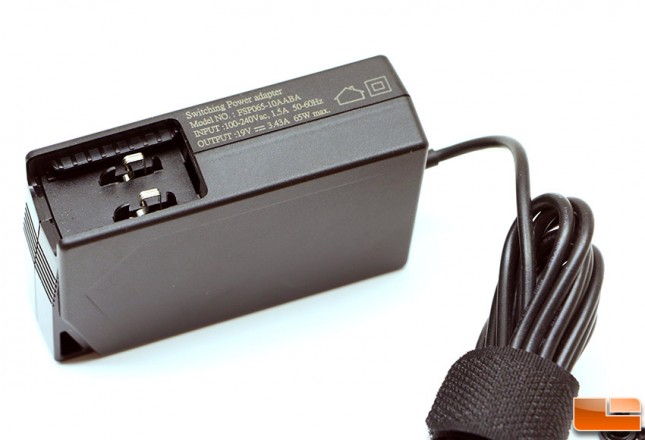 The 2-prong wall-mount AC Power Adapter included with the Intel NUC Kit NUC5i5RYK is very different than the ones used on previous Intel Core i3/i5 NUC models. This particular AC adapter is made by FSP Technology, INC. (FSP) and is model number FSP065-10AABA. This AC to DC adapter operates at 90 to 264 Vac and outputs 19V / 3.43A power with an overall power rating of 65 Watts. You can change out the wall plug depending on your region and it comes with IEC world plug types A/C/G/I.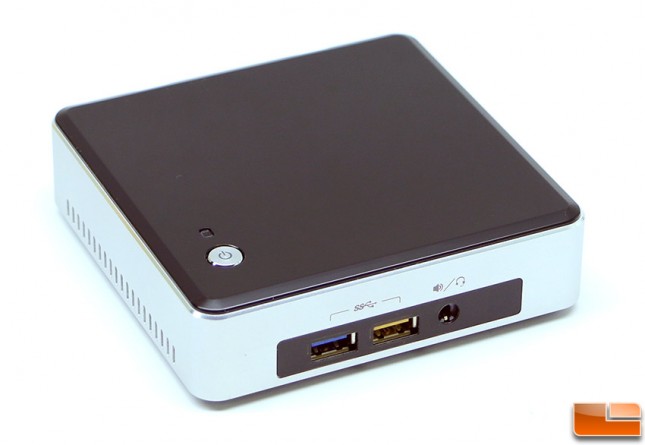 This chassis uses an aluminum center section that left its natural color with a black colored plastic top and a black bottom cover. The look of the NUC hasn't really changed since it was introduced in 2012, but it doesn't look dated by any means.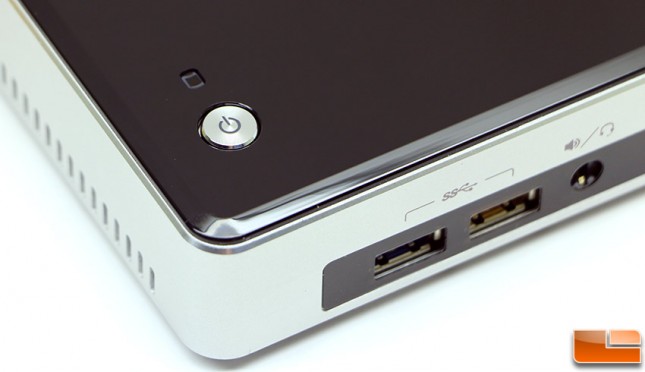 The top cover is removable and there are 3rd party lids coming later this year that support new functionalities like wireless charging, near field communications (NFC), or 4G/LTE. There are even covers coming out that bolster the I/O ports, so you can add USB 2.0, VGA, RS232C COM, SDXC card reader, or other ports. The top cover has a diamond cut around the top to add some extra flare and it also houses the power button and activity/power LED.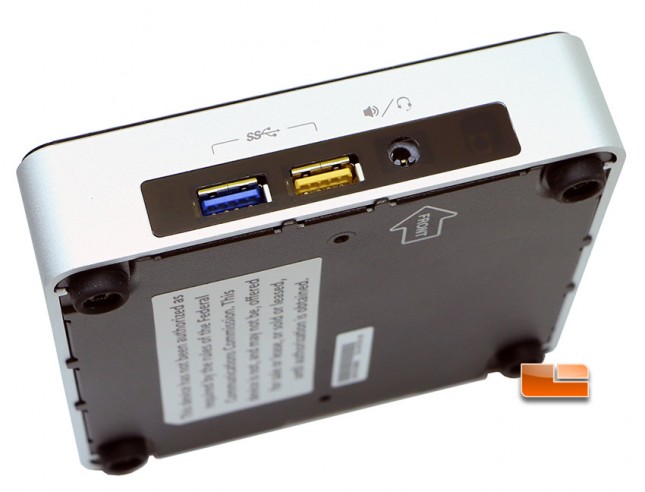 On the front panel youll find two SuperSpeed USB 3.0 ports (one is charging capable) the headphone/microphone jack and the consumer infrared sensor.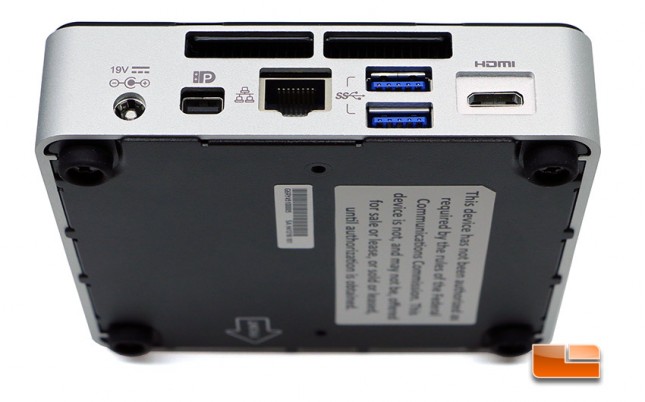 When it comes to rear connectivity youll find the DC power plug, Mini DisplatPort 1.2, Gigabit Ethernet, two USB 3.0 ports and the Mini HDMI 1.4a video output. Above the rear I/O ports there are a pair of exhaust ports to expel the hot air from the CPU cooler that is ducted to this vent.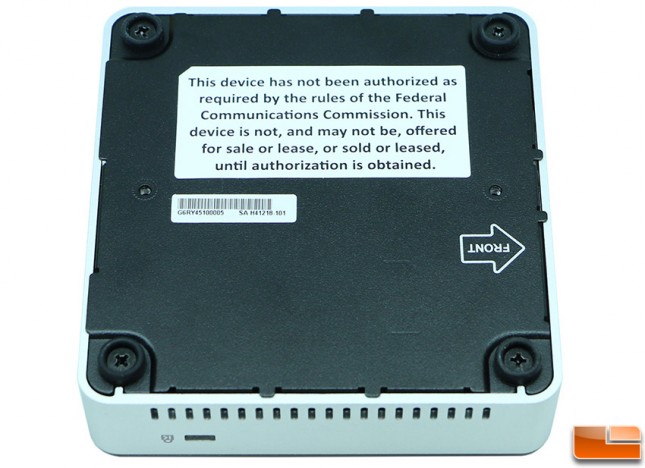 Flipping the NUC NUC5i5RYK over we see the metal bottom plate is held on by four Philips screws that are recessed down inside four rubber feet that ensure the NUC doesn't slide or scrape the finish of your desk if you choose not to use the VESA mount. There are no air ventilation holes on the bottom of the NUC, but there are some on the two sides to ensure some air is able to move around. You can also see the Kensignton lock in the image above that is on one side of the NUC to prevent it from being stolen.
Let's take a look inside the Intel NUC NUC5i5RYK