INTEL NUC Kit NUC5i7RYH Review
By
Intel NUC5i7RYH External and Internal Overview
The Intel NUC NUC5i7RYH comes in the silver and black colored chassis with protective film covering the finish of the top of the unit. This particular model measures in at 115mm x 111mm x 48.7mm. It supports a 2.5″ storage drive that is up to 9.5mm. The second generation Intel NUC with a 2.5-inch drive was 116.6mm x 112.0mm x 51.5mm, so Intel has managed to shrink all the dimensions of the third generation NUC. The Intel NUC comes with a AC top DC power adapter with a 4-plug universal wall outlet kit (IEC types A/C/G/I), VESA mounting plate w/ mounting screws, storage drive screws and the instructions (not pictured). Our Intel NUC5i7RYH was not a retail boxed unit, so we don't have any of those images to share with you today
This chassis uses an aluminum center section that left its natural color with a black colored plastic top and a black bottom cover. On the front panel youll find two SuperSpeed USB 3.0 ports (one is charging capable) the headphone/microphone jack and the consumer infrared sensor.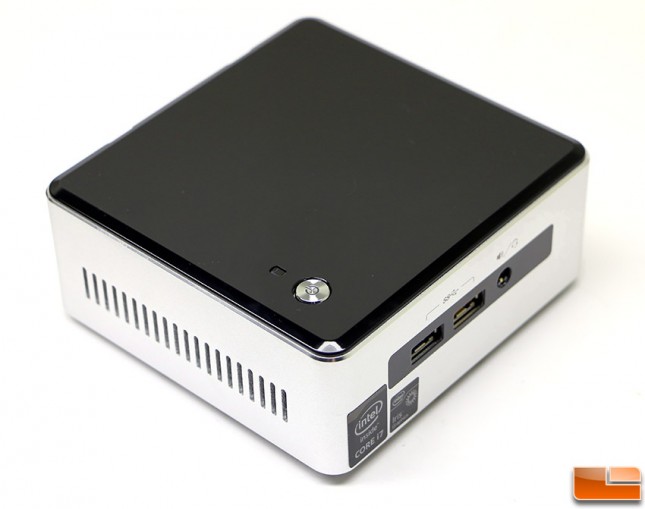 The top cover is removable and there are 3rd party lids coming later this year that support new functionalities like wireless charging, near field communications (NFC), or 4G/LTE. There are even covers coming out that bolster the I/O ports, so you can add USB 2.0, VGA, RS232C COM, SDXC card reader, or other ports. The top cover has a diamond cut around the top to add some extra flare and it also houses the power button and activity/power LED.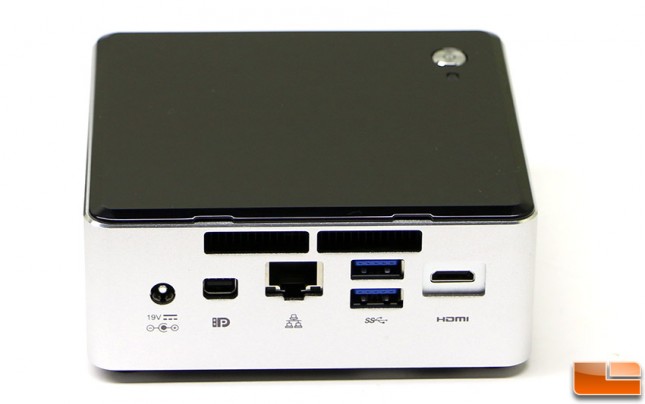 When it comes to rear connectivity youll find the DC power plug, Mini DisplatPort 1.2, Gigabit Ethernet, two USB 3.0 ports and the Mini HDMI 1.4a video output. Above the rear I/O ports there are a pair of exhaust ports to expel the hot air from the CPU cooler that is ducted to this vent.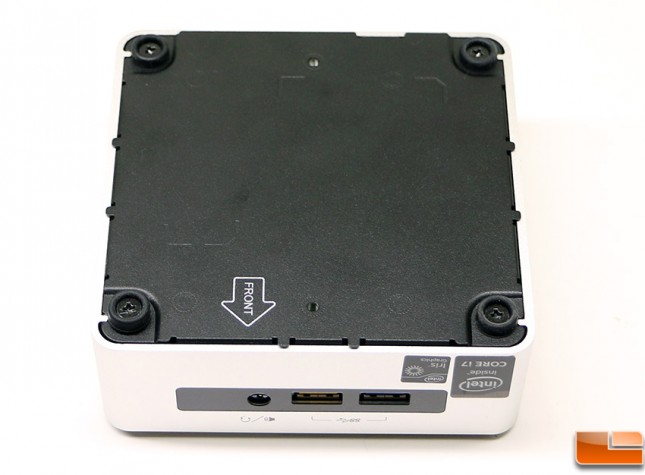 Flipping the NUC NUC5i7RYH over we see the metal bottom plate is held on by four Philips screws that are recessed down inside four rubber feet that ensure the NUC doesn't slide or scrape the finish of your desk if you choose not to use the VESA mount. There are no air ventilation holes on the bottom of the NUC, but there are some on the two sides to ensure some air is able to move around. There is a Kensignton lock on one side of the NUC to prevent it from being stolen.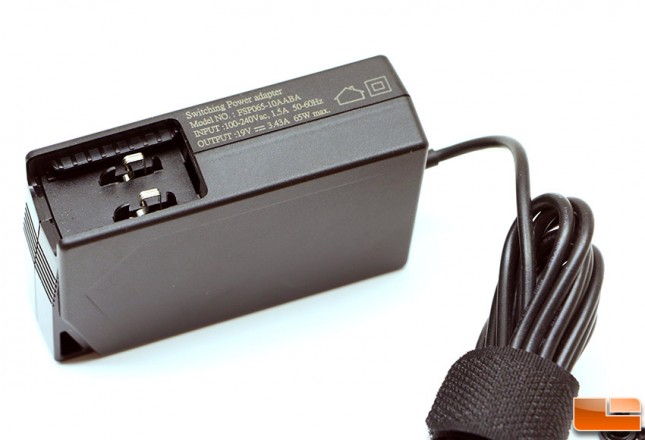 The 2-prong wall-mount AC Power Adapter included with the Intel NUC Kit NUC5i7RYH is made by FSP Technology, INC. (FSP) and is model number FSP065-10AABA. This AC to DC adapter operates at 90 to 264 Vac and outputs 19V / 3.43A power with an overall power rating of 65 Watts. You can change out the wall plug depending on your region and it comes with IEC world plug types A/C/G/I.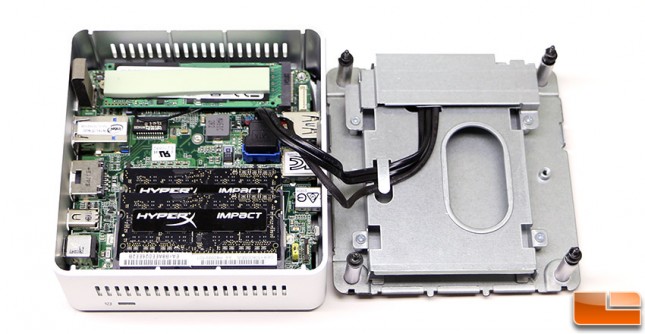 Inside the NUC you'll find the Intel NUC5i5RYB motherboard. The bottom of the board has two DDR3L memory slots and a M.2 PCIe slot for your SSD. The NUC5i7RYH enclosure comes with a slot for a 2.5″ SSD and it also comes with the SATA power and data cable wiring already pre-routed and ready for use.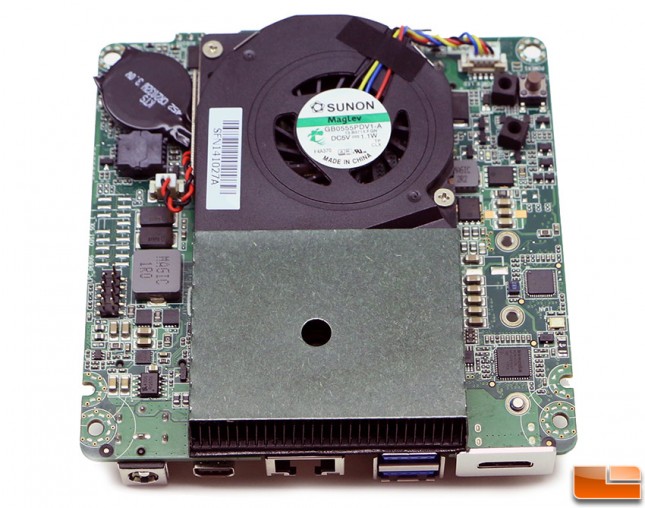 On the top side of the motherboard youll find the CPU Cooler, which consists of a notebook style fan and heatsink that help keep the Intel Core i57-5557U processor temperatures at bay. Intel went with a SUNON MagLev GB0555PDV1-A 1.1W 4-pin blower style fan to keep temperatures at bay. Intel has used this cooler on the previous generation NUC and is said to be a low-acoustics active cooling design. The system battery can just be seen just to the left of the blower. It should be noted that this board does not have a HDMI Consumer Electronics Control (CEC) header on it. There is a USB 2.0 header along the edge of the board that adds a pair of USB 2.0 ports if needed.
Now that we know the basics let's take a look at performance!