Intel NUC KIT D54250WYKH Review – Finally a 2.5-Inch Drive Fits
By
In
our September 2013 review of the Intel NUC Kit D54250WYK
we told you that Intel was coming up with a version that had an enclosure that was large enough to fit a 2.5-inch SATA HDD or SSD. In October 2013 we were able to get our hands on some
early images of Intel NUC KIT D54250WYKH
, which is the sku for the taller chassis that comes with the wiring to install a 2.5-inch notebook drive into the NUC for extra storage. Last week at the Consumer Electronics Show we were handed the Intel NUC KIT D54250WYKH, so after waiting patiently for five months we finally have a unit in our possession!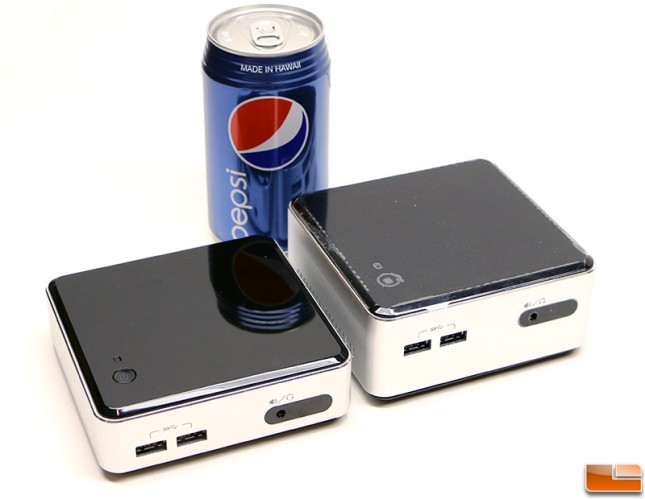 The original Intel NUC KIT D34010WYK and D54250WYK ship in an enclosure that measures 116.6mm x 112.0mm x 34.5mm. Intel has added 15mm to the chassis in order to fit the mounting bracket and 2.5″ storage drive. The Intel NUC KIT D34010WYKH and D54250WYKH are the new H-Skus that feature enclosures that measure 116.6mm x 112.0mm x 49.5mm. In the image above you can see the D54250WYK on the left and the new D54250WYKH on the right with a standard Pepsi can behind them to give you a size perspective.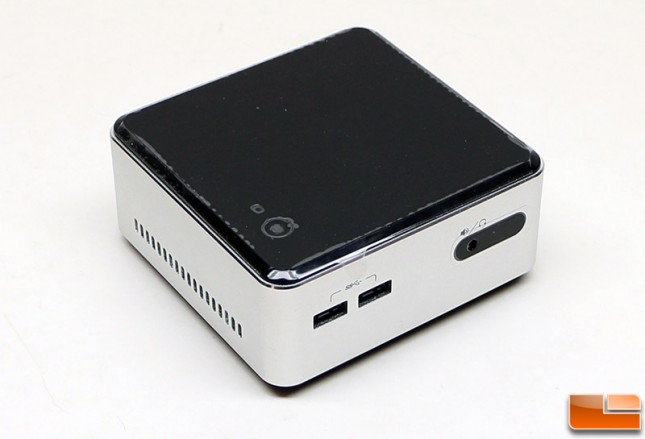 At first glance one might think that Intel just increased the height of the chassis and called it a day, but the Intel engineering team did a bit more than that. One change that is clearly visible from the outside is that ventilation holes were added to both the left and right sides of the housing for improved airflow. Adding an SSD or hard drive will raise the internal case temps, so it makes sense to improve the cooling during the case redesign.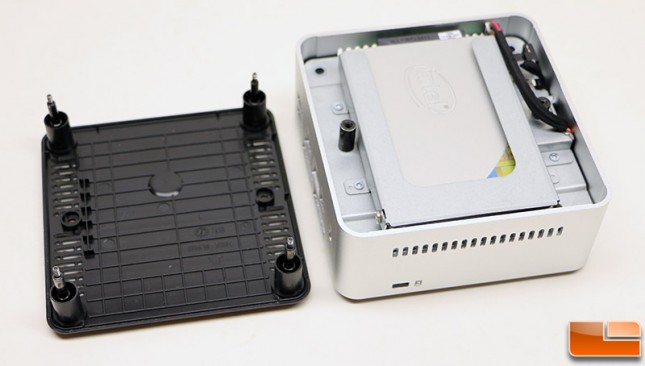 When you remove the four Philips screws that hold down the bottom cover you'll notice a number of changes. For starters the bottom cover is now entirely plastic and for the first time we find a metal SATA drive tray! We asked Intel if there were any EMI differences with the plastic bottom and the said that the SATA drive shelf itself acts as the EMI shield. The 2.5″ drive slides into the metal SATA drive tray and is secured with two screws on the side of the tray. The Intel SSD 530 Series 2.5″ drive that we are using has a 7mm z-height, but you can use up drives that are up to 9.5mm thick in the metal housing. This means that thicker 12.5mm and 15mm z-height drives will not be able to fit, so if you are looking at rotational storage (hard drive) be sure to check the thickness of the drive before ordering.
It should be noted that you can modify the metal drive bracket by cutting off the tabs above the drive in order to fit a larger tab, but that will void warranties and require some modding. This is what Intel had to say:
"With the design of the 2.5 drive bay you could slip in a 15mm height drive. But some modifications are in order. You would need to break the tabs on the drive bay enclosure. That allows for higher than 9.5mm drives. To get the full 15mm you have to loosen the 4 screws that attach the drive cage to the bottom plate. Then you will be able to install the 15mm drive. But this means that the bottom plastic cover will not seat completely. You will be raised ~2 mm from complete closure. It should also be known at none of these taller drives have been tested the NUC thermally, so we dont know if this will work thermally." – Intel's NUC Team
Legit Reviews, LLC reached out to WD and these are the largest hard drives that they offer for each respective z-height to give you an idea of what you can get when it comes to capacities.
WD Internal 2.5″ Z-Height and Maximum Drive Capacities as of 1/15/14
5 mm 500 GB
7 mm up to 1 TB
9.5 mm up to 1 TB
15 mm up to 2 TB
It looks like 1TB will be the most you largest that you can go without any modifications and that will set you back about $110.99 shipped for the WD 1TB Blue SATA III 5400 RPM hard drive (WD10SPCX) that is 9.5mm in thickness. If you wanted to get a 2TB drive inside and are okay with doing the aforementioned modifications you can get the WD 2TB Green SATA III hard drive (WD20NPVX) for $169.16 shipped.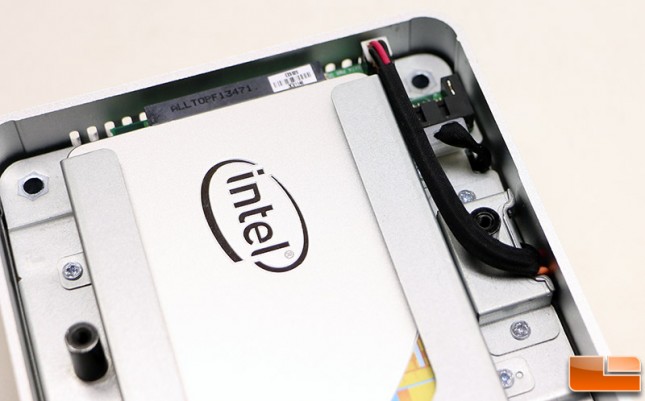 The new H-Sku Intel NUC Kits come with both a SATA data and power cable and that is a really good thing. The wiring inside the NUC is extremely tight and it would be extremely tough to find any off the shelf connectors that would work and fit inside the case. Even with special connectors, the wiring in the D54250WYKH is pretty extreme with lots of 90 degree bends. The good news is that once the NUC is assembled that the wires shouldn't be moving around, so hopefully the tight quarters aren't an issue.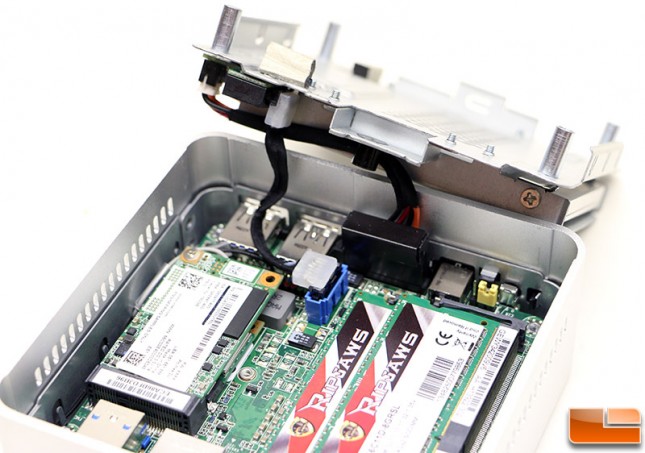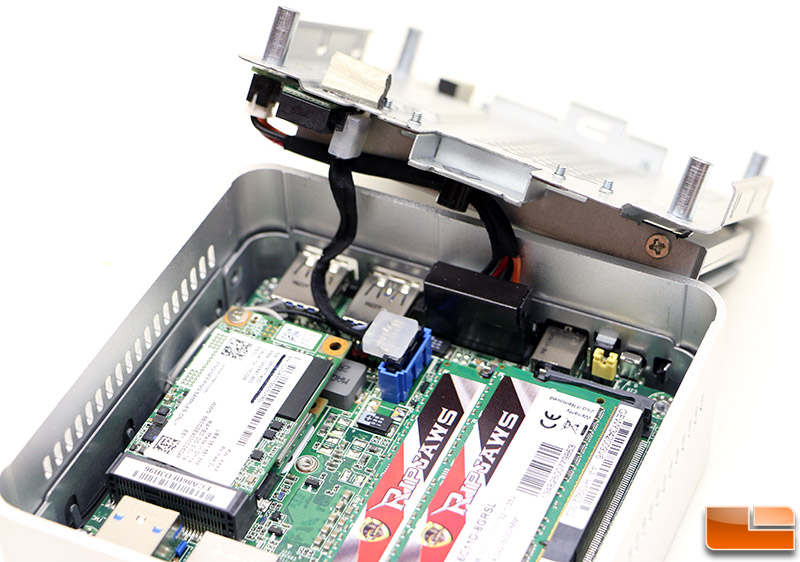 Under the drive tray everything is identical to the regular Intel NUC Kit D54250WYK as the motherboard itself has received no changes. The only changes with the NUC H-Skus are the redesigned chassis and the inclusion of the SATA cables needed to hook up a notebook drive. It should be noted that our particualr D54250WYKH doesn't have a thermal pad for the mSATA SSD on the metal drive tray, but this will be there on the full production units. Intel sent out 15 units for early review to the media and didn't have enough pads on hands for these early hand built units. Intel is currently shipping the full production units to the usual distributors and expects that these new H-Sku NUCs will be at online retailers like Newegg and Amazon in about two weeks.
We took a number of images and put them into the gallery above if you'd like to some larger images at various angles and points of assembly.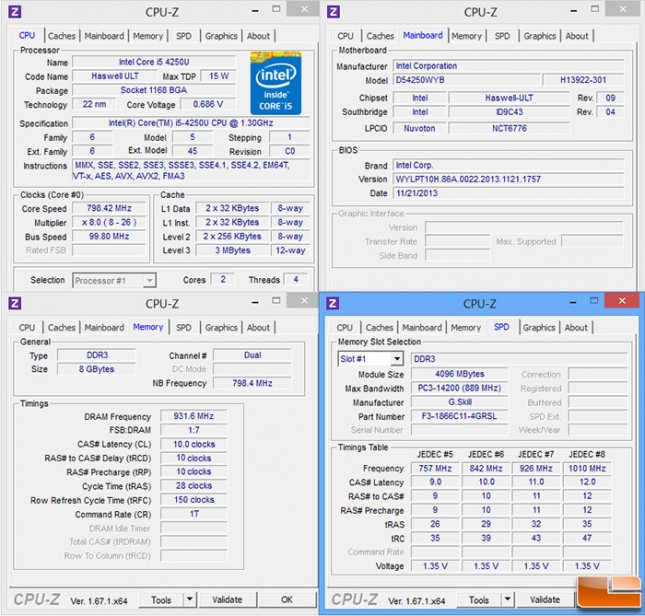 The one thing that Intel asked us to look at was boot times between the mSATA drive slot that is on the board versus the standard SATA port. We built up our NUC and used the latest BIOS along with G.Skill RipJaws 1866MHz 8GB (2x4GB) CL10 memory modules.

The two drives can't be identical, but we used the Intel SSD 530 Series 180GB mSATA Drive (Part number SSDMCEAW180A4) and compared it to the Intel SSD 530 Series 240GB SATA Drive (Part number SSDSC2BW240A4). Both Intel SSD 530 series drives were running Windows 8 and we used Acronis True Image 2013 to clone the drives to ensure the OS installation was identical. We then unplugged the internet to ensure repeatable tests and ran BootRacer 4.6 for a total of 15 times on each drive and took the best score from each.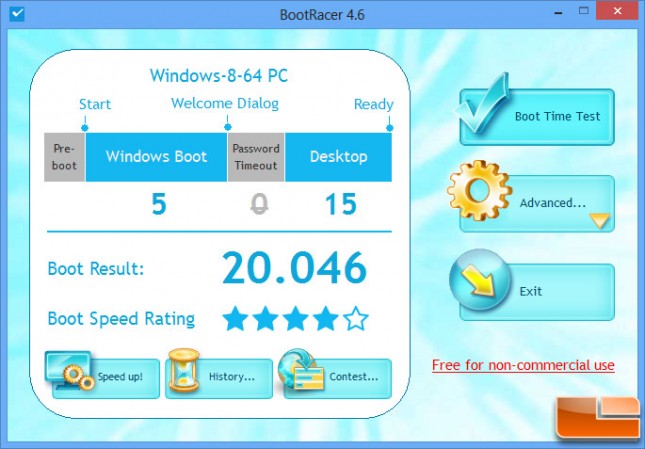 The Intel SSD 530 Series 240GB SATA drive was able to boot to the Windows 8 desktop in 20.046 seconds, which is pretty darn quick!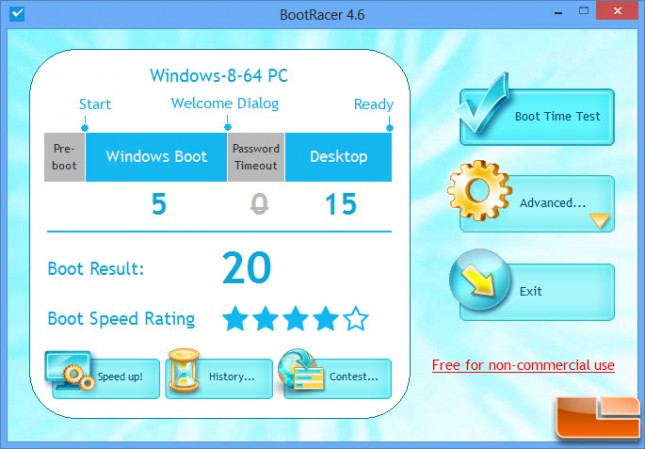 The Intel SSD 530 Series 180GB mSATA drive was able to to the same in 20.000 seconds. The mSATA drive also averaged out to be just slightly faster than the SATA drive, but nothing significant. This is a good thing though as we didn't really expect to see any difference in boot times or performance between these two drives. Our testing also showed that the NUC can easily boot off each drive with no issues whatsoever, so you can now build a NUC without needing a mSATA drive. This is worth mentioning as it makes build cost for the NUC lower and you now have many more options to fit your unique storage needs.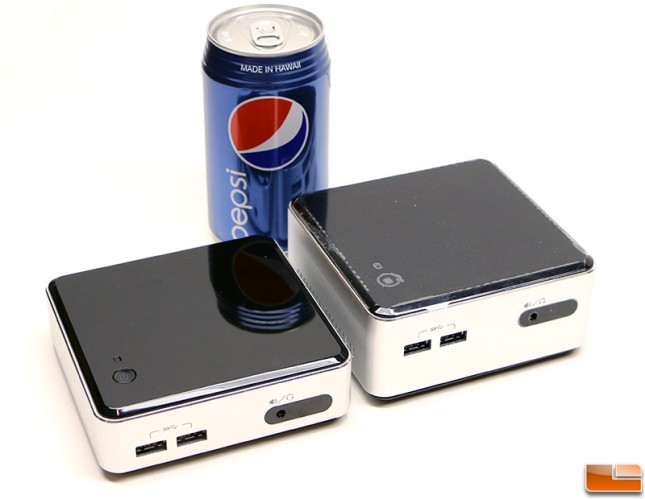 Final Thoughts and Conclusions:
We are excited that the Intel NUC Kits with the 'H' Skus are finally coming out as we've been waiting for nearly half a year! It appears that the Intel Core i3 version is already available on Amazon and that the Intel Core i5 version will be out in about two weeks. We asked Intel for MSRP guidance and we were told that there is a $10 price premium for the new models that support a 2.5″ SATA drive. That means for the those wanting the Intel Core i5-4250U based system you are looking at around $363 for the D54250WYK and $373 for the D54250WYKH. A small $10 price delta is more than acceptable as it gives you a larger chassis, drive tray and the needed cables to hook up that 2.5-inch drive. Having the ability to hook up a secondary drive for storage is key for many people and we think the expanded storage capabilities of the NUC will make it more appealing to consumers.
Intel NUC Kit Comparison Table For Haswell SKUs

Model
D34010WYK
D34010WYKH
D54250WYK
D54250WYKH
Codename
Wilson Canyon
Wilson Canyon
Wilson Canyon
Wilson Canyon
CPU
Intel Core i3-4010U
Intel Core i3-4010U
Intel Core i5-4250U
Intel Core i5-4250U
1.7GHz Dual-Core
1.7GHz Dual-Core
Up To 2.6GHz Dual-Core
Up To 2.6GHz Dual-Core
Turbo / Hyper Threading
No / Yes
No / Yes
Yes / Yes
Yes / Yes
GPU
Intel HD Graphics 4400
Intel HD Graphics 4400
Intel HD Graphics 5000
Intel HD Graphics 5000
Chipset
Intel Lynx Point
Intel Lynx Point
Intel Lynx Point
Intel Lynx Point
RAM
2 x DDR3L SO-DIMM slots
2 x DDR3L SO-DIMM slots
2 x DDR3L SO-DIMM slots
2 x DDR3L SO-DIMM slots
Mini HDMI Output
1 x 1.4a
1 x 1.4a
1 x 1.4a
1 x 1.4a
USB
4 x USB 3.0
4 x USB 3.0
4 x USB 3.0
4 x USB 3.0
Gigabit Ethernet
Yes
Yes
Yes
Yes
mini PCIe (half-height)
1
1
1
1
mini PCIe (full-height, mSATA support)
1
1
1
1
Chassis Color
Black
Black
Black
Black
Power Supply
External 19V 65W DC
External 19V 65W DC
External 19V 65W DC
External 19V 65W DC
Overall Unit Size
116.6mm x 112.0mm x 34.5mm
116.6mm x 112.0mm x 49.5mm
116.6mm x 112.0mm x 34.5mm
116.6mm x 112.0mm x 494.5mm
Warranty
3-Years
3-Years
3-Years
3-Years
MSRP Guidance By Intel
~$285
~$295
~$363
~$373
At the end of the day the Intel NUC Kit D54250WYKH is what we feel is the NUC done right. The NUC is powerful for how small it is and can do pretty much anything that you'd need it do. That is a pretty powerful statement, but the NUC can sever as a Point of Sale system, a media center PC with XMBC installed or even replace your aging desktop PC. The only thing lacking is the horse power to play high-end games and you can't add discrete graphics to the NUC. If that doesn't bother you, be sure to take a closer look at the NUC by reading our performance review of it here!
If you have any other questions about the D54250WYK or D54250WYKH be sure to ask us here in this forum thread and we'll be happy to answer it for you.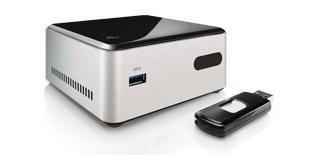 In other news we hope that we can get our hands on Intel's value SKU for the NUC, which is the Bay Trail powered DN2820FYKH that is code named Forest Canyon. The MSRP on that one is just $128 and it comes with internal support for a 2.5″ HDD or SSD as well. We'd love to give that a test drive with the Intel Celeron processor N2820 (up to 2.4GHz dual-core, 1MB cache, 7.5W TDP) as it might be the perfect platform for many entry level solutions or even HTPC build. It only features single channel DDR3 memory though, one USB 3.0 port (2 additional USB 2.0 ports on the back) and Intel HD graphics. Was too much cut back to get the price down to $128 or will it work good enough for the masses?
Want to see more coverage of the Intel NUC by Legit Reviews?