G.SKILL Ripjaws 8GB 2133MHz DDR3L SO-DIMM Memory Kit Review – F3-2133C11D-8GRSL
By
G.SKILL Ripjaws DDR3L 2133MHz 8GB Kit F3-2133C11D-8GRSL
Earlier this month we took an in-depth look at the G.SKILL Ripjaws Series 8GB 1866MHZ CL11 memory kit that is sold under part number F3-1866C11D-8GRSL for $82.99 shipped. We found that running faster DDR3L memory in newer systems powered by 4th Generation Intel Haswell processors to be very beneficial for those looking to get the most from their system.
Over the past few months we've spent a fair amount of time using the Intel NUC and Gigabyte BRIX PC Small Form Factor (SFF) systems that notebook use DDR3L SO-DIMM memory kits. One thing that we've discovered with the Intel NUC Kit D54250WYK powered by the 4th generation Intel Core i5-4250U 'Haswell' processor (2.6GHz) is that no 2133MHz DDR3L memory kit was able to work in dual-channel mode. While Legit Reviews was at CES 2014 we found that a number of companies were showing off their SO-DIMM memory, but all stopped at 1866MHz in the Intel NUC. Even on our test benches here at Legit Reviews we could not get any brands kit to run in the latest Haswell powered NUCs at 2133MHz.
This week our friends at G.SKILL overnight mailed us their latest RIPJAWS SO-DIMM F3-2133C11D-8GRSL memory kit straight from Taiwan. This is the kit that was announced in November 2013 and it is just now coming out. Just moments after receiving the kit, we popped it into the Intel NUC to see if it would work. We went into the BIOS and manually set the clock frequency to 2133MHz along with the proper CL11 timings and restarted the system. We weren't expecting the system to post, but after several seconds we found ourselves on the desktop! After triple checking everything, we discovered that we were really running at 2133MHz! We were excited by this as neither Intel or G.SKILL have never been able to get 2133MHz memory working in dual-channel on the Haswell powered Intel NUC kits! So what changed? G.SKILL has moved to a 4Gb density module and that involves new SDRAM chips and PCB revision, so basically the whole module has been revamped.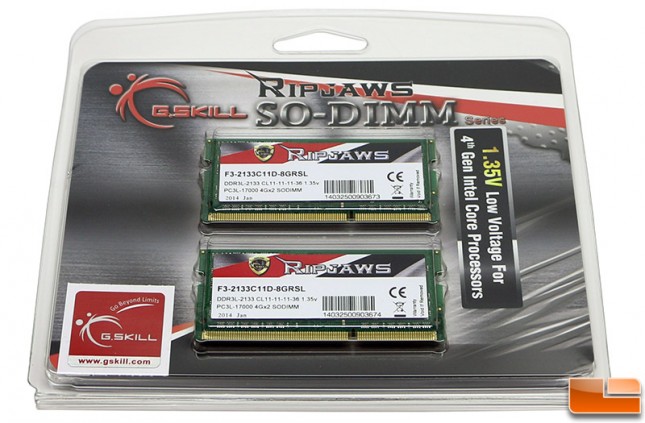 Only Corsair and G.SKILL currently offer 2133MHz DDR3L SO-DIMM laptop memory kits, so very few memory companies are pushing the bleeding edge when it comes to notebook memory. At $89.99 shipped, the lowest cost 8GB (2x4GB) 2133MHz DDR3L memory option on the market right now is the G.SKILL Ripjaws Series kit with part number F3-2133C11D-8GRSL. This DDR3L 2133 memory kit features 11-11-11-36 1T memory timings at just 1.35 Volts and is backed by a lifetime warranty. Corsair offers a similar kit under part number CMSX8GX2M2B2133C11, but it runs $109.99 shipped. G.SKILL has their kit priced $20 lower and uses newer high density memory chips that appear to work on the latest Intel NUC modules at 2133MHz. The G.SKILL Ripjaws 204-pin DDR3L SO-DIMM memory kit comes in clear clam-shell packaging with the two memory modules and a small case badge sticker.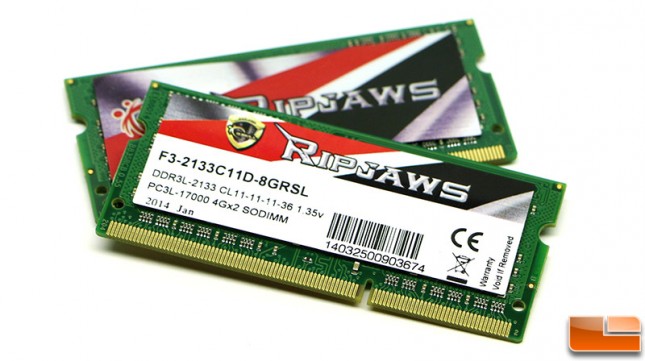 The memory kit is built on traditional green Printed Circuit Boards (PCB's) and has large stickers that cover both sides of the DDR3 Integrated Circuits (IC's). The labels on the memory modules list the part number of the kit, speed, timings, voltage, date of manufacturing and more. G.SKILL is one of the few companies that puts all the important information right on the module as it could come in handy years down the road when you pick up this kit and are wondering what exactly it is.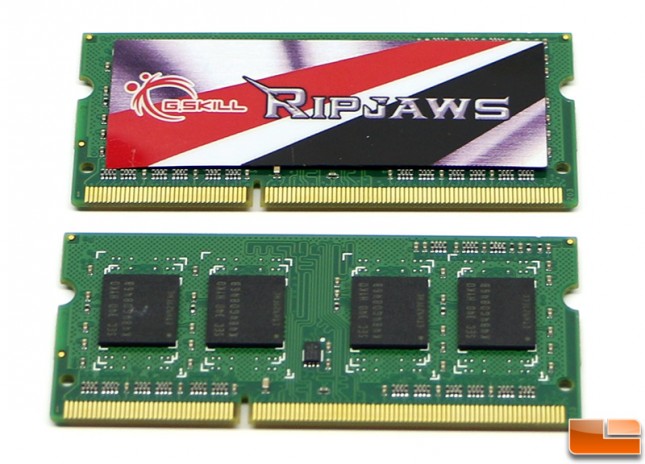 We took a look under the stickers and found that G.SKILL is using 4Gb density Samsung DDR3 SDRAM memory chips, so there are four Samsung chips per side. This is a significant change as the previous G.SKILL RIPJAWS 8GB 1866MHZ SO-DIMM memory kit used 2Gb density Samsung memory chips. This means that the density of the memory units inside the individual chips has been increased. Since the capacity of each module remains the same at 4GB, G.SKILL was able to use a total of eight memory chips instead of the sixteen that we previously needed for this module or another words we went from 512Mx16 to 512Mx8.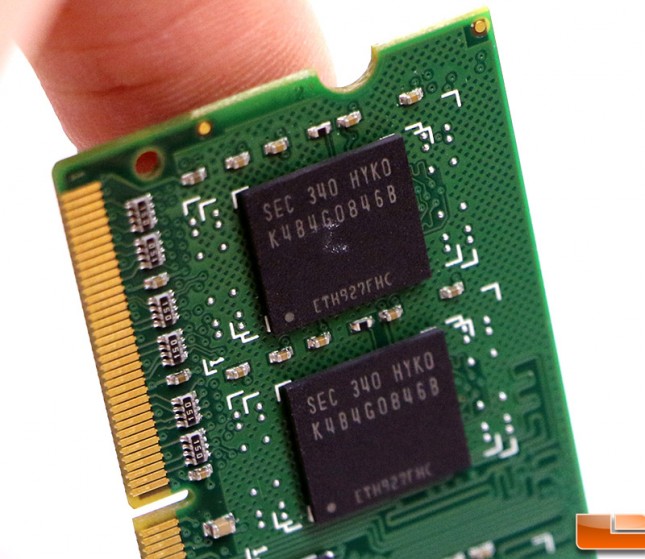 The exact part number on each Samsung B-Die SDRAM package is SEC 340 HYKO K4B4G0846B.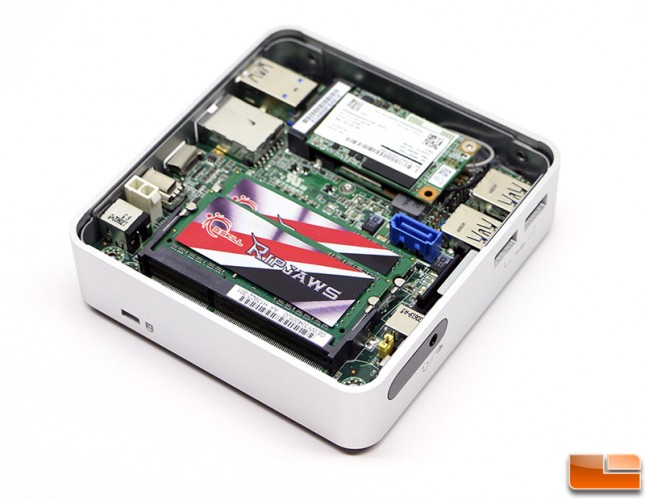 For testing, we'll be using the Intel NUC Kit D54250WYK as test system and we ran the G.SKILL Ripjaws at 2133MHz in dual-channel mode with 11-11-11-36 1T timings.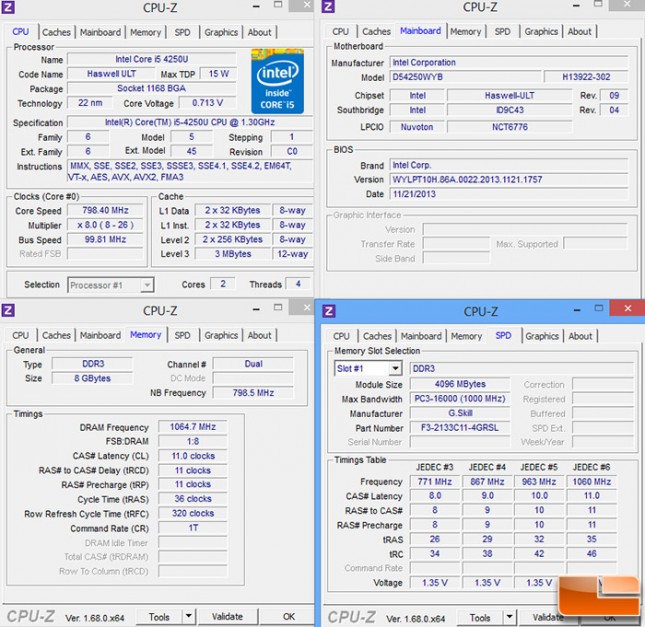 The Intel NUC Kit D54250WYK is running Windows 8.1 with all the latest drivers and the BIOS on the board is running version 22.
Now that you know the basics about this memory kit, let's take a look at the results.