G.SKILL Ripjaws 1866MHz 8GB DDR3L SO-DIMM Memory Kit Review
By
G.SKILL Ripjaws F3-1866C11D-8GRSL
If you are building an Intel NUC or Gigabyte BRIX PC powered by an Intel Haswell processor you might have noticed that 1.35V Low Voltage DDR3 SO-DIMM memory is needed for your system build. It's not every day that you build a desktop PC that uses notebook memory, but many of these new Small Form Factor (SFF) systems use notebook memory as Intel 3rd and 4th Generation Core processors support it and who doesn't want to use a memory kit that uses less power and generates less heat?
There are nearly 90 DDR3 memory kits that operate at 1.35V listed on Newegg, but most are just the standard 1333Mhz or 1600MHz fare. It came as a shock to find that just six of those kits are clocked above 1600MHz in the 1866-2133MHz speed range. Overclockers, enthusiasts and power users that want something a bit faster have rather limited options for DDR3L memory kits, but luckily companies like Corsair, G.SKILL and Crucial have high-end memory on the market for notebooks and desktops.
The lowest cost 8GB (2x4GB) DDR3L memory option on the market right now is the G.SKILL Ripjaws Series 8GB 1866MHZ CL11 memory kit that is sold under part number F3-1866C11D-8GRSL for $82.99 shipped. This DDR3 1866 (PC3 14900) memory kit features 11-11-11-32 memory timings at just 1.35 Volts and is backed by a lifetime warranty. G.SKILL also offers what appears to be the same kit of memory with more aggressive 10-10-10-32 timings under part number F3-1866C10D-8GRSL for $84.99 shipped. We doubt there is a difference between the two kits other than the SPD settings, but you have to remember not all notebooks and desktops have a BIOS that supports manually setting memory timings. If you can't adjust the memory timings on the platform that you are shopping around for, then it might be worth spending two extra bucks and getting the kit with tighter timings for slightly better memory performance as the latencies should be lower.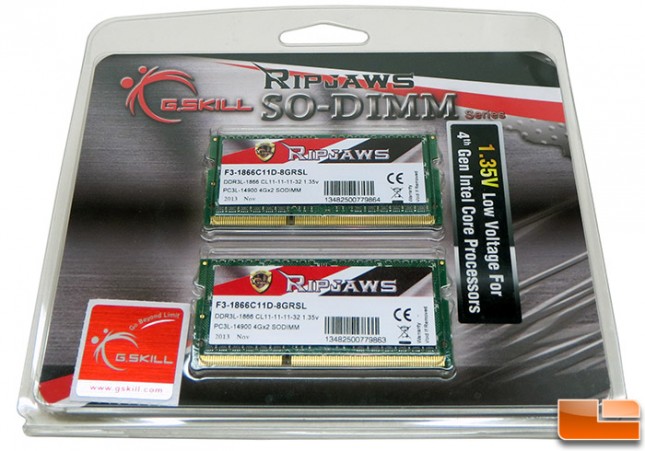 Today we'll be looking at the G.SKILL Ripjaws Series 8GB 1866MHZ CL11 memory kit that is sold under part number F3-1866C11D-8GRSL. This is the lowest cost $17-22 less than the comparable kits by Corsair and Crucial, so we can't wait to give it a test drive and see how it performs in the Intel NUC Kit D54250WYK powered by the 4th generation Intel Core i5-4250U processor (2.6GHz). We've already posted an in-depth review of the NUC Kit D54250WYK and then followed it up with an overclocking article where we overclocked a 1600MHz memory kit to get more performance, so be sure to go back and check those articles out if you aren't familiar with that system. The G.SKILL Ripjaws 204-pin DDR3L SO-DIMM memory kit comes in clear clam-shell packaging with the two memory modules and a small case badge sticker.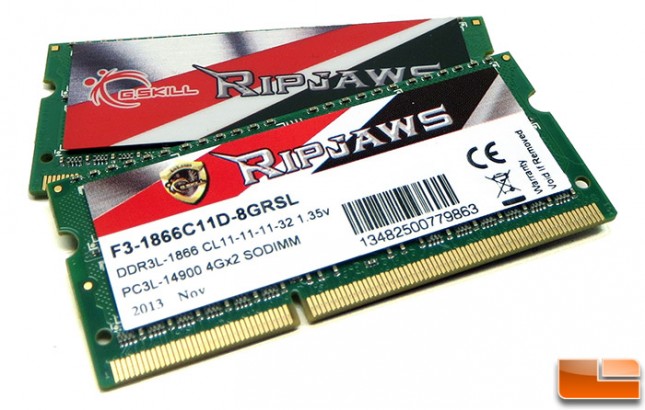 The memory kit is built on boring green Printed Circuit Boards (PCB's) and large stickers on both sides cover all of the DDR3 Integrated Circuits (IC's). The labels on the memory modules list the part number of the kit, speed, timings, voltage, date of manufacturing and more. Kudos to G.SKILL for putting all the important information right on the module as it could come in handy years down the road when you pick up this kit and are wondering what exactly it is. We took a look under the stickers and found that G.SKILL is using 2Gb density Samsung DDR3 SDRAM memory chips, so there are eight Samsung chips per side. The exact part number on each IC is SEC 304 HCKO K4B2G0846C.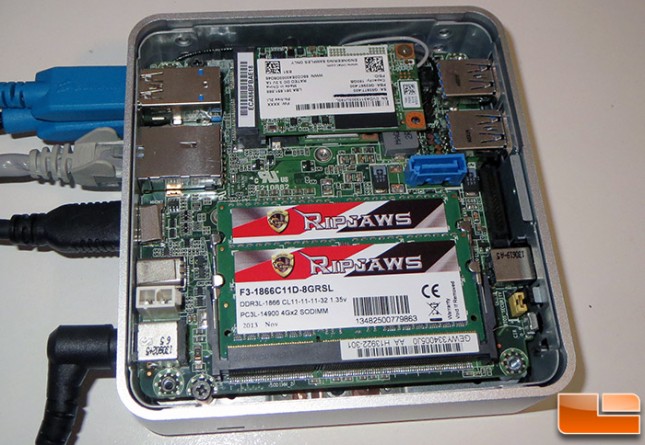 For testing, we'll be using the Intel NUC Kit D54250WYK as test system and we ran the G.SKILL Ripjaws at 1866MHz in dual-channel mode with 11-11-11-32 1T timings.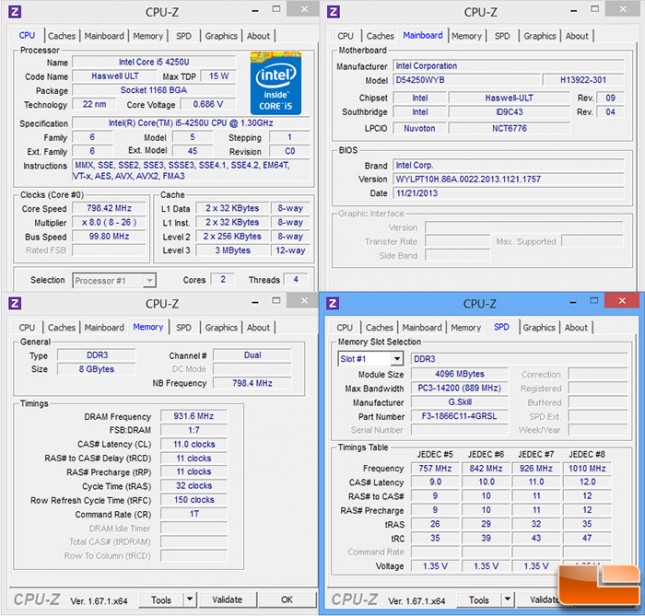 The Intel NUC Kit D54250WYK is running Windows 8.1 with all the latest drivers and the BIOS on the board is running version 22.
Now that you know the basics about this memory kit, let's take a look at the results.