Intel NUC Kit D54250WYK Spotted At PAX Prime w/ Haswell CPU Inside
By
Intel NUC with Haswell Close To Launching – D54250WYK Seen at PAX Prime
Have you been waiting for the Intel Haswell NUC units to show up? Intel has tons of good stuff on display at PAX Prime this year and one of the more interesting things on display was the upcoming 'Haswell' version of the NUC that is not released just yet. We ran across a number of these systems in the Intel BYOC gaming area at the show and we got right to gaming on these new systems.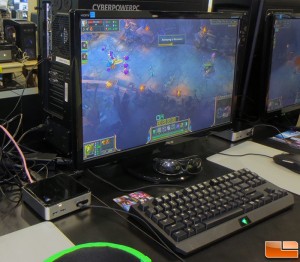 Yes, you heard that correctly. Intel was letting gamers play current games on the Intel NUC D54250WYK DIY kit that uses the Intel NUC Board D54250WYB. Intel told Legit Reviews that they will be offering the Intel NUC Kits D54250WYK, D34010WYK and Boards D54250WYB, D34010WYKB when these units are released later this year. It looks like the original NUC w/ Thunderbolt support didn't do too well as none of the new Haswell based versions will have a Thunderbolt option!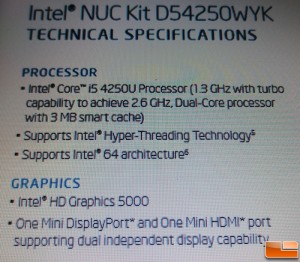 Inside the Intel NUC Kit D54250WYK you'll find the Intel Core i5 4250U processor (1.3GHz w/ turbo capability to achieve 2.6GHz, Dual-Core processor w/ 3MB smart cache) with Intel HD Graphics 5000 (base clock 200MHz to a maximum clock of 1Ghz). This is a 4th Generation Intel Core i5 'Haswell' processor folks! This dual-core 22nm processor has a max TDP of just 15 Watts!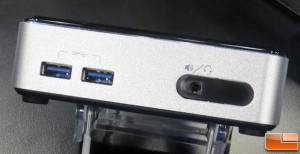 The front of the NUC Kit D54250WYK has two SuperSpeed USB 3.0 ports, a 3.5mm audio jack for the Intel HD analog stereo and we were told that there is an IR sensor just to the right of that! The original NUC has just a single USB port on the front panel, so Intel has added quite a bit of support to this tiny platform.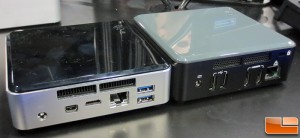 The new Intel NUC w/ Haswell is also smaller than the Ivy Bridge versions, which is a bit of a shock. The motherboard inside still measures 4″x4″ (101.6mm x 101.6mm), but the outside chassis is not 4.59″ x 4.41″ x 1.36″ (116.6mm x 112.0mm x 34.5 mm). The original was 4.59″ x 4.41″ x 1.55″, so Intel shaved off 0.19″ or about 12% of the thickness of the unit. This is impressive as they also added more copper fins to the cooling solution. Intel admitted that heat was a bit of concern on the original NUC, so they put more time and effort into the cooling solution on the new Haswell based NUC models.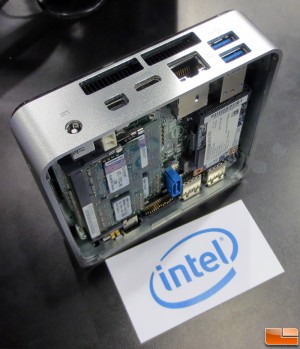 While we were on the topic of size and dimensions, here is a shot of the Intel NUC Kit D54250WYK with a standard business card.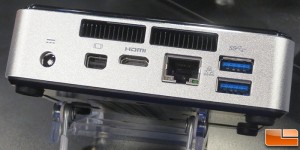 When it comes to the back panel you have an integrated Intel 10/100/1000 Network connection, two SuperSpeed USB 3.0 ports, mini HDMI 1.4a, DisplayPort 1.2 (Both supporting 8-channel [7.1] digital audi0) and of course the power connector.
The Haswell based NUC kits should all use a 65W power brick like the originals. Intel informed us that a fully loaded NUC kit (Max memory, highest power draw for mSATA, transmitting both wirelessly and over the integrated NIC with a program that causes full CPU and GPU load) would be pulling about 64.32W of power according to their internal calculations.
Intel is considering making an Iris Pro version and if that ever comes to market it will need a larger power adapter. If Intel were to make an Iris Pro version with say a 47W TDP processor they would need to go above a 65W power brick
Let's take a look inside!