Intel NUC Kit D54250WYK Overclocking
By
How We Overclocked Intel NUC Kit D54250WYK
We've spent pretty much all our free time this week using the Intel NUC Kit D54250WYK and if you couldn't tell from our review, we love the new design and the Intel 4th Generation Core i5-4250U Haswell processor that powers it. In our review we showed you the general performance of the system running at stock speeds. The one question that we didn't answer at that time is how it performs when overclocked. There aren't too many things that you can overclock on the NUC since the CPU multiplier and bus speeds are locked down, but we can overclock the DDR3 memory. In the past overclocking the memory clock frequency has yielded some pretty good results for memory bandwidth limited applications and gaming benchmarks.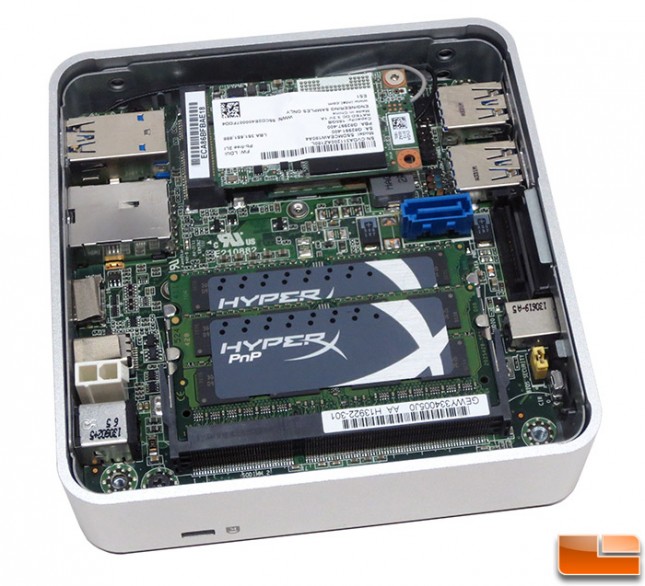 Overclocking the memory on the Intel NUC Kit D54250WYK is extremely simple thanks to the easy to use Intel Visual BIOS. You just go to the performance menu, set the memory config to manual and change the multiplier to the divider that you want. You can even manually set the voltage as well as all the basic and advanced memory timings to fine tune your NUC. If only we could change the host clock or core multiplier!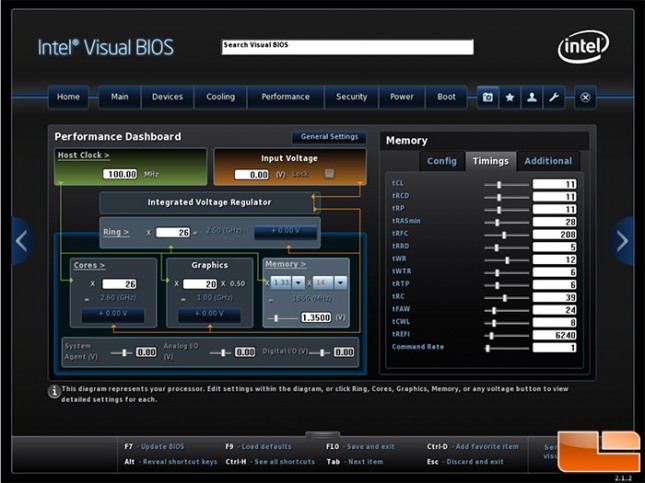 Our friends at Crucial and Kingston hooked us up with some DDR3 and DDR3L (Low Power) memory kits to try out on the NUC. Our initial goal was to get 16GB of DDR3L memory running at 1866MHz, but we encountered some issues when using the maximum memory capacity and overclocking. Before we dive into our overclocking results we'll tell you about our experiences with each of the three kits that we used.

The first kit we tried out was the Crucial 8GB (2 x 4GB) 204-Pin DDR3L SO-DIMM 1600MHz CL11 laptop memory kit that is sold under part number CT2KIT51264BF160BJ. Pay close attention to the J part number at the end as that dignifies this kit is based uses 4Gb density chips, so there are 8-chips per 4GB module versus the older modules that have a density of 2Gb, which means you need 16-chips for a 4GB module. This module was using Micron D9QVG memory chips that have part number MT41K512M8RH-125:J. We could not find this module for sale just yet as Newegg and everyone carries just the older 2Gb (16-chip) versions for $71.12 shipped. We were able to get this 8GB module running stable on the Intel NUC Kit D54250WYK at its default speed of 1600MHz and was able to overclock it up to 1866MHz with no problems at all, while retaining the stock timings and voltage of 1.35V.
The next kit we tried was the Kingston HyperX 16GB (2x8GB) 204-pin DDR3L SO-DIMM 1600MHz CL9 laptop memory kit. This module was using Micron D9QBJ memory chips that have part number MT41K512M8RH-125:E. This is the same exact part number of IC's that Crucial is using on their kit, minus the revision number at the end. This kit runs $174.99 shipped. We were able to get this massive 16GB laptop memory kit up and running at 1600MHz at CL9 timings without any issues: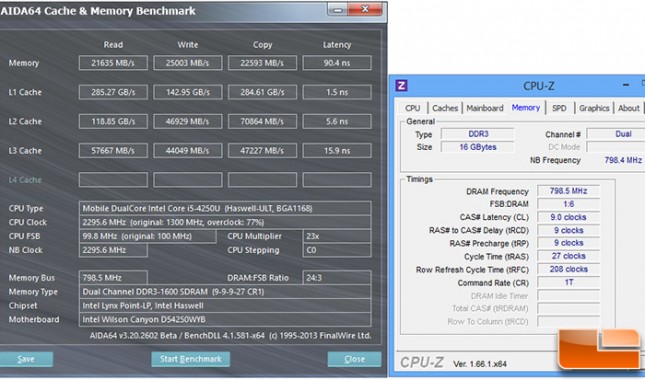 When we set it to run at 1866MHz in dual-channel mode the system would not post. We'd just get three blue blinks on the power button letting us know there was a memory error. We tried one module and it would run at 1866MHz in the slot farthest from the CPU, but failed to work in the slot closest to the processor/board. Intel is aware of the issue and hopes to release a BIOS that fixes the issue in the weeks ahead as they have Intel Ultrabooks with this CPU running just fine with 16GB kits at 1866MHz and 2133MHz.
The last kit we tried out just for fun, but it was the Kingston HyperX 8GB (2 x 4GB) 204-Pin DDR3 2133MHz memory kit that is sold under part number KHX21S12P1K2/8. This not a low power DDR3L memory kit (1.35V) that is required on the Intel NUC Kit D54250WYK, but a regular 1.5V DDR3 memory kit. It features 2Gb density IC's by Hynix that have part number H5TQ2G83CFR on them. This kit retails for $89.74 shipped. This memory kit was unable to post in the system at any memory clock frequency. It was worth a shot as we really wantedto get 2133MHz memory working!
For overclocking we'll be using the Crucial 8GB (2x4GB) DDR3L 1600MHz memory kit as it is the only kit we have right now that can run at both 1600MHz and 1866MHz in dual-channel mode.
Now that you know what we are doing and the kits that we tried out, let's take a look at the results.