Intel NUC Kit D54250WYK Review – The NUC Gets Haswell Power!
By
The Intel NUC DIY Barebones Kit Arrives For Haswell CPUs
Last year the Intel introduced the Next Unit of Computing (NUC) and we were amazed by the power, capabilities and performance of what you could do with a four inches square. PC users around the world quickly found out that the Intel NUC was small yet powerful and used them as general use PCs, home theater PCs, media servers, and/or a multitude of other configurations.The first generation NUC left us impressed, but there was certainly room for improvement. Intel is severely limited by the NUC's ultra-compact device design, but the new Intel NUC packs more features into an even slimmer form factor. This is not a small feat as the designers had a long list of changes to be made. Besides making the NUC faster and more energy efficient, they also had to improve cooling and add better connectivity options.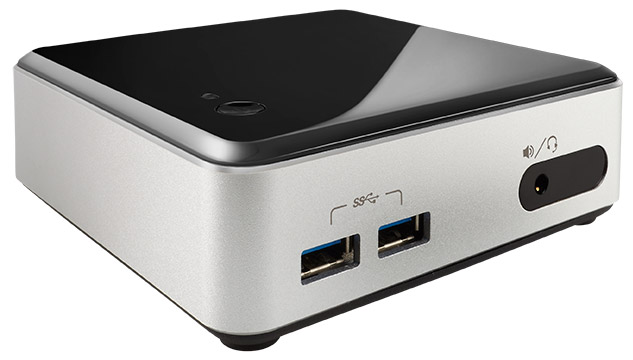 The largest change is the move to Intel 4th generation Core i3/i5 'Haswell' 22nm processors as that is the heart of mighty NUC. Intel didn't stop there and now includes four USB 3.0 ports, a consumer infrared sensor, a headphone/microphone jack, and Mini HDMI and Mini DisplayPort video interfaces on both of the two announced Haswell based NUC's. Last year Intel released two models using Intel 3rd generation Core i3 'Ivy Bridge' processors and they both used very different input/output (I/O) configurations. This meant that you basically had to buy the model you wanted by the connections you needed and made purchasing an aftermarket case a pain in the butt.
Intel has simplified things by keeping everything the same on the two models with the exception of the processor. We really like this idea as you are paying for the level of performance that you need and not if you need Gigabit LAN or Thunderbolt. It should be noted that Intel dropped Thunderbolt altogether on the new NUC models!
Intel NUC Kit Comparison Table For Haswell SKUs

Model
D34010WYK
D54250WYK
Codename
Wilson Canyon
Wilson Canyon
CPU
Intel Core i3-4010U
Intel Core i5-4250U
1.7GHz Dual-Core
Up To 2.6GHz Dual-Core
Turbo / Hyper Threading
No / Yes
Yes / Yes
GPU
Intel HD Graphics 4400
Intel HD Graphics 5000
Chipset
Intel Lynx Point
Intel Lynx Point
RAM
2 x DDR3L SO-DIMM slots
2 x DDR3L SO-DIMM slots
Mini HDMI Output
1 x 1.4a
1 x 1.4a
USB
4 x USB 3.0
4 x USB 3.0
Gigabit Ethernet
Yes
Yes
mini PCIe (half-height)
1
1
mini PCIe (full-height, mSATA support)
1
1
Chassis Color
Black
Black
Power Supply
External 19V 65W DC
External 19V 65W DC
Overall Unit Size
116.6mm x 112.0mm x 34.5mm
116.6mm x 112.0mm x 34.5mm
Warranty
3-Years
3-Years
Street Price
Estimated to be $283
Estimated to be $360
The new Intel NUC w/ Haswell chassis is smaller than the Ivy Bridge versions, which is a bit of a shock. The motherboard inside still measures 4x4 (101.6mm x 101.6mm), but the outside chassis is not 4.59 x 4.41 x 1.36 (116.6mm x 112.0mm x 34.5 mm). The original was 4.59 x 4.41 x 1.55 (116.6mm x 112.0mm x 39.4 mm), so Intel shaved off 0.19 or about 12% of the thickness of the unit.

The Intel NUC that we are looking at today is the D542050WYK, which is the version that is the high-end version with the Intel Core i5-4250U processor (1.3GHz w/ turbo capability to achieve 2.6GHz, Dual-Core processor w/ 3MB smart cache) and Intel HD Graphics 5000 (base clock 200MHz to a maximum clock of 1Ghz). This is a 4th Generation Intel Core i5 Haswell dual-core 22nm processor that has a max TDP of just 15 Watts! This processor is embedded, so it is permanently soldered to be motherboard.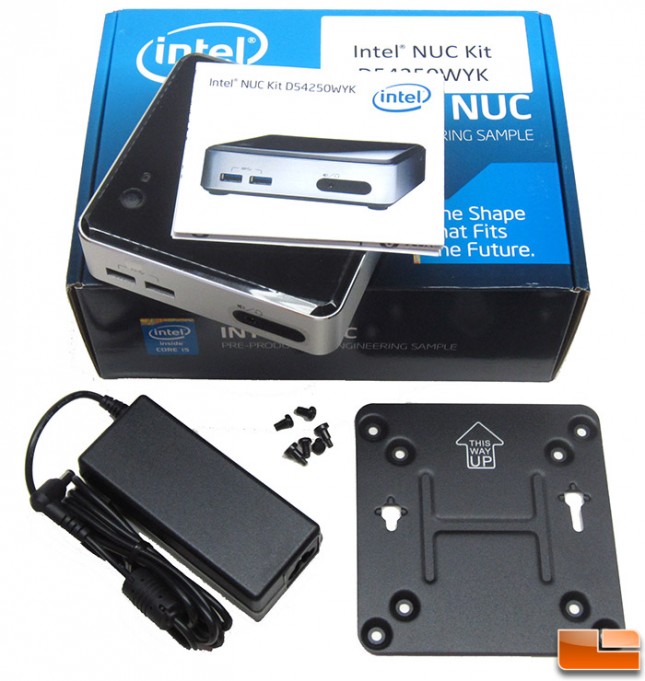 Inside the retail packaging of the Intel NUC Kit D542050WYK you'll find the PC, instructions, 65W power brick, VESA mounting bracket and the necessary screws for mounting the NUC behind a monitor.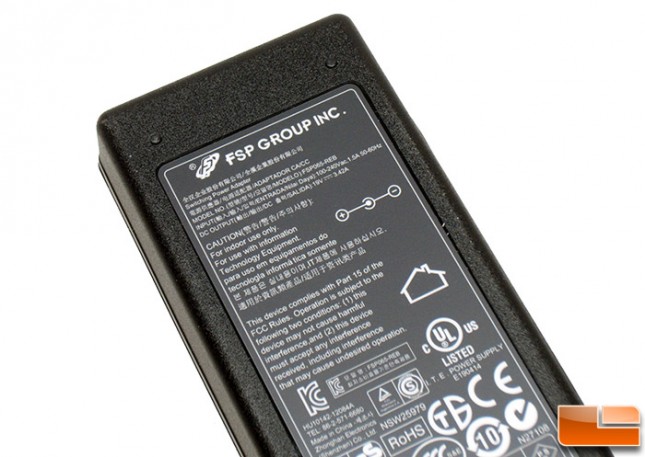 The switching power adapter that came with our test sample was a 19V, 65W power brick made by FSP Group and sold under part number FSP065-REB. This adapter is rated with 'V' level efficiency, which is the highest category right now for these power bricks. It's nice that Intel included the power brick, but only certain SKU's will come with the 3 prong 'Mickey Mouse' power cord that goes to the wall. Not many people have an extra 3 prong cable, but they are only $3 shipped if you need to buy one for a NUC that doesn't come with one.
10/3/13 Update: Intel sent us the following message about the power cord:
The pre-production NUC units we sent you did not have power cords. This is because we did not want to card multiple SKUs of pre-production units. However, with our production SKUs we WILL have power cord options for US, EU, and UK. Well also continue to carry no cord SKUs for markets that have other adapters. – Intel PR
Let's take a look at what is inside the NUC!