Intel Core i7-6700K Skylake Processor Review
By
TrueCrypt
TrueCrypt is sort of discontinued, but it was once a widely available freeware utility used for on-the-fly encryption (OTFE). It can create a virtual encrypted disk within a file or encrypt a partition or (under Microsoft Windows except Windows 8 with GPT) the entire storage device (pre-boot authentication). On 28 May 2014, the TrueCrypt website announced that the project was no longer maintained and recommended users to find alternate solutions. Since that announcement was made Thomas Bruderer and Joseph Doekbrijder have stepped forward with plans to revive the project through the truecrypt.ch site, which is offering downloads of TrueCrypt 7.1a which can encrypt and decrypt data, and was the latest version prior to 7.2.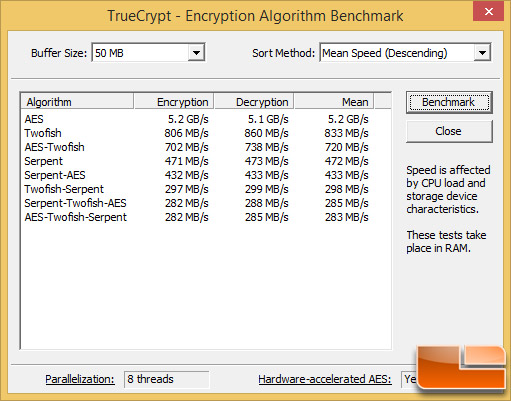 We are using the benchmark built-in TrueCrypt 7.1a with default settings to figure out the mean AES speed for each of the processors being tested with a 50MB buffer size.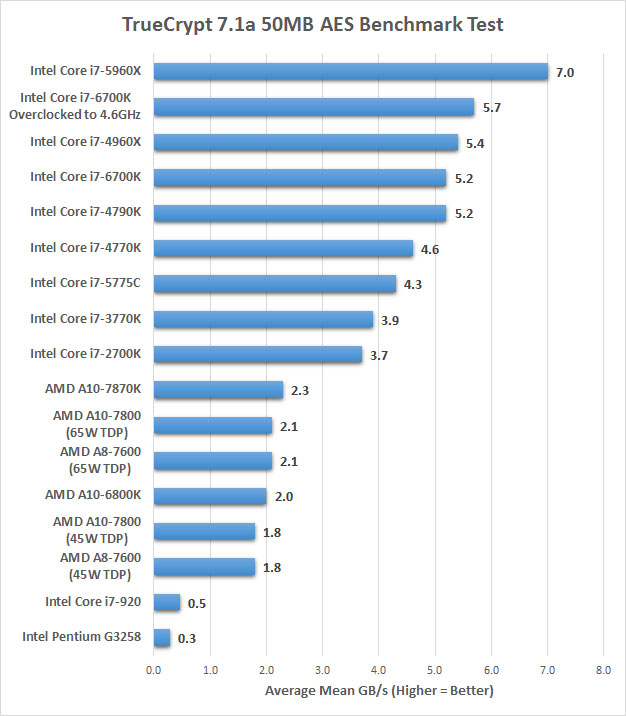 Benchmark Results: The Intel Core i7-6700K does well on the Advanced Encryption Standard (AES) benchmark test and scored 5.2 GB/s in stock form and 5.7 GB/s when overclocked up to 4.6GHz. Despite being having a 200MHz lower Turbo Clock speed we found the 6700K has the same level of performance as the Intel Core i7-4790K at stock speeds.