Intel 510 Series 250GB SSDs Reviewed in RAID 0
By
Capacity, Final Thoughts & Conclusions
The actual user accessible capacity rounds out to be 232GB in Windows after all is said and done which is 9% less than the 256 GB on board. If you divide out the total number of bytes by 1,024 three times, you'll end up with the 232GB figure.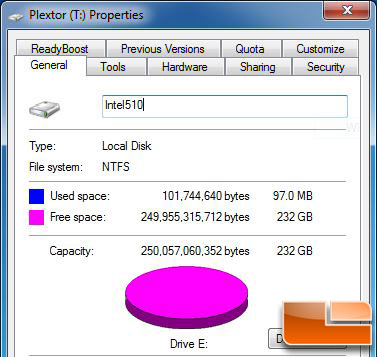 So how did Intel do this round? Very good actually. Having used a few of the Marvell controlled drives before, we had an idea of what to expect although we knew that Intel was bringing their own firmware. Obviously, they brought their 'A' game when they designed the firmware because their 510 Series performed better than any Marvell drive we have tested. If this is just a mid-level product until their own high-end controller is ready for action, we can't wait to see what that's going to give us in terms of performance.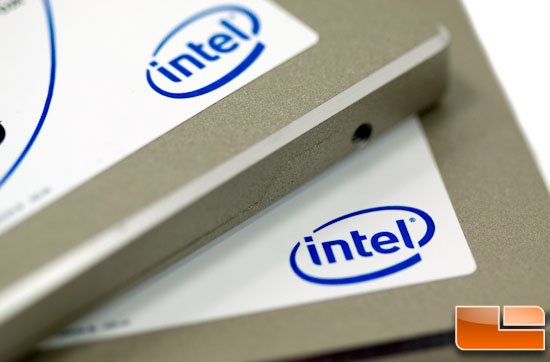 However, the maximum write speeds are considerably lower than their SandForce counterparts and their Achilles seems to lie in the random writes where they were consistently lower than the SandForce drives. The performance gap lessens when dealing with incompressible data but a gap still exists. Is this gap noticeable to end user? Doubtful. Reads are where most users spend time waiting – loading an app, opening large media files, loading levels in games, etc. With the Intel drive hitting observed 531 MB/s reads compared to the Vertex 3 at 555 MB/s the difference is negligible.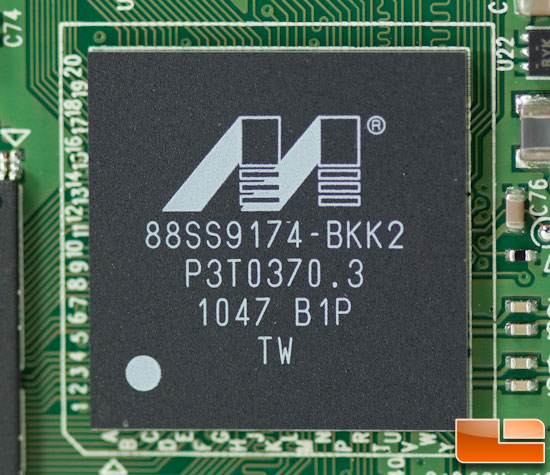 The RAID 0 performance was just awesome but out of reach financially for
many consumers. We haven't had the opportunity to try out the RAID
performance on the new SandForce drives yet so we don't have a
comparison. With the 34nm NAND, the theoretical life expectancy is longer
than that of the 25nm drives and Intel backs their drives up with a 3
year warranty for good measure. The Marvell controller does support TRIM and idle garbage collection
which seems to work very well. After hammering on the drive for hours,
the drive performance was nearly back to full form after a few hours of
idle time.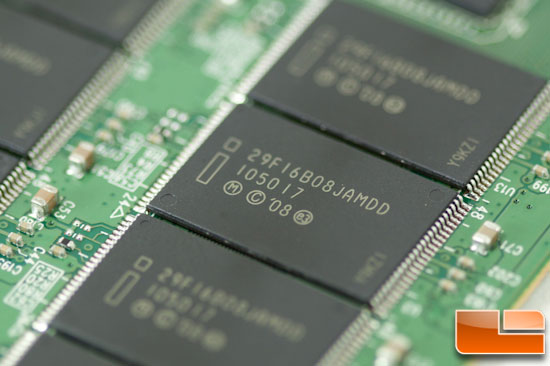 The MSRP on the drives are $284 and $584 for the 120 GB and
250 GB drives respectively although current retail prices are inflated a
little to the tune of $314.99 and $614.99. That's out of Intel's control but
either way that's going to be $2.50 – $2.65 per usable gigabyte which is
a little higher than what we should be seeing for the Vertex 3 drives as a point of comparison. Intel
does bundle them with the extras and their nice toolbox software so
there's some value in that although OCZ should have their toolbox ready
when the Vertex 3 drives ship. The big thing is that Intel has their
drives available at several retailers right now and speed to market is extremely important in such a competitive product line. The Intel brand name carries a lot of weight and there are plenty of die hard fans out there that are brand loyal so we expect sales to be brisk. Don't be surprised to find these puppies as options in builds for various OEM and boutique builders.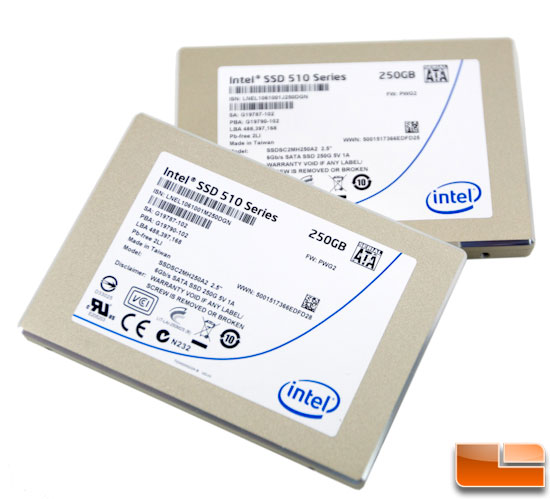 Legit Bottom Line: While not exactly we were expecting by carrying a third party Marvell controller, Intel has done a fine job with their custom firmware to produce a SATA 6Gbps drive that fares very well against the newest SandForce drives. While we can't say it leads its class, it's definitely going to cause others to look nervously over their proverbial shoulder.