Gigabyte Next Generation Intel Motherboards
By
Gigabyte Shows Off New Intel 9 Series Motherboards
Legit Reviews recently got a chance to sit down with Gigabyte to go over the 37 motherboards that they will be releasing for an upcoming Intel chipset. We were asked not to say what that chipset will be, what the chipset features are, what the chipset logo looks like or show any retail product box shots. It isn't a big secret what chipset Intel is launching next, but we will play by the rules and show you nearly a dozen boards that will be coming out very soon. Gigabyte will have a grand total of 37 motherboards available that are divided into four main product series: G1 Gaming, Ultra Durable, SOC (Overclocking), Black Edition. Some are going to look familiar, but there have been many changes to the boards and all of the Intel 9 series boards will have an updated UEFI along with support for 19 languages. Let's dive right in and take a look at the four series and then look closer at several boards.
Gigabyte G1 Gaming Series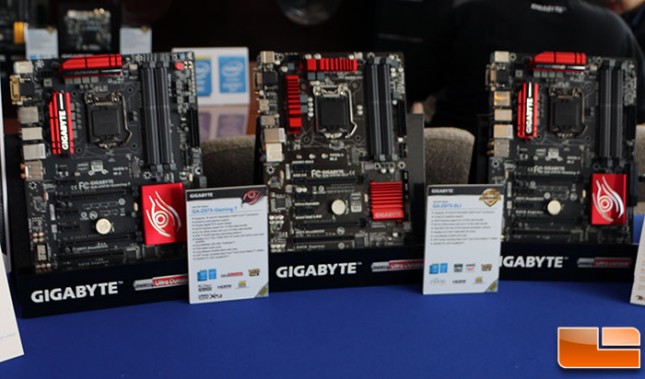 The Gigabyte Gaming boards have been re-branded and are now being called 'G1' boards. Killer naming has been removed due to the brutality of the name and customer feedback in a number of regions. Also gone is the green color scheme as Gigabyte has moved over to a red and black color scheme. Motherboard makers are very sensitive about colors these days and Gigabyte has changed the color design on many of their motherboards to better position them in the vastly different global markets. Some people really care about motherboard colors and others could care less as long as it performs as expected and has they features they want. Many of the high-end Gigabyte G1 series boards will have a PLX chip to support 4-way AMD CrossFire and 4-way NVIDIA SLI multi-GPU configurations. Gigabyte remains committed to high-end audio and is always looking for software and hardware improvements for different listening modes. Some boards will have onboard Creative Sound Core3D sound and voice processor with gold plated shielding and other boards will have the Realtek ALC1150 115dB SNR HD Audio solution. Gigabyte is sticking with the swappable OP-AMP with gain boost solution that was first introduced on their 8 series boards. Gigabyte is using Nichicon high-end audio capacitors on select boards, which are similar to what is being used on high-end amplifiers. Gold plating is also used on audio and video connectors to help keep corrosion down as in some areas in the humidity, salt water and sulfur in the air causes non-gold plated connectors to tarnish and cause crackling at times. Networking is also very important to gaming and Gigabyte has heard loud and clear that not all gamers want to be using the Qualcomm Atheros Killer E2200 NIC Ethernet solution. For the Intel 9 series boards Gigabyte is going to be using both Killer E2200 and Intel Gigabit network solutions.
Gigabyte will have 12 Intel 9 series motherboards in the G1 Gaming Series and they are listed in order from top to bottom below in terms of features and pricing.
Gigabyte Z97X-Gaming G1 WiFi
Gigabyte Z97X-Gaming G1
Gigabyte Z97X-Gaming GT
Gigabyte G1.Sniper Z97
Gigabyte Z97X-Gaming 7
Gigabyte Z97N-Gaming 5
Gigabyte Z97X-Gaming 5
Gigabyte Z97MX-Gaming 5
Gigabyte Z97X-Gaming 3
Gigabyte G1.Sniper H6
Gigabyte H97-Gaming 3
Gigabyte H97M-Gaming 3
Gigabyte Ultra Durable Motherboard Series

The Ultra Durable motherboard series are considered the mainstream or bread and butter boards for Gigabyte. The new Gigabyte 9 series boards have taken some of the features that were on the previous generation 8 series gaming and overclocking boards and the UD line is better than ever according to Gigabyte. For example some boards will have Killer NICs and there are many new overclocking functions that have trickled down onto these boards.
Gigabyte will have 15 Intel 9 series motherboards in the Ultra Durable Series and they are listed in order from top to bottom below in terms of features and pricing.
Gigabyte Z97X-UD7 TH
Gigabyte Z97X-UD5H
Gigabyte Z97X-UD3H
Gigabyte Z97N-WiFi
Gigabyte Z97X-SLI
Gigabyte Z97X-D3H
Gigabyte Z97X-HD3
Gigabyte H97N-WIFI
Gigabyte Z97M-DS3H
Gigabyte H97-D3H
Gigabyte H97-HD3
Gigabyte H97-DS3H
Gigabyte H97M-DS3H
Gigabyte H97M-D3H
Gigabyte H97M-DS3P
Gigabyte SOC Motherboard Series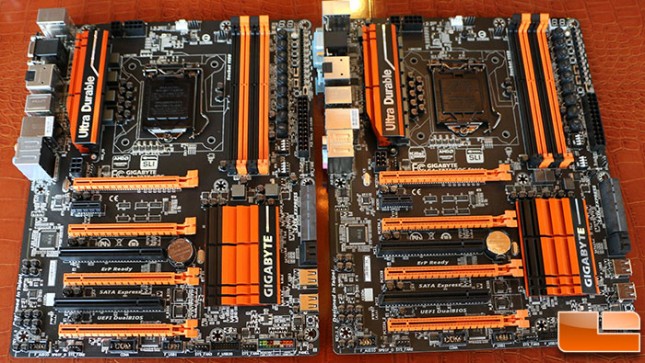 Gigabyte knows that overclockers are the group of people that are using their products to the fullest and are the ones that influence the purchasing decisions of others. Gigabyte has hired on a fair number of big name overclockers to help develop motherboards and they have come up with two overclocking boards for the Intel 9 series that they think will do really well in the market. These two boards are the Gigabyte Z97X-SOC Force and the Z97-SOC. Gigabyte won't let us talk about pricing, but they say that they are relatively low priced and won't be $599 like the Gigabyte Z87X-OC Force when it first came out in June 2013. This is exciting news as many had sticker shock on the previous flagship overclocking board. Gigabyte stripped off many of the non-overclocking features from these boards to ensure they are capable of breaking world records. For example there is no PLX chipset on this board due to the increased latency that it brings. The added latency was causing some issues on some popular benchmarks and not using a PLX chip also gives better performance for single and dual GPU setups. Gigabyte also put a pair of USB ports on the front edge of the board to allow easy saving of benchmarks or profiles for those that are overclocking on an open test bench. They saw overclockers having a tough time reaching around the LN2 pot and plugging in a thumb drive, so this time around they added USB ports along the front edge of the board. We'll dive more into what Gigabyte did when we go into detail on those boards.
Gigabyte will have two Intel 9 series motherboards in the SOC Series and they are listed in order from top to bottom below in terms of features and pricing.
Gigabyte Z97X-SOC Force
Gigabyte Z97X-SOC
Gigabyte Black Edition Motherboard Series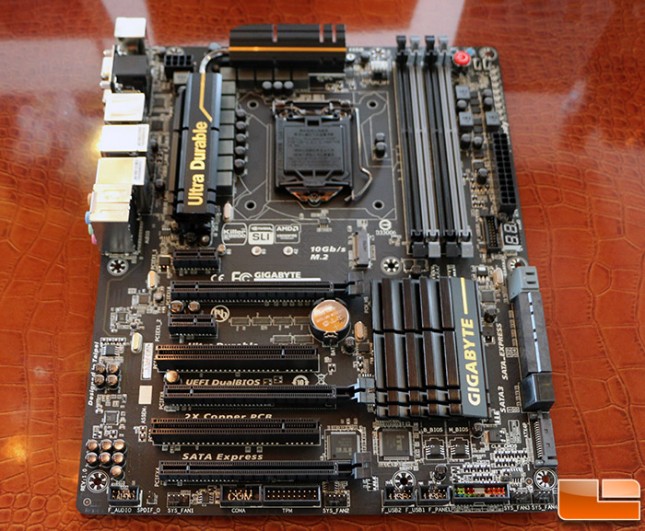 Gigabyte is launching a brand new series of boards that have gone through additional stability tests called the Black Edition. The concept here is to do take a blacked out version of an Ultra Durable board and do 168 hours (one full week) of server level durability testing on the motherboard and to certify that it passed before it ships to the retail channel. The boards will be backed by a longer than normal 5-year warranty due to the extra testing and consumers will need to pay an extra $10-$20 to step up to a Black Edition board from the equivalent Ultra Durable mode. For example there will be a Gigabyte Z97X-UD5H and then a Gigabyte Z97X-UD5H-BK. Besides price, the only difference between the two boards will be the stability testing, color scheme and warranty length. Gigabyte will be testing 3,000 boards at a time in a test facility that cost over $1 million USD to get operational. Gigabyte plans on doing Black Edition motherboards and video cards at the same time, so there is a potential of 6,000 Black Edition motherboards and video cards being produced a week. How much This is a relatively small number of boards in the big picture, but at $10 extra per board that could lead to ~$2.8 million in extra revenue after the first year if they are able to get excellent yields and enthusiasts snatch them up.
What test will Gigabyte be using to see if the board is stable? Litecoin will be used to test all of the systems and it should be the second largest Litecoin mining farm in the world when it is up and fully operational. Gigabyte isn't sure what they are going to do with all the Litecoins that are mined, but at one point they were trying to find a way to legally give them to the purchaser of the board or through a contest for Black Edition owners. This is very interesting and we can't wait to see what Gigabyte ends up doing with the coins.
Gigabyte will have three Intel 9 series motherboards in the Black Edition Series and they are listed in order from top to bottom below in terms of features and pricing.
Gigabyte Z97X-Gaming G1 WiFi BK
Gigabyte Z97X-UD5H-BK
Gigabyte Z97X-UD3H-BK
So, those are the 32 motherboards that Gigabyte told us about right now. There are 37 motherboards coming out, but it appears that some will be launched later in the year or Gigabyte wanted to keep them secret for now. Let's take a closer look at some of the 32 Intel 9 series boards that we know about.