Gigabyte Releases Photos Of Intel Z97 Motherboards
By
This morning Gigabyte posted up a photo album on Facebook called 'New Intel Chipset Motherboards' that got our attention. Gigabyte didn't disclose what chipset that these boards are using, but after looking at the quick Photoshop editing that took place we can assume that these are Intel Z97 based motherboards as that is widely known as the next Intel chipset and something already announced by Intel. The 'shadow' of the box also shows Z97, so it wasn't like this is a super big secret or anything like that. We won't be going into anything in great depth in this news post, but will show you the images that were released by Gigabyte with some quick comments.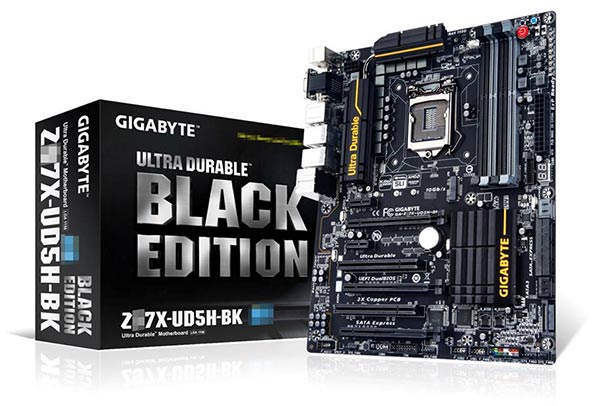 Gigabyte Z97X-UD5H-BK
As the box clearly shows this is the Gigabyte Z97X-UD5H-BK. We are guessing that this is an Ultra Durable series board that is part of a new Black Edition line? We will have to figure out exactly what a Black Edition board!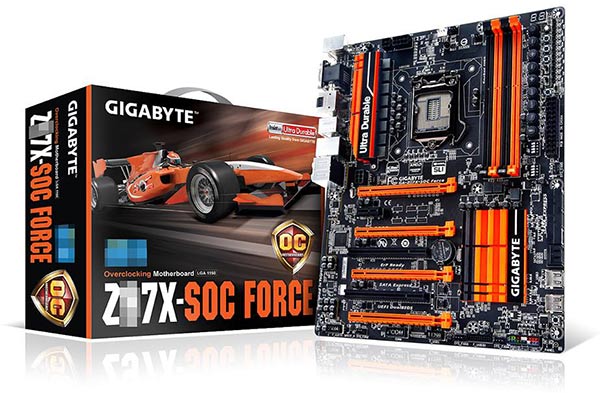 Gigabyte Z97X-SOC Force
Next up there is the Gigabyte Z97X-SOC Force, which is clearly labeled as an overclocking motherboard on the retail box. Gigabyte went with the orange and black color scheme that was also used on the OC Force motherboard that came out with the Intel Z87 motherboard series. SOC has been used on 'Super OverClocked' video cards in the past, so it appears that Gigabyte is bringing this terminology to the motherboard line now.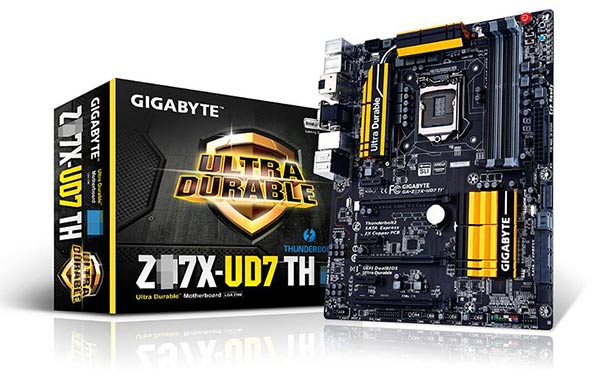 Gigabyte Z97X-UD7 TH
Lastly, there is the Gigabyte Z97X-UD7 TH that is part of the Ultra Durable line and it comes with support for Thunderbolt according to the retail box. The higher resolution shot of the board shows that Gigabyte went with Thunderbolt 2.
We'll try to bring you more information when we are able to.