GIGABYTE Z87X-UD3H Intel Z87 'Haswell' Motherboard Review
By
GIGABYTE Z87X-UD3H LGA1150 Motherboard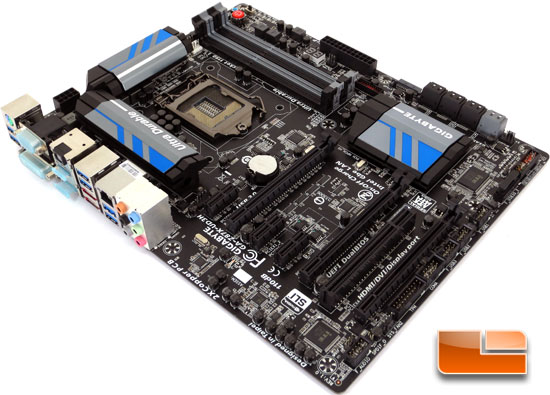 It's here, the much anticipated Intel 'Haswell' launch has finally arrived! To honor the launch of the latest and greatest Intel desktop processors we are going to be posting up multiple reviews today. This particular article is on one of GIGABYTE's Intel Z87 LGA1150 motherboard. The GIGABYTE Z87X-UD3H is going to be one of many Intel Z87 motherboards from GIGABYTE and, at first look it might just be a winner! Though would we expect much else from GIGABYTE? Before we start delving into the features of the GIGABYTE Z87X-UD3H, it's worth noting that it will hit the streets with a MSRP of $179.99. The GIGABYTE Z87X-UD3H isn't at the top of the GIGABYTE Z87 product stack, but that doesn't mean that it wont be a great board.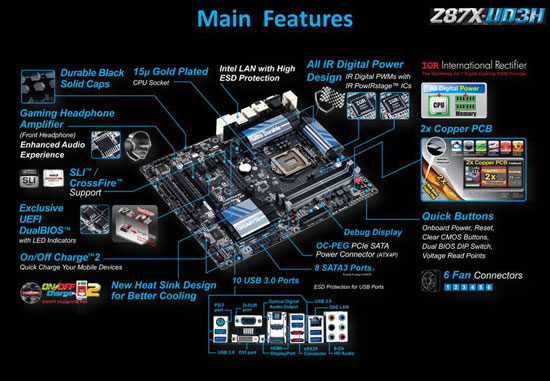 As you can see, the GIGABYTE Z87X-UD3H Intel Z87 motherboard has a lot going on. We will certainly be covering these in more detail as the day progresses, but for starters some of the key features of the GIGABYTE Z87X-UD3H are; Durable Black Solid Caps, 15u Gold Plated CPU Socket, Intel LAN with High ESD Protection, All IR Digital Power Design, 2X Copper PCB, Quick Buttons, Debug Dislplay, OC-PEG (PCIe Power supplied by a SATA Power Connector), Eight (8) SATA 3 6Gbps ports, 10 USB 3.0 ports, New Heat Sink Design, On/Off Charge 2, Exclusive UEFI DualBIOS, SLI/Crossfire Support, and a Gaming Headphone Amplifier.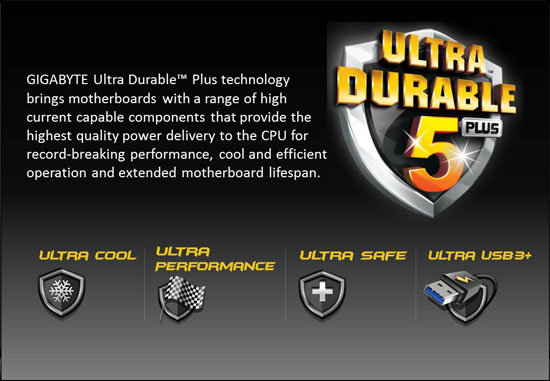 The GIGABYTE Z87X-UD3H Intel Z87 motherboard is part of the Ultra Durable 5 Plus series. Last year GIGABYTE brought us the Ultra Durable 5 technology with the Intel Z77 motherboards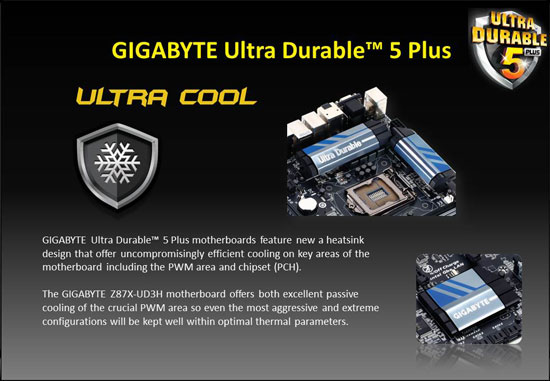 One of the changes to the Intel Z87X-UD3H over the previous generation is the heat sinks. The Ultra durable 5 Plus features an 'Ultra Cool' aspect. The newly designed heat sinks on the Z87X-UD3H will according to GIGABYTE 'offer uncompromisingly efficient cooling on key areas of the motherboard including the PWM area and chipset'. Hopefully the new heat sinks on the GIGABYTE Z87X-UD3H LGA1150 motherboard will live up to the expectations offered by GIGABYTE, if nothing else they'll look good in your system.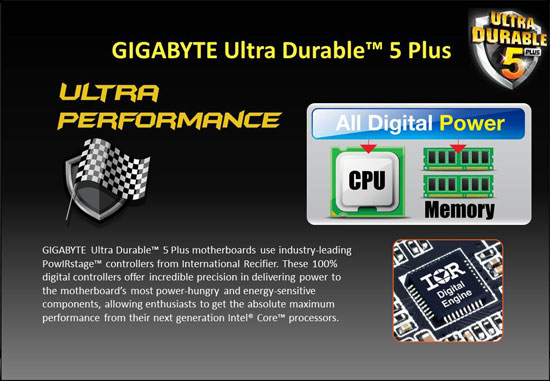 Once again GIGABYTE is taking advantage of the all digital power delivery on the GIGABYTE Z87X-UD3H. The PowIRstage controllers from International Recifier that GIGABYTE uses supply the CPU and Memory with power that comes with a high amount of precision control. This will aid in fine tuning the CPU vCore and DIMM vCore while overclocking, giving us the ability to squeeze out all of the potential from the fourth gen Intel Core processor.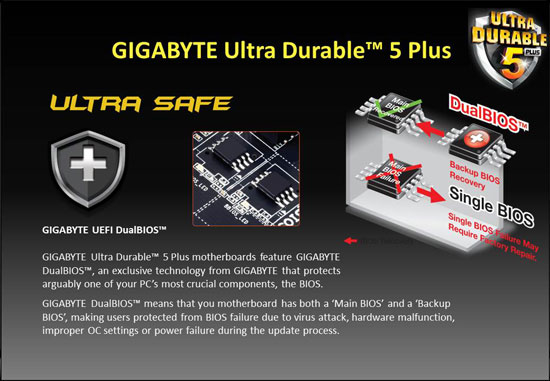 If you have ever created a paper weight out of a motherboard due to corrupted BIOS (guilty on several occasions), you know how important this next feature can be. GIGABYTE Ultra Durable 5 Plus motherboards offer the 'Ultra Safe' UEFI DualBIOS. Having UEFI DualBIOS will protect you in a number of situations, anything from a power failure during a BIOS flash (learned the hard way not to flash during a thunder storm), to a virus, or even corrupting the BIOS during a failed overclocking attempt. If any of these circumstances occur the secondary BIOS can be used to repair the primary UEFI BIOS.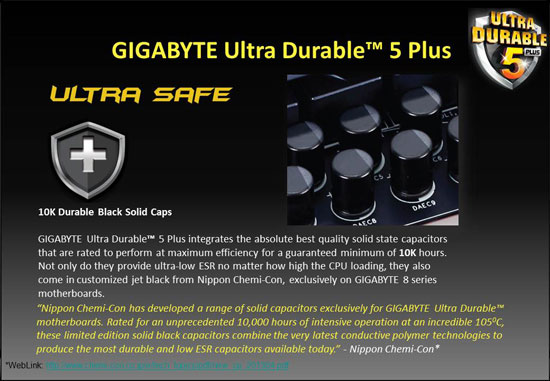 The new Ultra Durable 5 Plus uses a new black solid capacitor. The new black caps on the GIGABYTE Z87X-UD3H are guaranteed to perform at peak efficiency for a minimum of 10K hours! If you don't feel like doing the math that's ~14 months straight! In addition to the 10K hours, they offer an ultra-low ESR regardless of the CPU loading.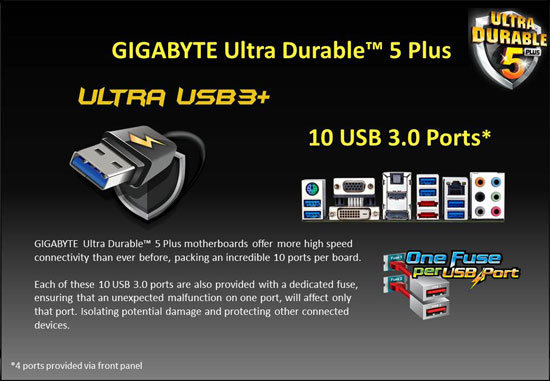 GIGABYTE Ultra Durable 5 Plus motherboards offer 10 SuperSpeed USB 3.0 ports per board. Each of the ports also features its own fuse, this way if one fuse fails we don't lose the entire stack of USB ports, only that particular port.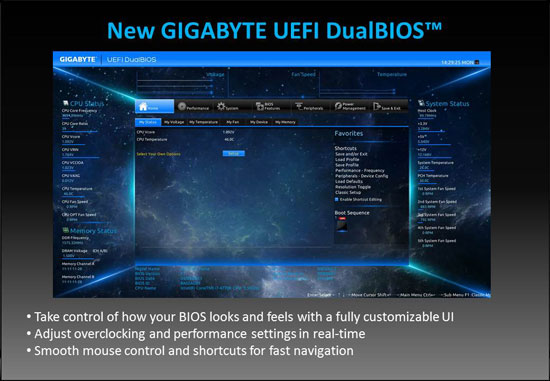 GIGABYTE has totally revamped their UEFI BIOS, it is quite different and it certainly took some getting used to. Beyond that it's great. We're going to dedicate a page to the new UEFI DualBIOS shortly so we wont spend to much time on it here. In the slide above, while it's a little tough to make out due to the size of the slide, the edges of the UEFI BIOS feature current settings, frequencies, temps, and fan speeds. Overall a really sharp new look to the UEFI from GIGABYTE. More on it later though.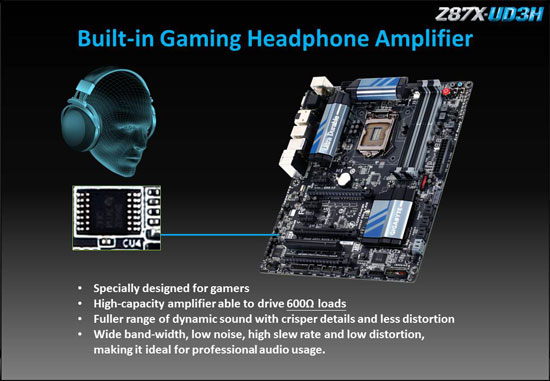 While the GIGABYTE Z87X-UD3H LGA1150 motherboard isn't a gaming board per se, GIGABYTE knows that it will be used by gamers since not everyone will want a board out of the G1 series of GIGABYTE Gaming motherboards. The engineers and design team have implemented a built-in gaming headphone amplifier. The amplifier is a high-capacity amp with the ability to drive loads up to 600 Ohms with a fuller range of dynamic sound. It should also deliver crisp details with less distortion than traditional motherboards. While it may be specifically designed for gamers, it is also ideal for professional audio usages according to GIGABYTE!