GIGABYTE GA-X79-UD7 Motherboard Review
By
GIGABYTE GA-X79-UD7 Overclocking
Overclocking greatly varies due to what hardware is being used and who is doing the overclocking. Always remember that no two pieces of hardware will perform the same, so our results will differ from what you might be able to get.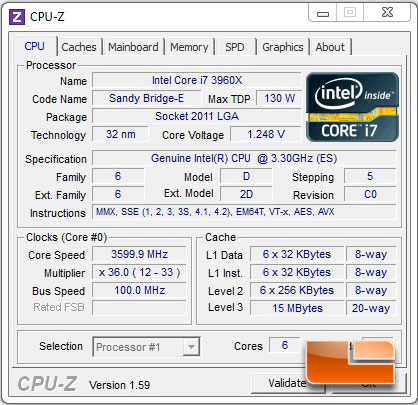 The Intel Core I7 3960X features a Bclk of 100MHz and uses a x33 multiplier to achieve the final processor speed of 3.3GHz. In the above CPUz 1.59 screen shot it also has a Turbo Mode. With all of the cores loaded it will increase the multiplier to 36 and all the way up to 39 depending on the system load. The Intel Core i7 3960X is the latest in a long line of Extreme Edition processors. Being an Extreme Edition processor means that the i7 3960X has an unlocked multiplier. Unlike the previous LGA1155 Sandy Bridge processors, LGA2011 processors can also be overclocked by increasing the Bclk. Though we will be sticking to increasing the multiplier of the Intel Core i7 3960X Extreme Edition Processor.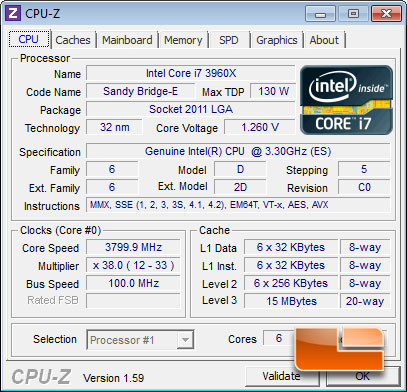 The GIGABYTE GA-X79-UD7 features and OC button on the I/O panel that we wanted to try out. We went ahead and depressed the button to test it out. Once we did we weren't wildly impressed. Once we loaded the processor with wPrime we found that the processor was only running at 3.8GHz. We were hoping for more, but we didn't get it.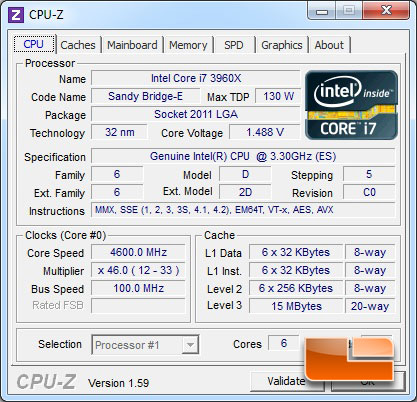 Hitting only 3.8GHz with the Intel Core i7 3960X with the automatic overclocking left us feeling depressed. So we stuck our head into the new GIGABYTE 3D BIOS on the GA-X79-UD7 and gave it ago with the new BIOS. We have had our Intel Core i7 3960X up to as much as 4.9GHz on some of our previous boards, today we weren't as fortunate. We were only able to squeeze out 4.6GHz. 4.6GHz is still a very solid overclock, but in this situation more is always better.