GIGABYTE GA-X79-UD7 Motherboard Review
By
GIGABYTE GA-X79-UD7 Intel X79 Motherboard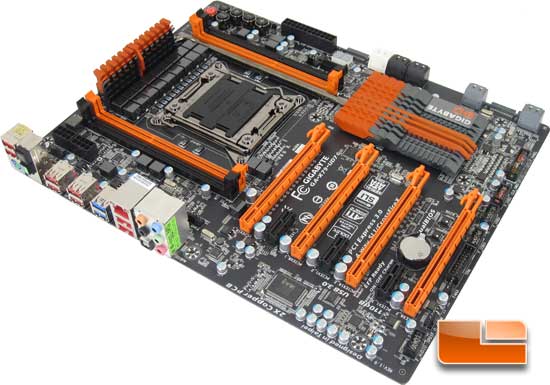 GIGABYTE has been a leader in the computer enthusiast market for a number of years now. Many have tried to mimic what GIGABYTE has done, few have succeeded. When you think about top tier motherboards GIGABYTE is one that should come to mind right away. There are a couple other motherboard manufacturers that should come to mind just as quick as GIGABYTE does. We won't go about naming names though. Today we have the opportunity to look at GIGABYTE's top dog of their Intel X79 Express chipset product stack. The GIGABYTE GA-X79-UD7 is built for those looking to push the envelope with the latest technology. The GIGABYTE X79-UD9 uses Intel's second generation Core i7 processors in the LGA2011 package. The GIGABYTE GA-X79-UD7 isn't priced for those looking to cut corners or save a few bucks, it steps up to the plate with a price tag of $369.99 plus shipping. It's not the most expensive Intel X79 motherboard out there, nevertheless it isn't for the faint of heart.

When we have looked at the Intel P67 and Intel Z68 motherboards from GIGABYTE in the past, one of the areas that was lacking compared to other high end motherboards was the BIOS. GIGABYTE was still using the traditional BIOS that we had to key our way through. Others like ASUS had a very clean and refined UEFI BIOS from the launch of the Intel Sandy Bridge processors. We harped on GIGABYTE about that a little bit, but it didn't really detract from the quality of their boards, they were just a bit behind. With the launch of the Intel X79 platform, GIGABYTE has implemented their own version of UEFI BIOS. The GIGABYTE 3D BIOS ushers GIGABYTE into a much more modern time, at least where BIOS is concerned.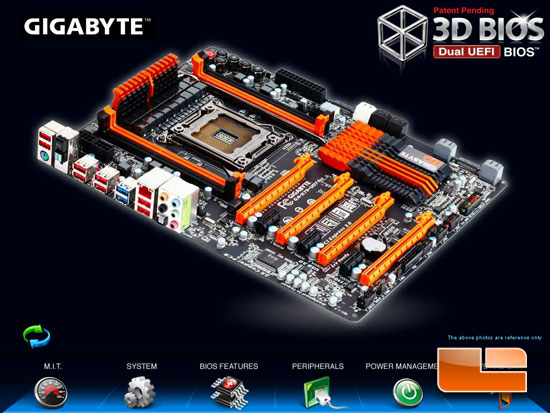 We will take a much closer look at the GIGABYTE 3D BIOS in a few pages, but at first glance it's pretty darn sharp looking. The 3D BIOS isn't the only feature that's new on the GIGABYTE Intel X79 product stack. Within the entire Intel X79 line from GIGABYTE we also have GIGABYTE 3D Power. GIGABYTE 3D Power is an all new hardware and software based digital power engine. The GIGABYTE 3D Power isn't only for the CPU though, the new technology is also implemented for the memory. GIGABYTE states that the 3D Power delivers unprecedented power delivery control.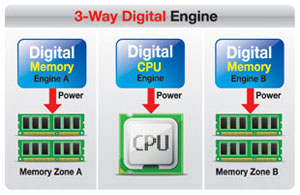 The GIGABYTE 3D Power utilizes a brand new digital PWM controller that features precise auto voltage compensation. The auto voltage compensation will deliver steady power flow to the memory and CPU, no matter what kind of load is placed on the hardware.With the new 3D Power technology comes a few new features! The digital memory control lets the user monitor power and current in real time while playing your favorite game, sitting idly by, or pushing the limits of your system while overclocking! We also have the ability to protect our memory with OVP (Over Voltage Protection), adjust memory LLC (load-line calibration), and adjust the memory PWM frequency on the fly.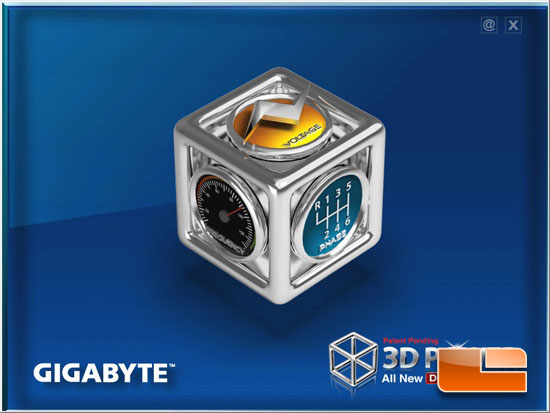 GIGABYTE 3D Power isn't only available through the GIGABYTE 3D BIOS. GIGABYTE also has a handy little piece of software that can be run right in Windows. Above you can see the main screen from the utility, through it you can access the voltage, frequency and phase control. Don't confuse these with the settings for the system voltages and frequencies. Those can be access through the GIGABYTE Easy tune software. These settings are strictly for the 3D Power settings.
GIGABYTE GA-X79-UD7 Specifications
CPU
Support for Intel Core i7 processors in the LGA2011 package
L3 cache varies with CPU
Chipset
Intel X79 Express Chipset
Memory

4 x 1.5V DDR3 DIMM sockets supporting up to 32 GB of system memory
4 channel memory architecture
Support for DDR3 2133/1866/1600/1333/1066 MHz memory modules
Support for non-ECC memory modules
Support for Extreme Memory Profile (XMP) memory modules

Audio

Realtek ALC898 codec
High Definition Audio
2/4/5.1/7.1-channel
Support for Dolby Home Theater
Support for S/PDIF Out

LAN
1 x Intel GbE LAN (10/100/1000 Mbit)
Expansion Slots

2 x PCI Express x16 slots, running at x16 (PCIEX16_1, PCIEX16_2)
2 x PCI Express x16 slot, running at x8 (PCIEX8_1, PCIEX8_2)
(All PCI Express x16 slots conform to PCI Express 3.0 standard.)
3 x PCI Express x1 slots
(All PCI Express x1 slots conform to PCI Express 2.0 standard.)

Multi-Graphics Technology
Support for 4-Way/3-Way/2-Way AMD CrossFireX/NVIDIA SLI technology.
Storage Interface

Chipset:

2 x SATA 6Gb/s connectors (SATA3 0/1) supporting up to 2 SATA 6Gb/s devices
4 x SATA 3Gb/s connectors (SATA2 2/3/4/5) supporting up to 4 SATA 3Gb/s devices
Support for RAID 0, RAID 1, RAID 5, and RAID 10

2 x Marvell 88SE9172 chips:

4 x SATA 6Gb/s connectors (GSATA3 6/7/8/9) supporting up to 4 SATA 6Gb/s devices
Support for SATA RAID 0 and RAID 1

USB

Chipset:

Up to 14 USB 2.0/1.1 ports (8 ports on the back panel, 6 ports available through the internal USB headers)

2 x Fresco FL1009 chips:

Up to 4 USB 3.0/2.0 ports (2 ports on the back panel, 2 ports available through the internal USB header)

Internal I/O Connectors

1 x 24-pin ATX main power connector
2 x 8-pin ATX 12V power connectors
2 x PCIe power connectors
6 x SATA 6Gb/s connectors
4 x SATA 3Gb/s connectors
1 x CPU fan header
6 x system fan headers
1 x front panel header
1 x front panel audio header
1 x S/PDIF Out header
3 x USB 2.0/1.1 headers
1 x USB 3.0/2.0 header
1 x Clear CMOS jumper
1 x power button
1 x reset button
1 x onboard voltage measurement module
1 x Gear button
1 x CPU BCLK Down button
1 x CPU BCLK Up button
1 x CPU Ratio Down button
1 x CPU Ratio Up button
1 x Trusted Platform Module (TPM) header

Back Panel Connectors

1 x PS/2 keyboard/mouse port
1 x CPU overclocking button
1 x BIOS switch button
1 x Clear CMOS button
8 x USB 2.0/1.1 ports
2 x USB 3.0/2.0 ports
1 x RJ-45 port
1 x optical S/PDIF Out connector
5 x audio jacks

I/O Controller
iTE IT8728 chip
H/W Monitoring

System voltage detection
CPU/System temperature detection
CPU/System fan speed detection
CPU overheating warning
CPU/System fan fail warning
CPU/System fan speed control

BIOS

2 x 64 Mbit flash
Use of licensed AMI EFI BIOS
Support for DualBIOS
PnP 1.0a, DMI 2.0, SM BIOS 2.6, ACPI 2.0a

Unique Features

Support for @BIOS
Support for Q-Flash
Support for Xpress BIOS Rescue
Support for Download Center
Support for Xpress Install
Support for Xpress Recovery2
Support for EasyTune
Support for Smart 6
Support for eXtreme Hard Drive (X.H.D)
Support for ON/OFF Charge
Support for Cloud OC
Support for 3TB+ Unlock
Support for TouchBIOS
Support for Q-Share
As we continue through our tour of the GIGABYTE GA-X79-UD7 we will be covering it much more detail. We will be taking a look at features such as, OC-VRM, OC Touch, OC DualBIOS, and the OC-PEG. There's a lot to cover today, so let's move onto the next page where we will take a look at the retail box and bundle for the GIGABYTE X79-UD7!