GIGABYTE G1.Sniper M3 & G1.Sniper 3 Motherboard Reviews
By
GIGABYTE G1 Sniper Overclocked Temperatures and Power Consumption
GIGABYTE G1.Sniper3 Overclocked Temperatures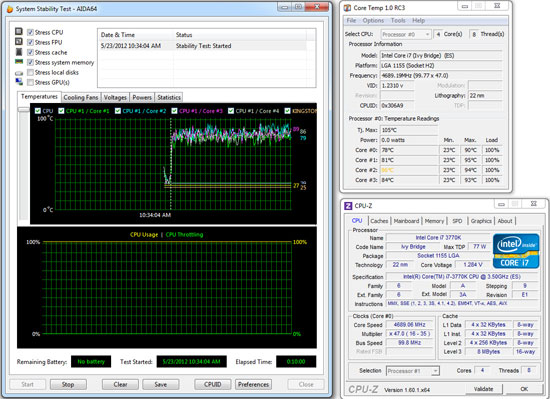 To see what kind of temperatures and power consumption the Intel Core i7 3770K was running at, we fired up the AIDA64 system stability test. We let it run for 10 minutes, and took the average high temperature across all of the cores.
GIGABYTE G1.Sniper M3 Overclocked Temperatures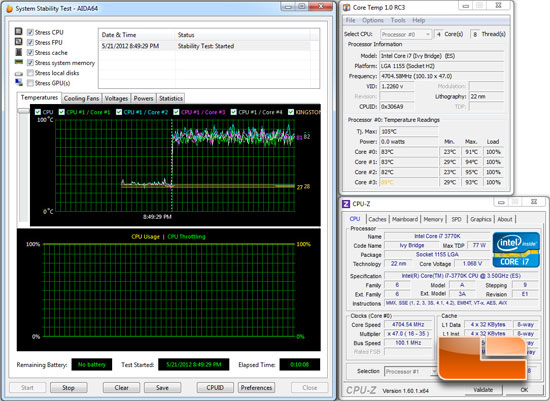 We did this for the GIGABYTE G1.Sniper3 and the GIGABYTE G1.Sniper M3.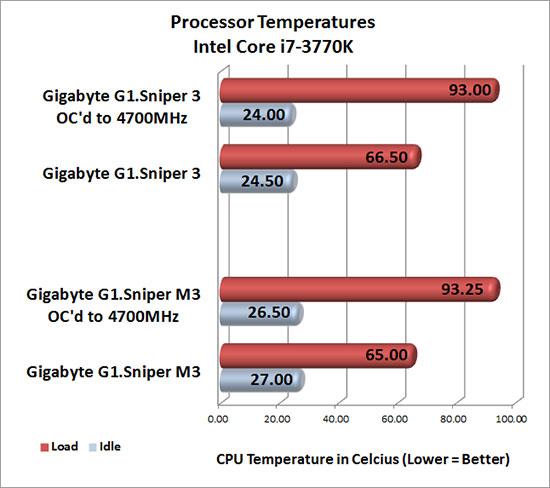 The Intel Core i7 3770K Ivy Bridge processor has overclocked temperatures that are much higher than I would like to see. We took a look at this a few weeks ago and at a clock for clock comparison the previous Intel Sandy Bridge processors are significantly cooler. Both of the GIGABYTE G1 Sniper motherboards had an average load temperature of ~93 degrees Celsius (199.4 Fahrenheit). Looking at the default temperatures of ~66 degrees Celsius, we can see a delta of roughly 27 degrees Celsius when overclocked. The Idle temperatures didn't deviate between overclocked and defaults speeds by very much. Sitting at idle, both systems brought the processor to ~1600MHz thanks to Intel SpeedStep power saving technology.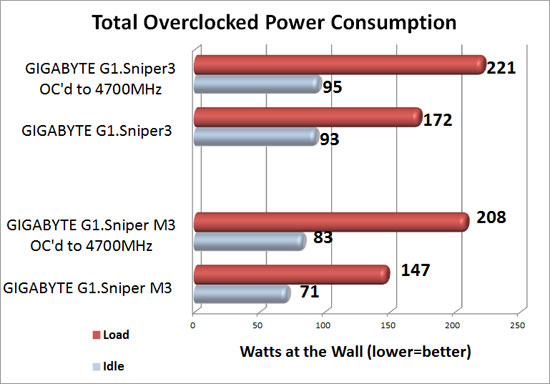 When overclocking the GIGABYTE G1.Sniper3 and G1.Sniper M3 we were curious as to the effect it would have on our power consumption. The Idle power consumption of the GIGABYTE G1.Sniper3 remained fairly consistent when sitting idle, showing only 2 watts difference. The G1.Sniper M3 showed a bit more difference at idle pulling an additional 12 Watts. Under a full load with AIDA64 our power consumption went up considerably. The G1.Sniper3 was pulling 221 Watts when overclocked compared to 172 Watts at the default clock speeds. The G1.Sniper M3 jumped up to 208 Watts under an overclocked load compared to 147 Watts at the default speeds.