GIGABYTE F2A85X-UP4 AMD FM2 Motherboard Review
By
Retail Box and Bundle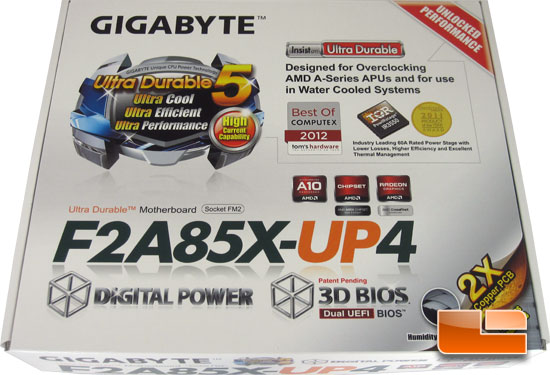 The GIGABYTE F2A85X-UP4 retail package boasts about a couple of the key features as well as mentioning some of the technologies that have gone into the design of the board. Most prominently we have the Ultra Durable 5 emblazoned on the left side, emblems for the AMD A10 APU's, AMD A85 chipset, and AMD Radeon Graphics technology. Along the bottom edge of the GIGABYTE F2A85X-UP4 packaging GIGABYTE highlights the Digital Power, 3D BIOS, as well as the 2X Copper PCB.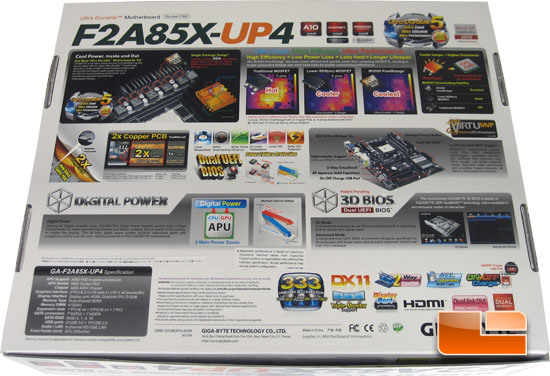 There is no shortage of marketing text on the back of the GIGABYTE F2A85X-UP4 retail packaging.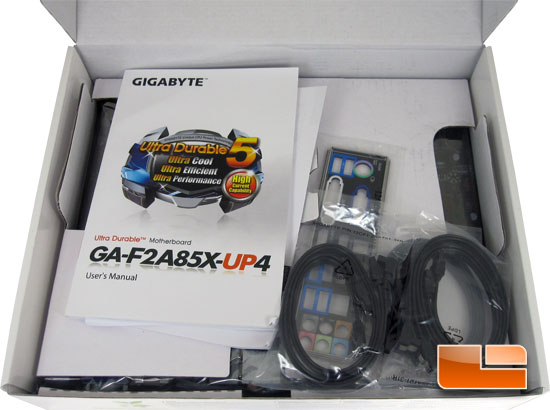 The bundle that accompanies the GIGABYTE F2A85X-UP4 includes three pairs (6 cables) of SATA cables, I/O shield, manuals and a driver disc. It isn't the most extensive bundle we've come across, but it gets the job done and supplies us with what we need to fire up our system when the time comes.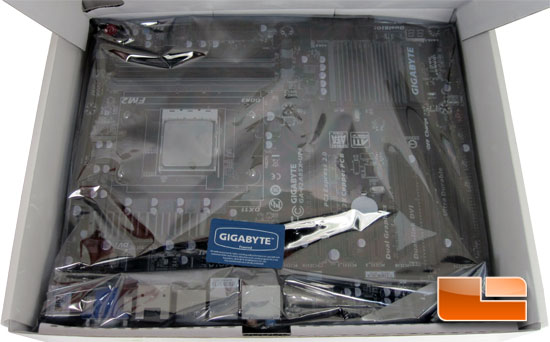 Once we remove the layer of cardboard separating the bundle from the motherboard we can catch our first glimpse of the GIGABYTE F2A85X-UP4. Though obscured by the anti-static bag we can see that the F2A85X-UP4 is one of the GIGABYTE boards done in all black.