GIGABYTE F2A85X-UP4 AMD FM2 Motherboard Review
By
GIGABYTE F2A85X-UP4 FM2 Overclocking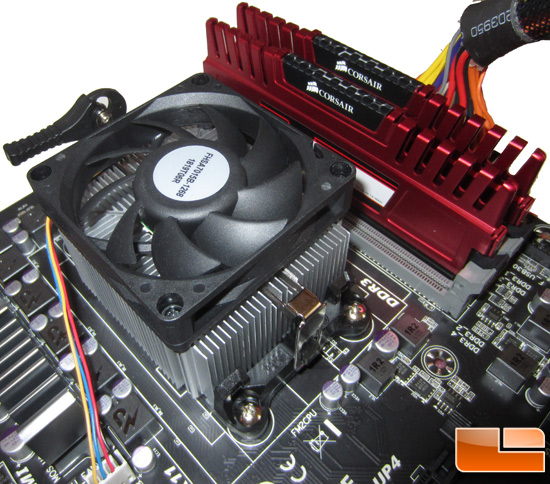 To overclock the AMD A10-5800K APU we decided to how far we could push the processor with the factory AMD retail boxed cooler. This is a budget processor and we figured that many will try to overclock with stock cooler.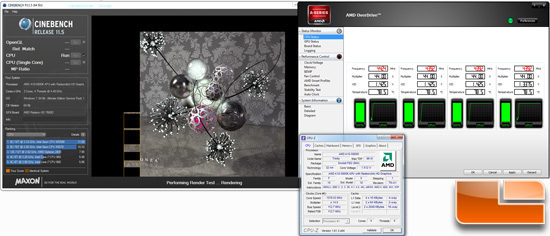 We were able to get up to 4.2GHz by raising the multiplier from 38x to 42x without any voltage increase. To raise the multiplier past 42x we needed to increase the voltage from 1.425V to 1.475 to get full stability. At stock speed on the AMD A10-5800K APU we scored 3.28 pts on the Cinebench R11.5 CPU multi-threaded test. With the AMD A10-5800K APU overclocked to 4.4GHz we scored 3.41 pts. This is a nice increase, but we couldn't get it consistently and in other benchmarks like POV-Ray we found the score to be lower than stock.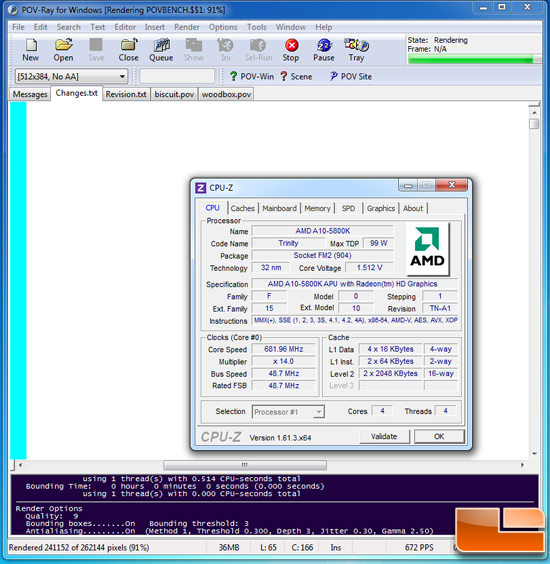 We opened up CPU-Z and noticed that the processor was seldom running at 4400MHz and at times it was dropping down to 500-800MHz. It was clear to us at this point that the stock cooler was unable to handle the heat from the overclocked AMD A-Series APU. AMD OverDrive showed the AMD A10-5800K was hitting around 80C in various benchmarks, but we aren't sure if this was correct.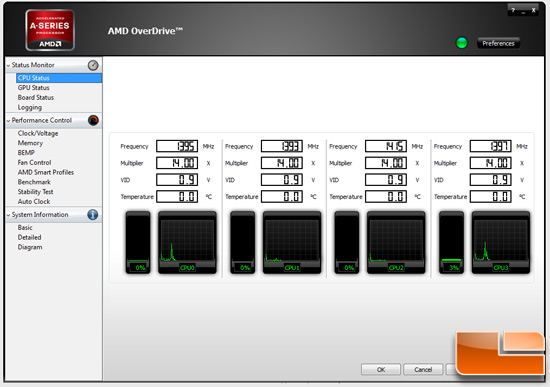 We tried Gigabyte EasyTune6, Coretemp and AMD OverDrive and none of them were reading the AMD A10-5800K processor correctly. AMD OverDrive build 626 was showing the processor at 0.0C at idle, so something isn't right.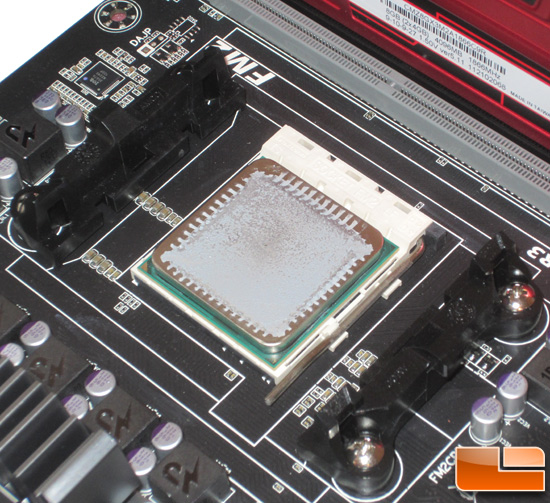 We pulled the CPU cooler to make sure the HSF was making proper contact with the lid of the APU and it was found to be perfect.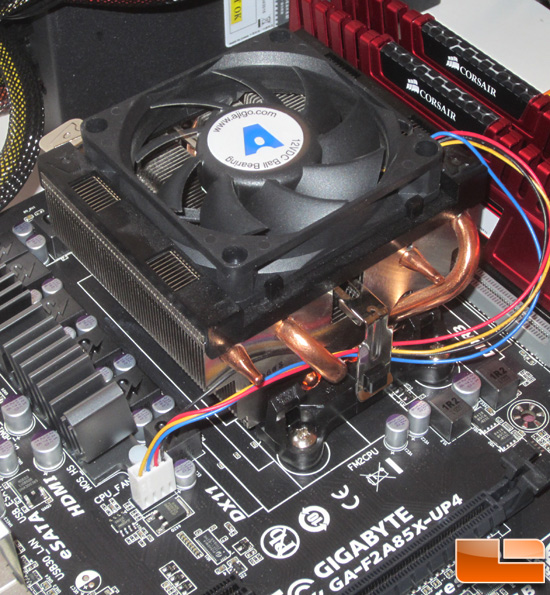 We grabbed a socket AM3+ CPU coolers that we have from a retailed boxed Bulldozer processor that has a copper base plate and four heatpipes to see if it would help in the benchmarks. It ended up making a world of difference as the all the benchmark numbers at 4.4GHz improved due to the lower CPU temperatures as the processor was no longer throttling. This made it crystal clear to us that the stock APU cooler is only good for very mild overclocks.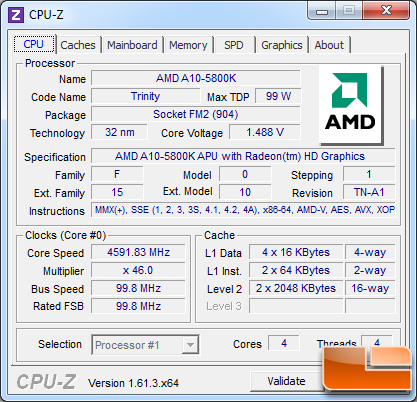 With the larger CPU cooler we were able to raise the multiplier up two more increments, which means we were able to run 4600MHz with full stability. We did need to increase the CPU voltage to 1.500V to get total stability though. The better CPU cooler meant that we were able to squeeze an extra 200MHz out of the processor as well as run an extra 0.025V to it.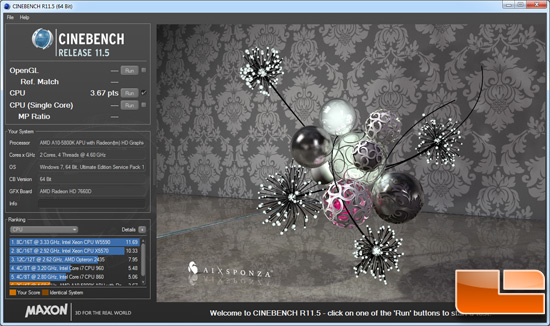 With the AMD A10-5800K APU running at 4.6GHz (46x multiplier) we were able to run Cinebench 11.5 at 3.67 pts. Not a bad improvement over the 3.28 pts scored at stock speeds.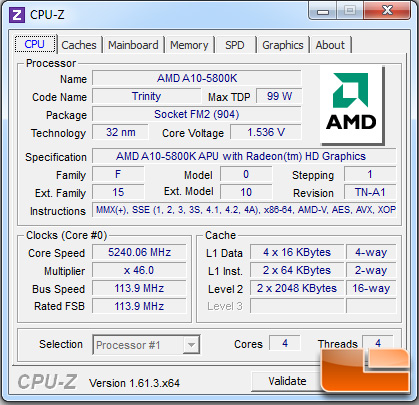 One thing we noticed when running Cinebench is that CPU-Z reported that the processor went up to 5240MHz a couple times. It was only there for a second at a time, but it was! This multiplier was 46x, but the bus speed jumped up to 114MHz and that is where the extra clock frequency was coming from.
UPDATE: We told AMD about our overclocking results and they told us to disable Turbo mode in the BIOS. AMD believes that turbo core is throttling our overclock.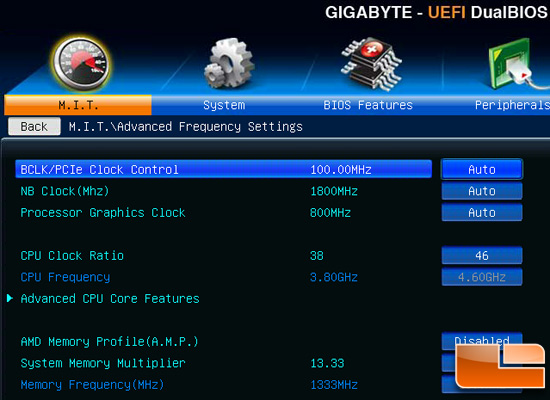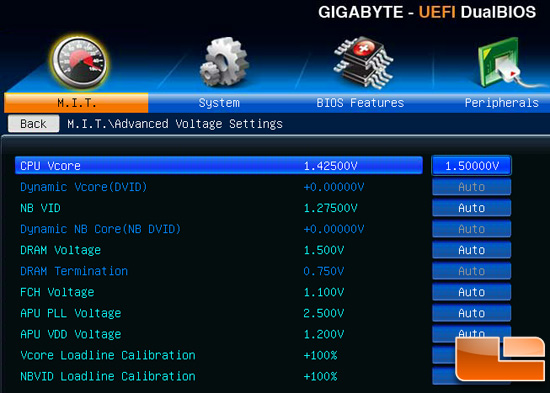 Here are the BIOS settings on the Gigabyte F2A85X-UP4 motherboard that we were using. As you can see we just raised the CPU Clock Ratio to 46 and also bumped up the CPU Vcore to 1.50000V.
At the end of the day overclocking the AMD A10-5800K A-Series Trinity APU was interesting. The AMD A10-5800K boosts up to 4200MHz right out of the box, so we were expecting to get well over that on air. With the stock CPU cooler that comes with this processor we were able to get 4300MHz with full stability and 4400MHz with a bit of throttling if the room temperature was hot and the processor was at full load. To get an extra 100-200 MHz out of processor is far from exciting, but we were being limited by the CPU cooler. With the CPU switched out to a larger and better design we were able to reach 4600MHz with full stability. This is a much nicer overclock. With a high-quality aftermarket air cooler or a water cooling solution you should be able to easily hit right around 5GHz with ease. We used a Corsair H100 water cooler and was able to hit 5GHz with stability on this processor. Putting a $100 CPU cooler on a $120 processor isn't something many will do, so we focused on air cooling today with factory CPU cooling solutions.