EVGA Z77 FTW Intel Z77 Motherboard Review
By
Battlefield 3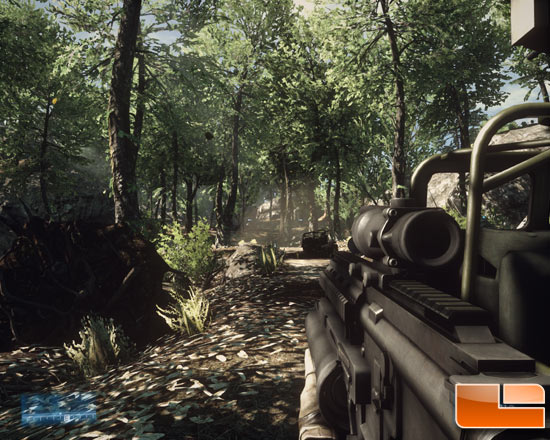 Battlefield 3 (BF3) is a first-person shooter video game developed by EA Digital Illusions CE and published by Electronic Arts. The game was released in North America on October 25, 2011 and in Europe on October 28, 2011. It does not support versions of Windows prior to Windows Vista as the game only supports DirectX 10 and 11.
It is a direct sequel to 2005's Battlefield 2, and the eleventh installment in the Battlefield franchise. The game sold 5 million copies in its first week of release and the PC download is exclusive to EA's Origin platform, through which PC users also authenticate when connecting to the game.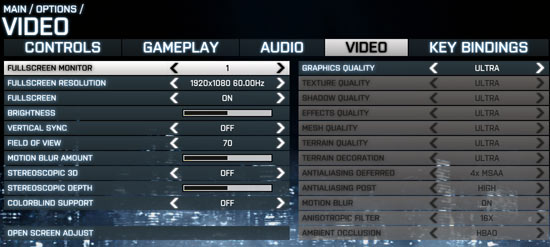 Battlefield 3 debuts the new Frostbite 2 engine. This updated Frostbite engine can realistically portray the destruction of buildings and scenery to a greater extent than previous versions. Unlike previous iterations, the new version can also support dense urban areas. Battlefield 3 uses a new type of character animation technology called ANT. ANT technology is used in EA Sports games, such as FIFA, but for Battlefield 3 is adapted to create a more realistic soldier, with the ability to transition into cover and turn the head before the body.
This game looks great and we tested with the highest settings possible. This means we used 'ultra' settings and really punished the cards being tested. We ran FRAPS for two minutes on the single player map called 'Rock and a Hard Place' for benchmarking.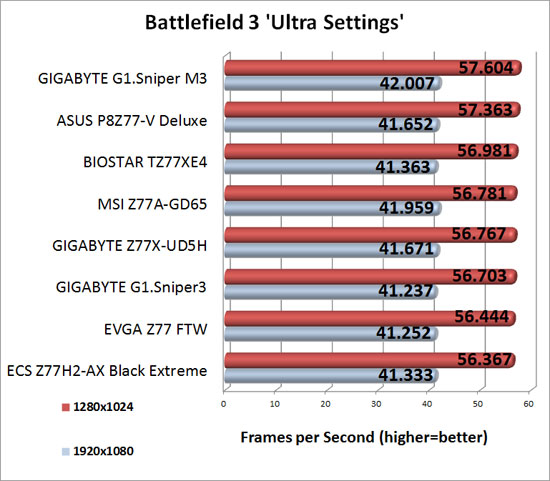 Benchmark Results: Since Battlefield 3 is tested using FRAPS, there can be a decent margin of error. With that being said, there isn't a very substantial difference in the boards that we have tested. The EVGA Z77 FTW was a little bit on the low side with an average of 56.444 frames per second at 1280×1024 and 41.252 frames per second at 1920×1080. That's a performance margin of 2% at 1280×1024 and 1.8% at 1920×1080. Being that it is nearly 2% at both resolutions, these are pretty accurate results.