EVGA Z77 FTW Intel Z77 Motherboard Review
By
EVGA Z77 FTW (151-IB-E699-KR) Overclocking
Overclocking greatly varies due to what hardware is being used and who is doing the overclocking. Always remember that no two pieces of hardware will perform the same, so our results will differ from what you might be able to get.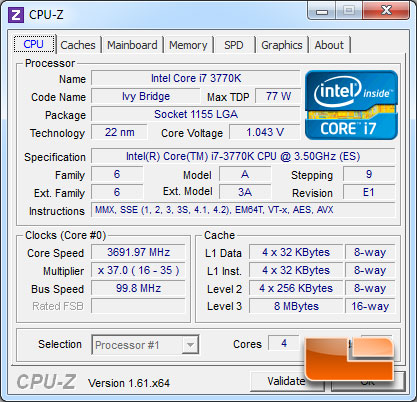 The Intel Core i7 3770K utilizes a Bclk of 100MHz, under full load the Intel Core i7 3770K uses a multiplier of x35 to achieve the final clock speed of 3.5GHz. Since we are using a K series processor which has an unlocked multiplier we will be able to increase the default x35 multiplier to achieve our overclock today. The Intel Core i7 3770K has a turbo multiplier of x39 which will cause the system to run at 3900MHz (100MHz x 39).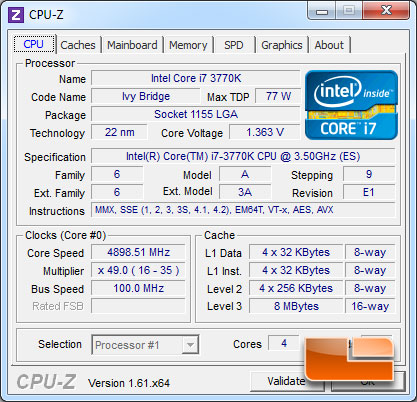 When it comes to Intel Ivy Bridge processors like our Intel Core i7 3770K, heat is a major player. Intel opted to use a thermal interface material to bond the heat spreader to the chip rather than soldering the two pieces together. In order remove the heat as a factor today, I used some chilled water to help keep our temperatures in check. Our previous motherboards we have been limited to 4.7GHz due to heat. Our Corsair A70 CPU cooler just wasn't able to keep up with the temperatures generated by the Intel Core i7 3770K. Using the chilled water today we were able to keep our temperatures in check and push our system to 4.9GHz and maintain temperatures under 90 degrees Celsius!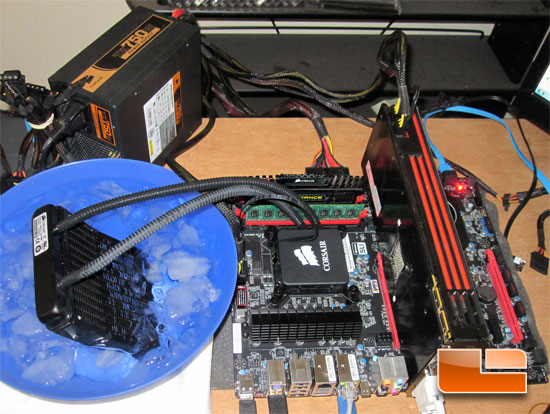 This isn't the most ideal set-up to use, but it was a bit of an impulse decision to give this a try. We grabbed our trusty Corsair Hydro H60 water cooler, a bag of ice, and a bowl from the kitchen and dunked the radiator in the ice! We weren't sure how well this would work, but it did keep our idle temperatures around 10 degrees Celsius, and we were able to take our Intel Core i7 3770K further than have previously been able to! It may not be a pretty set up, but it worked for us!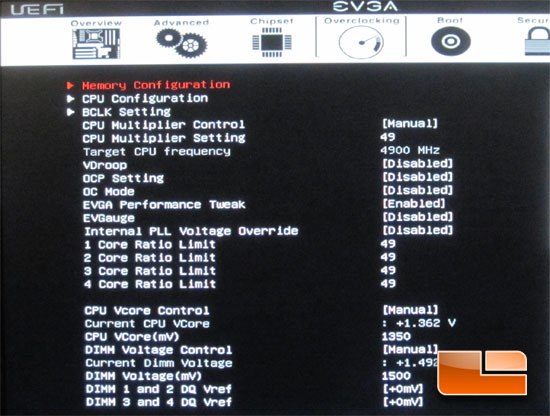 We didn't have to tweak much in the way of the settings. We set the CPU Multiplier control to manual, and set the CPU Multiplier to x49 and ultimately increased the CPU VCore to 1.35 Volts. We worked our way up to these settings gradually, but never ran into any major issues, just the occasional BSOD that is commonly encountered when overclocking.