EVGA Z77 FTW Intel Z77 Motherboard Review
By
EVGA Z77 FTW Motherboard Retail Packaging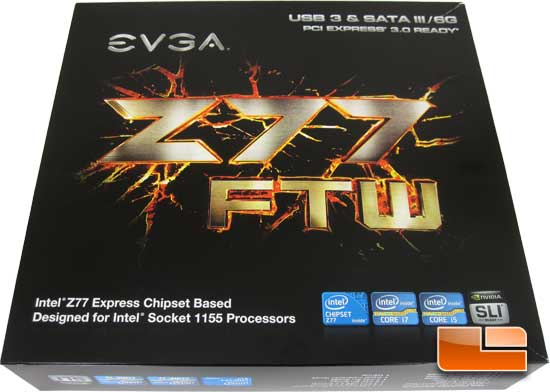 The EVGA Z77 FTW Intel Z77 motherboard packaging is very straight forward and to the point. The front of the packaging features the Z77 FTW (For The Win) product name in eye catching design. We can also find some of the basic information regarding the chipset (Intel Z77), socket (LGA1155), and processor support. Along the top edge we can see that the EVGA Z77 FTW features SuperSpeed USB 3.0, SATA III 6Gbps, and is PCIe Gen 3.0 ready.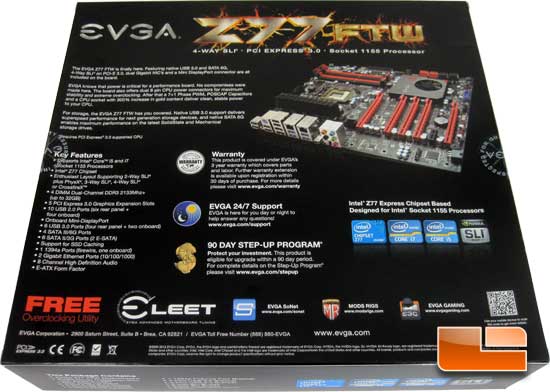 The back of the EVGA Z77 FTW gives us our first look at the Z77 FTW motherboard and breaks into the key features, warranty, EVGA 24/7 support, and the EVGA 90 day step-up program. Along the bottom of the edge we can see that EVGA has included their free overclocking utility ELEET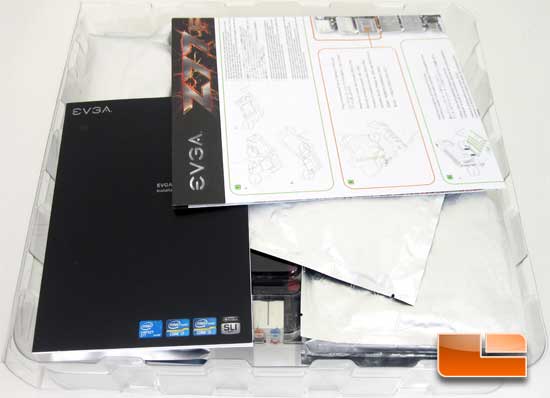 Once we start to disassemble the retail packaging for the EVGA Z77 FTW motherboard we can see that it is packaged within a plastic clamshell with all of the paperwork and accessories sitting on top. This is quite a deviation from what we saw with the EVGA Z68 FTW motherboard retail packaging. The EVGA Z68 FTW had everything bundled neatly in separate boxes for the motherboard and the bundle. Once we get past this point it doesn't really make a difference but I personally like the packaging found on the Z68 FTW better, it seemed much more secure.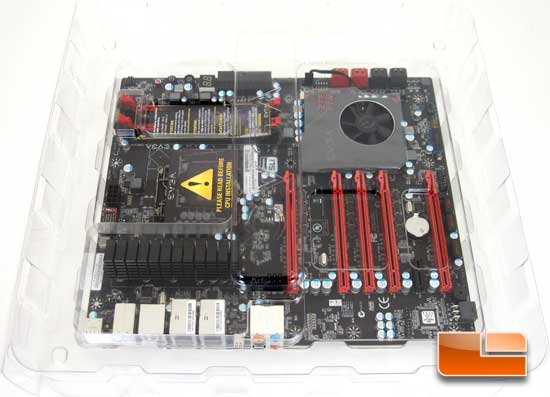 Once we remove the paper work and accessories from the top of the clam shell, we can see a very nice looking motherboard contained within!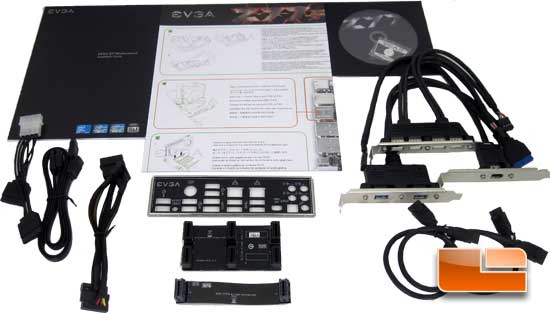 Once I broke down the bundle, certain aspects felt a little light to me. I was a little surprised to see that the EVGA Z77 FTW motherboard came with only four SATA cables. The EVGA Z77 FTW (151-IB-E699-KR) supports eight SATA ports, so if you are planning on running more than four drives you will need to get your hands on a couple more. This isn't a huge deal to me, more of a minor annoyance. Though they did include two four pin molex to SATA power cables. EVGA did include plenty of expansion brackets for us though, we have a SuperSpeed USB 3.0 expansion bracket, USB 2.0 Expansion backet, and a IEEE1394a (Firewire) bracket. Of course we have the I/O shield, user manual, quick install guide, drive/software disk, a 2-way SLI bridge, and a 3-way SLI bridge. Though I am a little surprised that EVGA didn't include a 4-way SLI bridge. I can understand this as 99% of the users aren't likely to be running four cards like the NVIDIA GTX 680.