EVGA Z77 FTW Intel Z77 Motherboard Review
By
Final Thoughts and Conclusion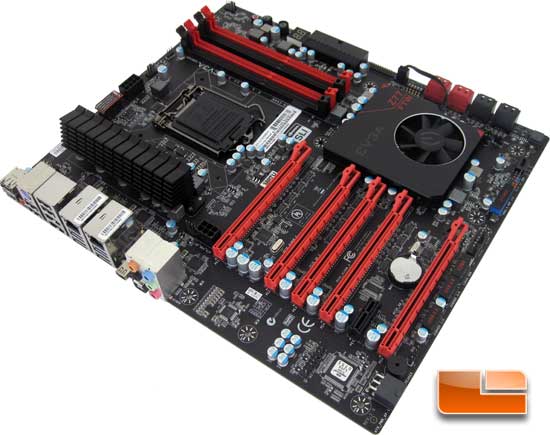 One of the things I like about EVGA is their attention to detail. Whenever I have been working on cable management, the 24 pin motherboard power cable is always an eyesore, protruding straight up from the PCB, and just looking like garbage. EVGA has remedied this issue on the EVGA Z77 FTW, they have put the 24 pin plug on a right angle, causing it to run straight out from the board. This helps to hide the cable and helps give a very clean look inside the case. It may not effect the performance, but it's small things like this that can really sell me on a motherboard.
The overall performance of the EVGA Z77 FTW wasn't as high as I had been hoping for. Though from what I have noticed, I don't think that EVGA is at fault for that one. Our Intel Core i7 3770K runs at the Intel specifications, under full load the turbo bumps the core frequencies up to 3.7GHz. We can reference our article on the processor here. Under a light load the Intel Turbo Boost will bring a single core to 3.9GHz. Some of the Intel Z77 motherboards that we have looked at since the launch will run our Intel Core i7 3770K at 3.9GHz under a full processor load.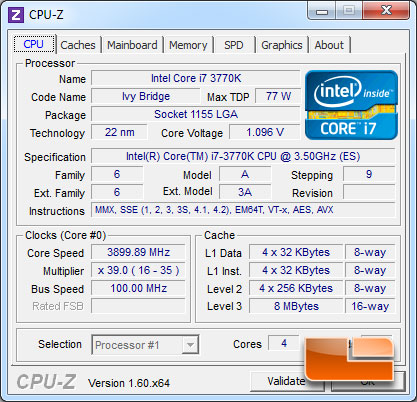 The above screen shot is from the ASUS P8Z77-V Deluxe and we can see that under a full load, our Intel Core i7 3770K is running at 3.9GHz versus the 3.7GHz that our EVGA Z77 FTW runs at. This doesn't make a very level playing field, we are essentially comparing an overclocked system, to one that is running at default speeds. It may only be 200Mhz, but in some tests that can make a world of difference. Other tests, not so much. if everyone were to run at the Intel specifications it would be a much more level playing field. Can we fault companies like ASUS for pushing the limits? Or do we fault companies like EVGA that follow specs? I have a feeling it is a bit of a moot point, as anyone that is worried about 200MHz, is likely to be overclocking their system when using a high end board like the EVGA Z77 FTW which is built to overclock!
We changed our set up for overclocking a little bit. we added a Corsair H60 and a bowl filled with ice and water. It was a bit of an impulse to set this up yesterday so it looks a little hacked together but it got the job done. We were able to remove the heat much more quickly than the Corsair A70 CPU Cooler that we typically use had been able to. By using this awesome (insert sarcasm here) chilled water setup we were able to push our Intel Core i7 3770K further than we were previously able to. Using the Corsair A70 CPU cooler we were limited to 4.7GHz due to heat. We couldn't add the necessary voltage to get any stability at 4.8GHz and higher. With the chilled water we were able to increase our voltage to 1.35 Volts and still maintain safe temperatures. Ultimately we were able to push the CPU multiplier to x49 and have total system stability!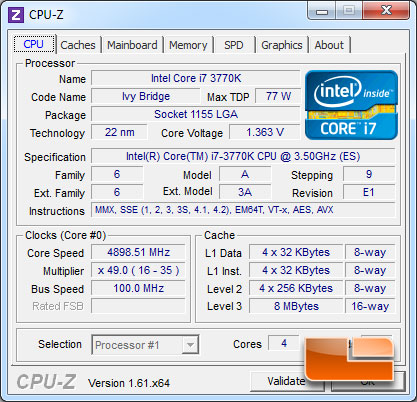 The EVGA Z77 FTW isn't a board for the feint of heart. It currently carries a street price of $329.99 plus shipping, if you're looking for a top tier motherboard with all the bells and whistles you may not need to look any further! The EVGA Z77 FTW is backed by a three year warranty in the event of a failure.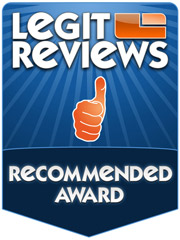 Legit Bottom Line: While the EVGA Z77 FTW may not have been our fastest motherboard, it was certainly consistent and rock solid. The EVGA Z77 FTW was one of the best overclocking boards that I have used to date, if you're in the market for one hell of a board I would easily recommend the EVGA Z77 FTW!