Ethereum Mining On The NVIDIA Titan V Graphics Card
By
Legit Reviews finally managed to pick up an NVIDIA TITAN V graphics card and have been putting it through a number of tests in recent days. NVIDIA says that this $2,999 graphics card is capable of reaching 110 teraflops of compute performance from its 21.1 billion transistors, 5120 CUDA cores and 12GB of HBM2 memory. The cryptocurency market is pretty brutal right now since there appears to be a major correction taking place, so we figured why not stick the TITAN V into the mines and see what it can do. We've heard some sites were able to get over 80 MH/s with the TITAN V when mining Ethereum, but most showed screen captures of mining for no more than two minutes. We've been mining 24/7 for over six months here at Legit Reviews and showing a know that it takes mining more than a minute to really see what something can do.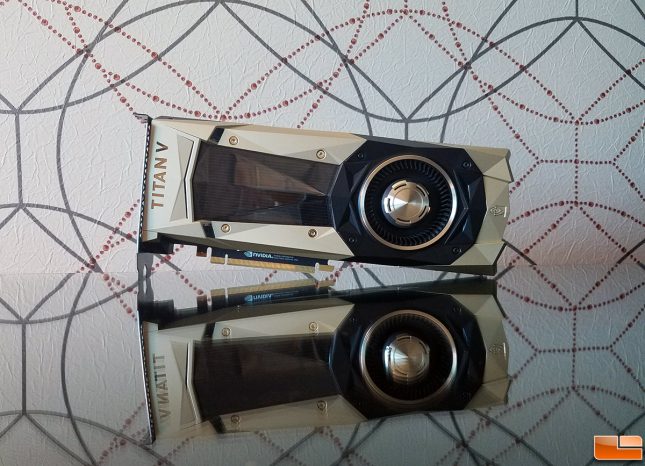 We built a new platform to mine on for this card and based it on the AMD Ryzen 3 1300X processor ($119.99 shipped) and MSI X370 Gaming Pro Carbon motherboard ($159.99 shipped). This is our first time building an AMD Ryzen platform to mine with and it came out just fine! We tried solo mining for a bit with the Titan V as the only card installed in the system and found that our retail card could overclock on the 12GB of HBM2 to about +125MHz in EVGA Precision X. If we overclocked just a little further than that we'd get the 'Miner thread hangs, need to restart miner!' error on Claymore and anything over 140 MHz would yield instant corruption and a locked up system.

So, out of the box the NVIDIA TITAN V was able to produce a hashrate of 68.5 MH/s on Claymore's Dual Ethereum AMD+NVIDIA GPU Miner v10.4 for Windows. A very impressive Ether mining hashrate and best of all we were pulling 208 Watts of power at the wall at load and 82.1 Watts at idle. So, when we were mining the system consuming under 126 Watts of additional power over the idle numbers! Amazing! When overclocked we were able to take the NVIDIA TITAN V up to 79 MH/s on average at 227 Watts with pretty good stability with the memory running +125 MHz over stock clocks (850 MHz).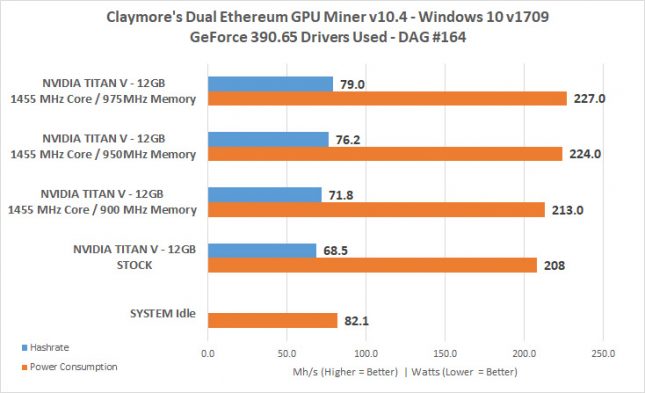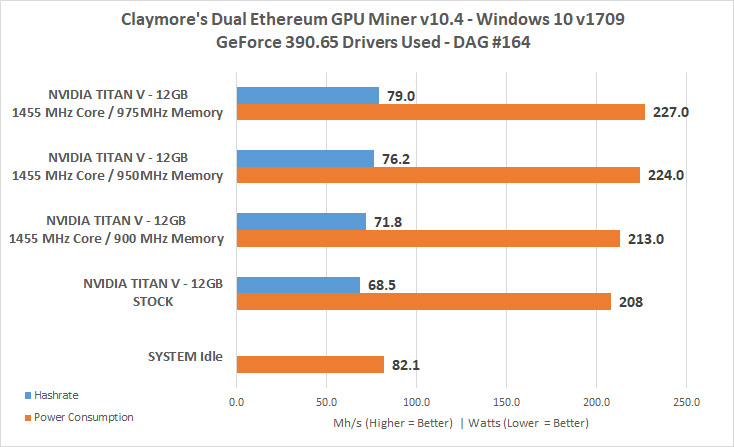 When you compare those scores to other high-end expensive desktop graphics cards you'll quickly discover that the NVIDIA TITAN V is in a class by itself. The NVIDIA TITAN Xp (Pascal GPU) gets 37.4 FPS out of the box, so jumping up to the first Volta GPU card and getting 68.5 MH/s is solid. The AMD Radeon Vega Frontier Edition runs $949.99 shipped and gets 36.5 MH/s in stock form and right at 42.5 MH/s when you run AMD's beta blockchain driver and do every trick in the book.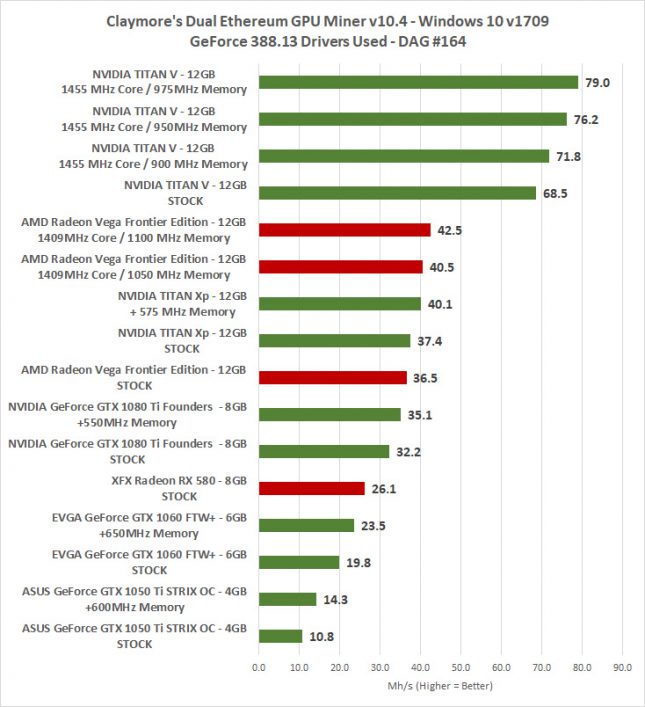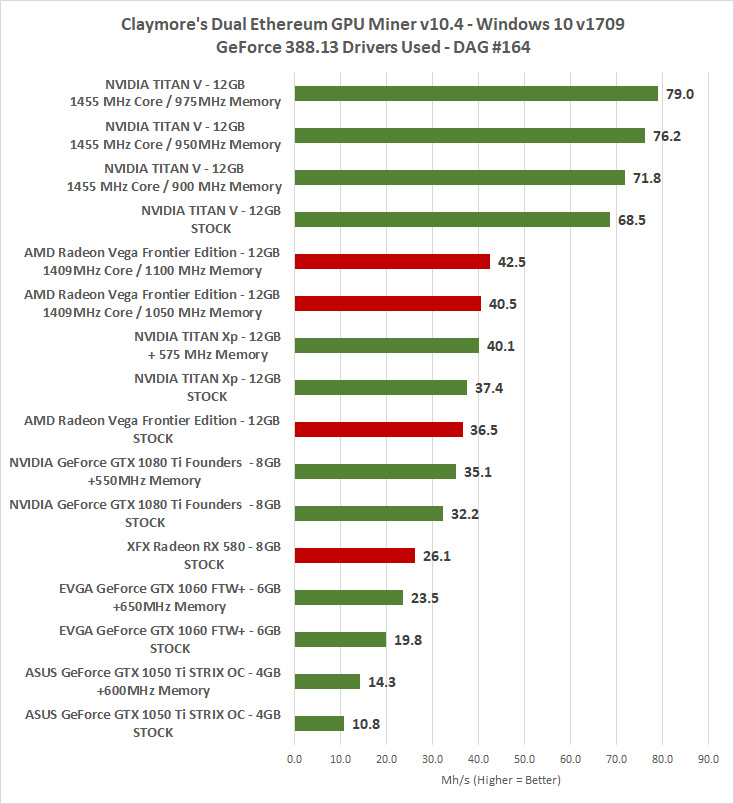 We've stuck two NVIDIA GeForce GTX 1060 6GB cards overclocked to +625 MHz memory cards into the system with the NVIDIA TITAN V overclocked to +75 MHz memory and we are getting roughly 120 MH/s from the three cards. Everything has been stable, but we did crank the fans up as the cards were getting hot on the open air test bench with no real air movement.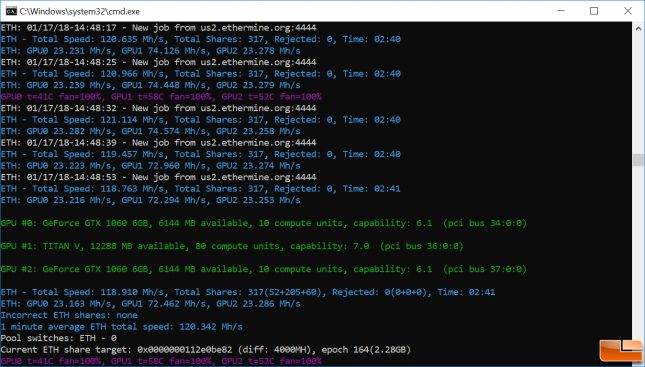 When it comes to raw performance the NVIDIA TITAN V is amazing, but at $2,999 shipped it would take years to get your money back by mining with this card. If you look at MyCryptoBuddy it shows that you'll never make a profit and that is with Ether (ETH) priced at $988 each. What is ever crazier is that this card is sold out at NVIDIA! Are folks buying those for gaming or cryptocurrency mining?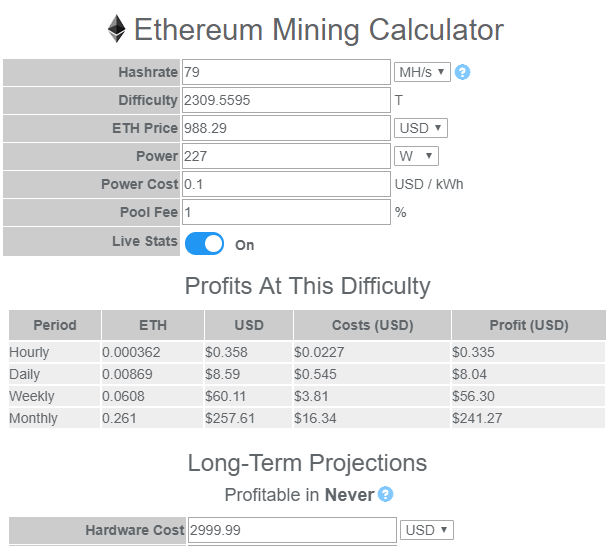 When it comes to mining Ethereum we are still big fans of the NVIDIA GeForce GTX 1060/1070 series cards (Starting at $259) as well as the AMD Radeon RX 480/580 series cards (Starting at $259). Those cards still offer the best bang for the buck and we've been running them here for many months without any issues.
Be sure to check out our previous coverage on Ethereum mining: