GeForce GTX 1070 Ethereum Mining – Small Tweaks For Great Hashrate and Low Power
By
If you are looking to get started Ethereum mining chances are you'll quickly discover the prized AMD Radeon RX 480 and Radeon RX 580 video cards are sold out most everywhere and finding them used is next to impossible. With Ethereum switching from proof-of-work (PoW) to proof-of-stake (PoS) and the quickly increasing ethereum block difficulty level it means that there was no better time to start mining than yesterday. Speaking of yesterday, the Ethereum Block Difficulty reached nearly 695 TH and that 24% more difficult than the 561 TH we started the month at! The mining difficulty will continue to increase over time and eventually Ethereum mining will be unprofitable and people will stop doing it. That is what people are calling the difficulty bomb and hopefully it is a non-issue for Ethereum as they have a PoS algorithm in development.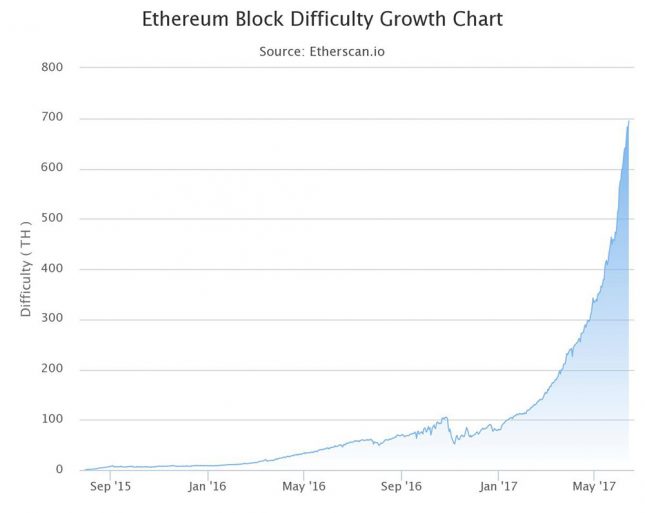 So, we are all mining Ethereum on borrowed time and rather than waiting on AMD Radeon RX 480/580 cards to come into stock you might want to look at some of the NVIDIA cards on the market. Last week we looked at more than a dozen AMD and NVIDIA graphics cards to see what the best GPU was for Ethereum mining. The NVIDIA GeForce GTX 1070 had really good hashrate performance with us showing 27 MH/s in stock form.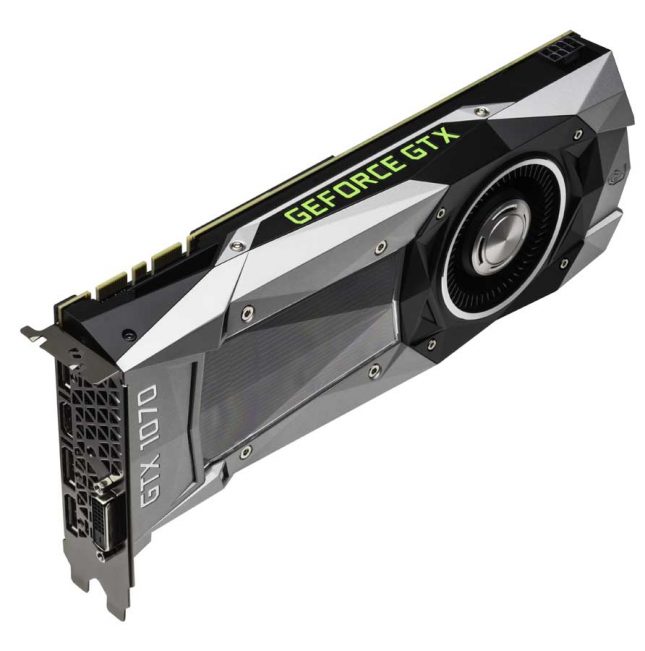 Since we published that article we've been mining 24/7 on the NVIDIA GeForce GTX 1070 8GB graphics card and have managed to dial it in for better performance. We've really found that this is a good card for mining and you can actually find them to purchase right now with prices starting at around $369.99. The price of 1 Ether (ETH) is currently $383.43, so with a hashing power of 27 MH/s you are looking at a profit of around $185 a month ($2,255) a year in stock form. If you pay $369.99 for a GeForce GTX 1070 and ETH pricing stays this level you'll have the card paid off right at 60 days. We also like this card because it has 8GB of memory and it looks like the DAG file for Ethereum will grow past 3Gb based of statistical calculations around the December 2017 or early January 2018 time frame. Once that happens cards with 3GB of memory won't be useful for Ethereum, so a 4GB or larger graphics card would be recommended.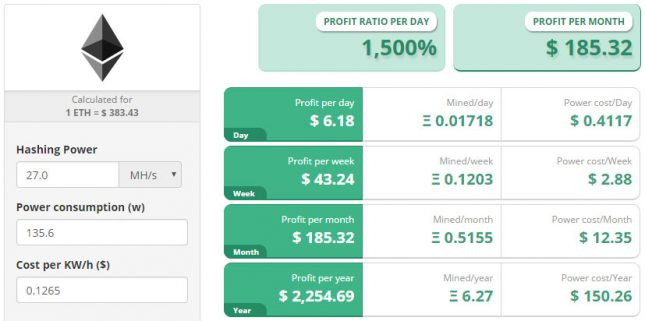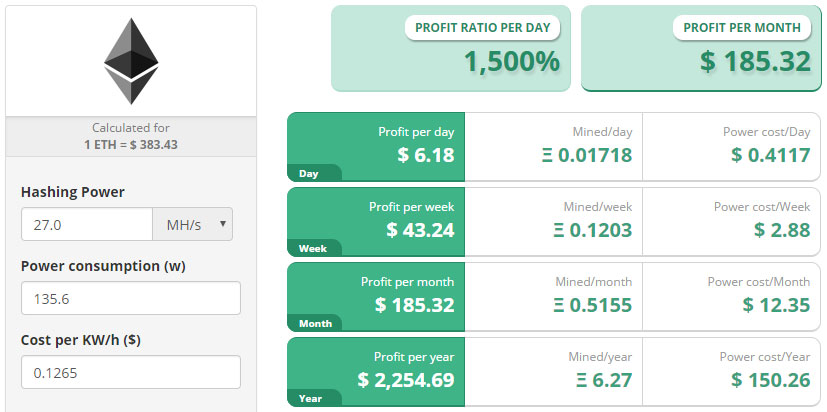 If you are thinking about getting an NVIDIA GeForce GTX 1070 8GB Founders Edition graphics card we'll share with you what we've learned on our card while mining on it the past couple weeks. We didn't build a crazy mining rig for 6-7 GPUs running off one board, but rather built up a modest system with an Intel Core i5-7500 quad-core processor with a 65W TDP running Windows 10 and tossed in the NVIDIA GeForce GTX 1070 8GB Founders Edition graphics card.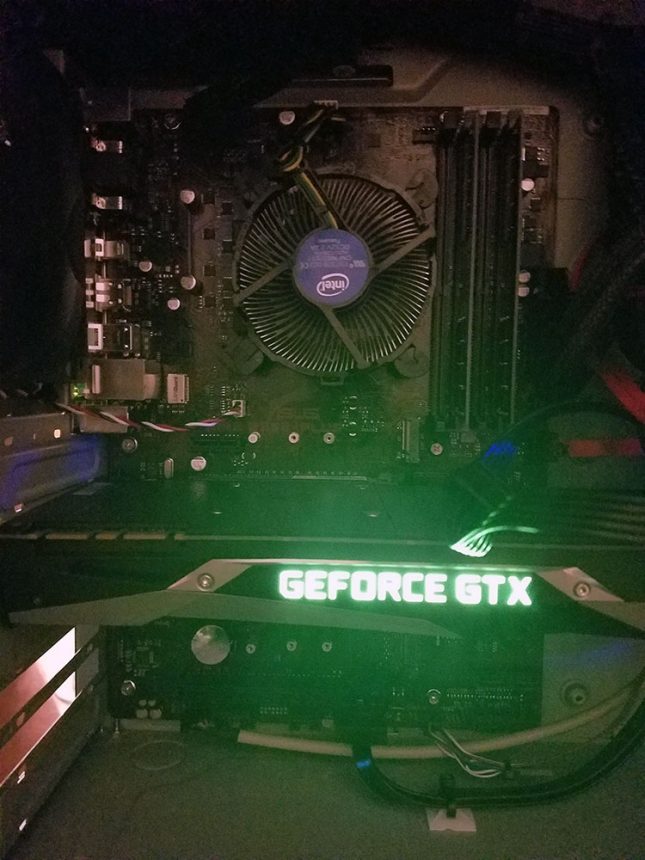 This PC build at idle was using just 25.4 Watts, so it's a pretty efficient system! Here are the exact hardware components that we are using on our test system:
Ethereum Mining Test Platform

Component

Brand/Model

Live Pricing

Processor
Intel Core i5-7500
Motherboard

ASUS PRIME B250-PLUS

Memory

16GB HyperX Fury

2400MHz DDR4

Video Card
GeForce GTX 1070
Hard Drive
WD Black 1TB
Cooling
Intel Stock HSF
Power Supply
Seasonic Prime 1000W
Case
InWin Z583
Operating System
Windows 10 64-bit
We then fired up Claymore's Dual Ethereum AMD+NVIDIA GPU Miner v9.5 to see how the GeForce GTX 1070 performs.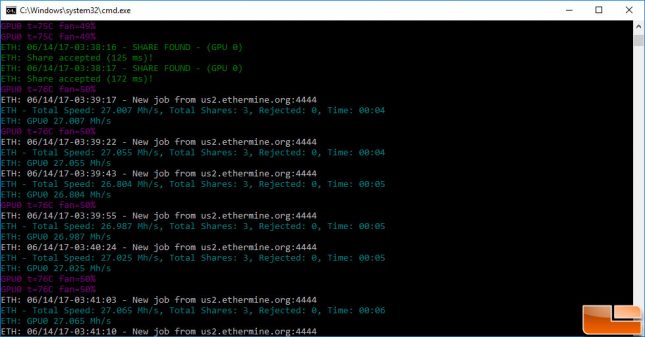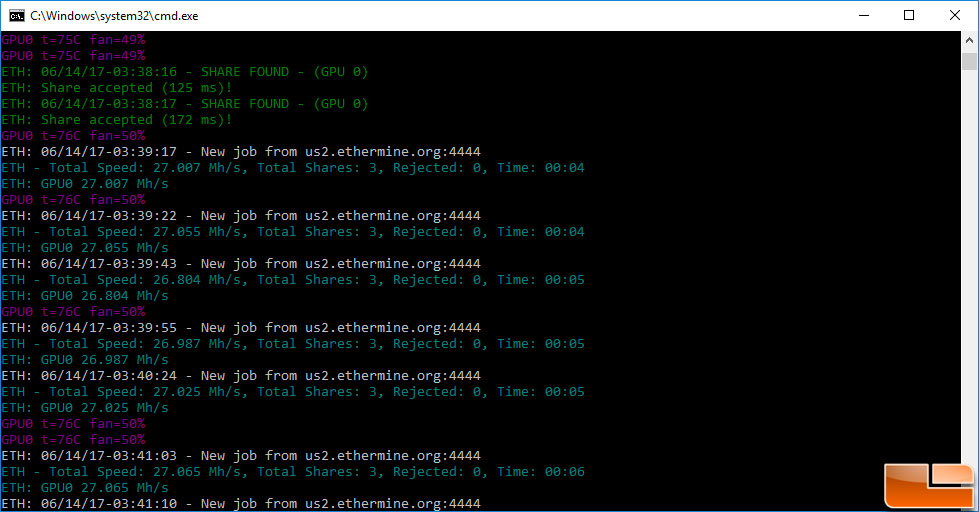 We used the EVGA Precision X OC utility to overclock the memory on the NVIDIA GeForce GTX 1070 video card and managed to get the hashrate up from 27.0 MH/s on average all the way up to 32.1 MH/s.
| | | | | | |
| --- | --- | --- | --- | --- | --- |
| Effective Memory Clock | System Power | Est. GPU Power | Temperature | Power Target | Hashrate |
| 8000 MHz | 161W | 135.6W | 76C | 100% | 27.0MH/s |
| 9100 MHz | 173W | 147.6W | 80C | 100% | 30.MH/s |
| 9300 MHz | 176W | 150.6W | 83C | 100% | 31.5MH/s |
| 9500 MHz | 176W | 150.6W | 83C | 100% | 32.1 MH/s |
The only problem is that with the 8GB of GDDR5 memory on the GeForce GTX 1070 overclocked up to 9500 MHz effective is that the system wasn't fully stable,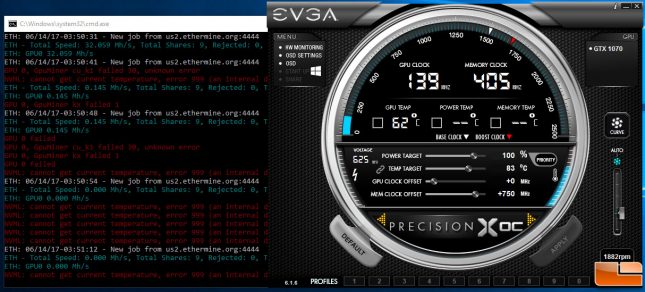 We ended up going back to a memory clock offset of +650 MHz, which puts the GDDR5 effective clock back at 650MHz and then lowered the cards power target to see how efficient we could be at mining and to lower the GPU temperature to ensure the longevity of card.
| | | | | | |
| --- | --- | --- | --- | --- | --- |
| Effective Memory Clock | System Power | Est. GPU Power | Temperature | Power Target | Hashrate |
| 9300 MHz | 176W | 150.6W | 83C | 100% | 31.5MH/s |
| 9300 MHz | 136W | 110.6W | 68C | 70% | 31.2MH/s |
| 9300 MHz | 129W | 103.6W | 66C | 65% | 30.9MH/s |
By lowering the power target from 100% to 70% we managed to drop the systems power consumption at the wall by exactly 40 Watts, which is a 23% reduction in power consumption. This also dropped GPU temperature from 83C to 66C! The hashrate was a slightly lower, but not too much. We tried to lower the power target down to 65% and while the GeForce GTX 1070 was stable it lowered our hashrate again. If you are going to mine Ethereum you'll need to dial in your card to where you like it it be as each card will be different.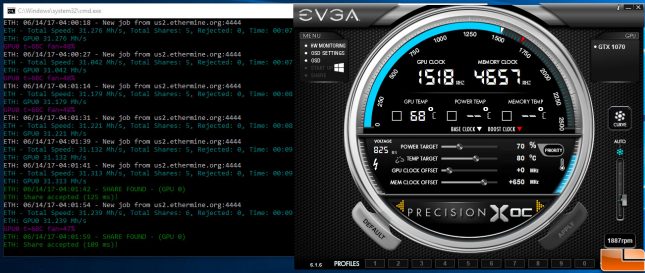 What did this accomplish? In, stock form the NVIDIA GeForce GTX 1070 Founders Edition had a hashing power of 27 MH/s. When you plug that into a profit calculator you are looking at a profit of around $185 a month or $2,255 a year. By overclocking the memory and lowering the power target we were able to improve the hashrate, lower power consumption, reduce the GPU temperature and have the fans running at a lower speed for a much quieter system. This improved hashrate means that we have the potential to make around $218 a month or $2,666 per year. That is an extra $411 a year and it means you'll have your card paid off in about 51 days instead of 60 days! Buy two of these cards and place it in this system and you are looking at making over $5,000 a year in extra income!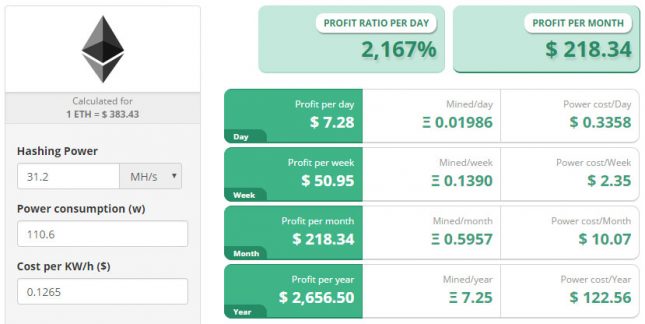 The lowest priced card we could find is the ASUS GeForce GTX 1070 8GB and it is available for $399.99 with a $30 rebate, so $369.99 shipped. You can also find other GeForce GTX 1070 models to purchase right now that cost more, so get the card you want. If you are a gamer and can't afford a GeForce GTX 1070 this might be an opportunity to get a 'free' GeForce GTX 1070. If you can mine for a couple months 24/7 you should be able to mine a coin and pay off the card. You can stop mining and game on it or keep going and make a profit with it. Or you can go crazy and buy 7 of them and make an extra $18,500 a year if prices and difficulties were to remain the same as they are now!
Ethereum Mining on a Gaming Laptop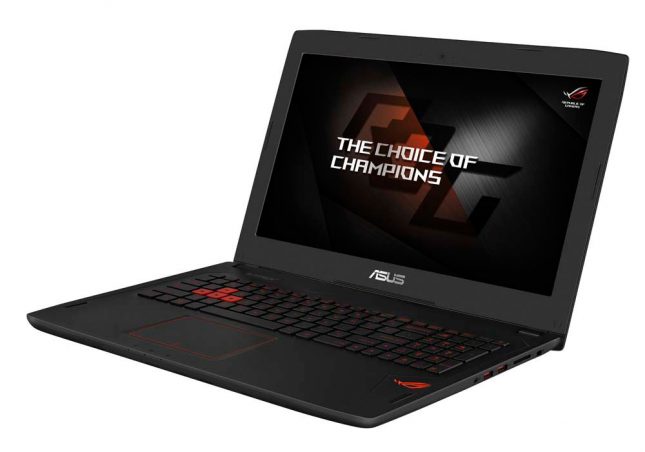 Can you mine ethereum on a gaming laptop with a GeForce GTX 1070 graphics card? Yes, you sure can! We happen to have the ASUS ROG Strix GL502 Gaming Notebook (Model GL502VS-DB71) with the GeForce GTX 1070 in it as well and used it to mine some Ethereum as well.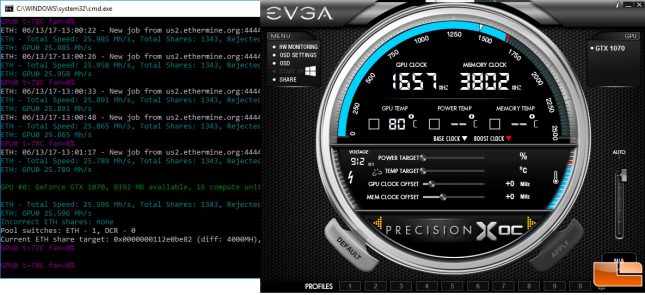 The system was averaging around 25.8 MH/s and was consuming 147 Watts at the wall with the display turned off. We opened up EVGA Precision X OC and you can overclock the memory, but you can't lower the power target or adjust the fan speed.
We hope this helps those that are looking for current information on the NVIDIA GeForce GTX 1070 series and mining Ether! Good luck finding a GeForce GTX 1070 to purchase right now and we highly suggest picking up a Kill-A-Watt P3 P4400 power usage monitor to help you dial in all your systems for maximum efficiency! Let us know if you have any questions in the comments below!
6/16/2017 Update – We have now have an article posted on GeForce GTX 1060 mining for those that are interested in how that model does.
Be sure to check out our previous coverage on Ethereum mining: