Ethereum Hashrate Performance Drop Might Be Coming – AMD and NVIDIA GPUs Tested
By
If you are mining Ethereum you might have noticed that your hashrate recently dropped if you are using AMD Radeon RX 400/500 series cards. Seeing your mining hashrate drop is nothing new for Ether miners and it is usually due to the growing DAG (directed acyclic graph) file size. The Ethereum DAG is a key component for the proof of work algorithm and is generated for each epoch at around every 30,000 blocks. Back on June 1st, 2017 we were mining on DAG epoch #126 and three weeks later we have already moved onto DAG epoch #130. When the move to DAG epoch #130 happened it seems that the AMD Radeon 400/500 series cards took a performance hit while the NVIDIA GeForce GTX 1000 series cards and older AMD Radeon 200/300 series cards did not.
The bad news is that the AMD Radeon RX 470/480 as well as the Radeon RX 570/580 cards took the biggest performance hit. These cards use the AMD Polaris GPU and over the past several days the community has tried to find ways to overcome the Polaris hashrate drop that recently happened. Claymore's Dual Ethereum AMD+NVIDIA GPU Miner is one of the most popular miners out there and it appears that Claymore can't 'fix' the hashrate drop on the 'miner software level' according to a recent post.
"I see the speed drop. I checked possible workarounds, at least for Polaris, they failed. So probably this hashrate drop cannot be fixed, at least on miner software level." – Claymore
We've reached out to AMD and shared some of our benchmark data and hope to they are looking into this issue as well. Chances are they are looking into a solution at the driver level! While we wait for AMD's response we fired up Claymore's Dual Ethereum AMD+NVIDIA GPU Miner v9.5 and test seven AMD and NVIDIA graphics cards to see how the perform on future DAG epoch numbers. We did this by running Claymore's miner in benchmark mode to check the hashrate on our GPUs on future epoch numbers. You can try this out yourself by specifying "-benchmark x" where x is the epoch that you'd like to run.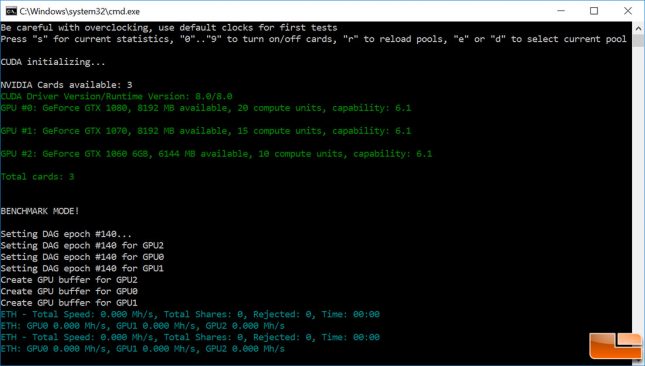 We tested DAG epoch 130, 140, 150, 170 and 199 on the NVIDIA GeForce GTX 1060/1070/1080 'Pascal' GPUs as well as on the AMD Radeon RX 470/480/580 'Polaris' GPUs and then the AMD Radeon R9 Nano 'Fiji' GPU.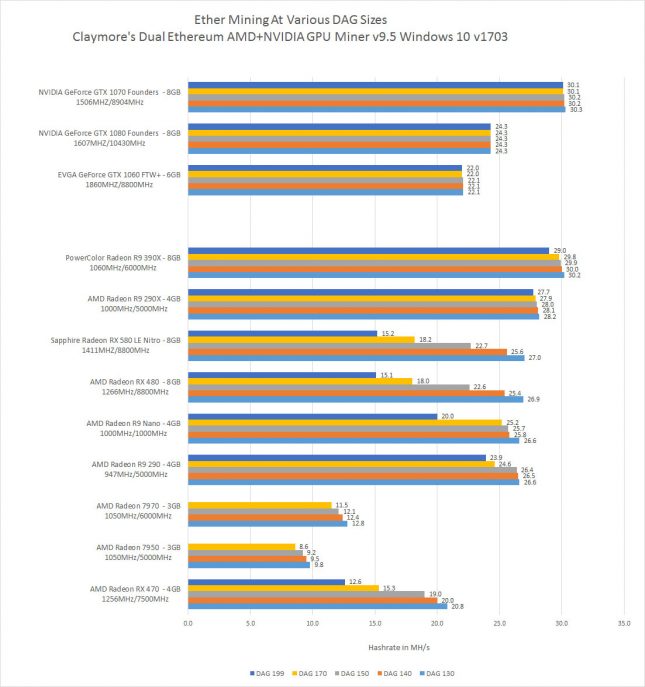 The results were pretty startling to be honest. The NVIDIA GeForce GTX 1060/1070/1080 hashrate barely budged in our performance testing, so NVIDIA card owners or those that have one ordered should be happy. The AMD Radeon RX 400/500 card owners won't be too happy to see what the benchmark shows will happen. The hashrate on the AMD Radeon RX 580 that we are testing is 27.0 MH/s currently and that will drop down to 25.6 MH/s by DAG epoch #140 and then 22.7 MH/s at DAG epoch #150. This is around a 16% performance drop in the hashrate in the next 90 days assuming the Ethash DAG changes every 4.5 days.
If you look way out into the future you can see fairly large hashrate drops by the time you get to DAG epoch 170 and 199, but we wouldn't freak out just yet. The AMD Radeon R9 Nano with the 'Fiji' GPU has some small gradual performance decreases up until DAG epoch 170, but takes a performance hit around DAG 199.
AMD might be able to work some magic on the driver side. AMD and NVIDIA are both rumored to be working on bringing dedicated mining GPUs to market here soon, so now that they are spending money to focus on miners we can likely assume that driver support will be improving. If a magic driver fix is not possible get ready to see people selling Radeon RX 400/500 series cards and switching to GeForce GTX 1060 and GeForce GTX 1070 models!
Other GPU Stories on Ethereum Mining on Legit Reviews:
GeForce GTX 1070 Ethereum Mining – Small Tweaks For Great Hashrate and Low Power