ECS Z170 Claymore Motherboard Review
By
General Performance Testing
Testing the ECS Z170 Claymore general performance we will take a look at several benchmarks that evaluate the system from a memory and CPU viewpoint. The GPU is taken into account for these scores, however it is not a key factor in these tests.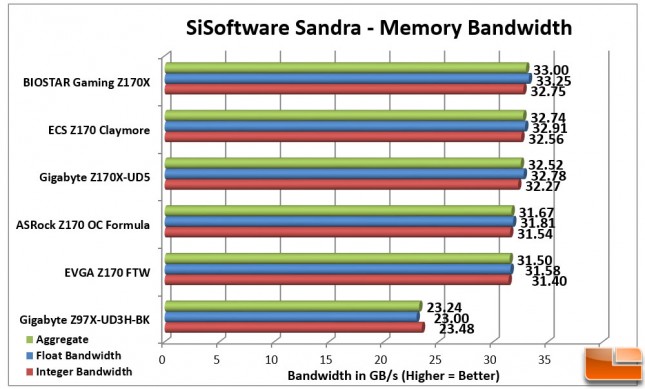 The ECS Z170 Claymore handled the Kingston Fury DDR4 memory kit without any issues. We did not need to do any fine tuning of the timings or speed, the motherboard automatically ran the kit at it's rated speed of 2666MHz with 15-17-17-35-2T timings. Unfortunately, that was the best that the ECS Z170 Claymore could do, any attempt at speeding up the memory failed.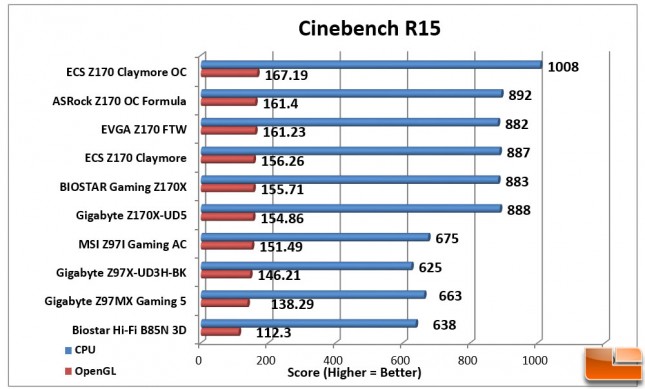 Cinebench R15 focus's on the CPU and GPU performance for rendering various scenes. The ECS Z170 Claymore performed on par with what we have come to expect of the Intel i7-6700K and Z170 combination. When we overclocked the system, the OpenGL score increased 7%, which by itself isn't too bad, however we have seen better increases. The CPU score however, increased almost double that to 13.6%! Now that is a good performance gain from the overclock.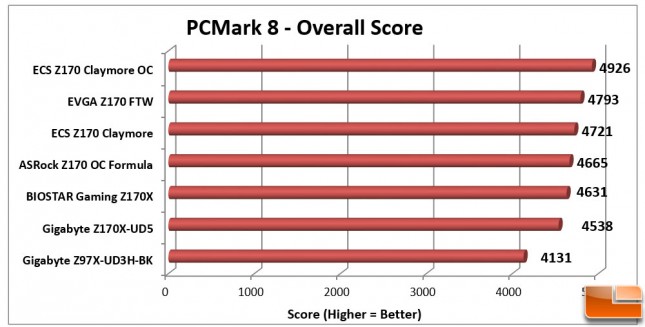 The PCMark Home Advanced benchmark tests the system against tasks a typical home user might perform, these include basic typing, web browsing, video conferencing and casual gaming. PCMark gave the ECS Z170 Claymore an overall score of 4721 at 4.0GHz, which is a slightly above average score, with it scoring close to 4% above the lowest scoring Z170 motherboard.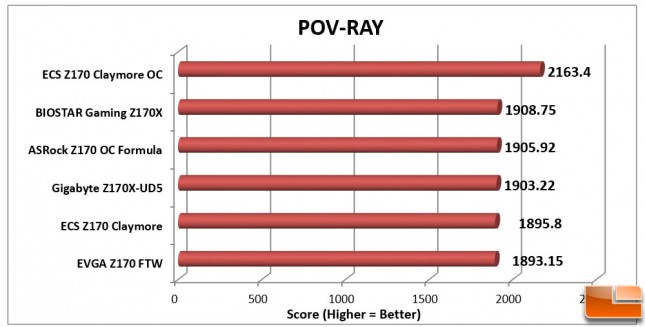 POV-RAY's main focus is how well the CPU performs. As such, at stock speeds, the ECS Z170 Claymore received an average score, which is what we would expect. Since the focus is on the CPU performance, the overclocked Z170 Claymore, received a 14% boost in performance compared to it's 4.0GHz test.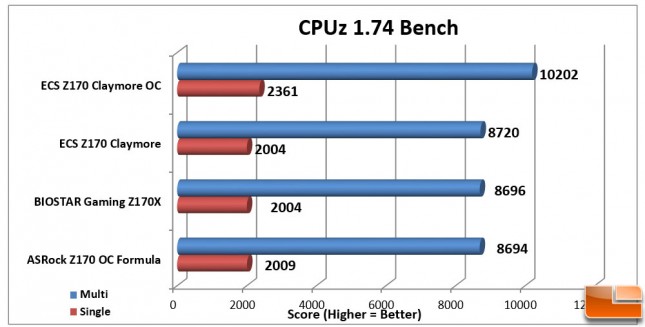 CPUz is still refining their new benchmark utility, and with CPUz 1.74 the results from the previous version (1.73) is no longer valid. At base clock speeds, there was less than 1% variance between the three Z170 motherboards. Of course, once we tested the ECS Z170 Claymore at 4.7GHz, we received nearly 17% increase in scores.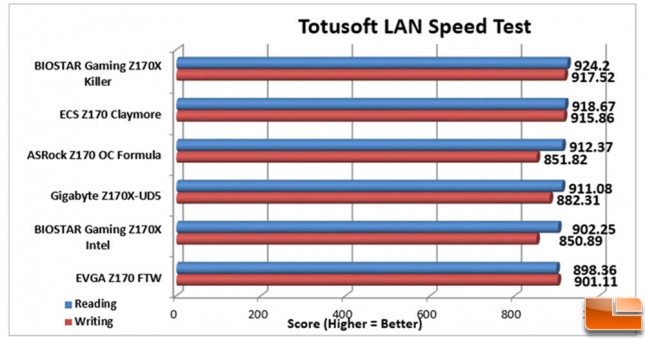 Without testing any special traffic shaping features of the Realtek DRAGON LAN Chip 8118AS, it performed slightly better than the Z170 motherboards running the Intel LAN, but slightly less than the Killer NIC based Z170. With that, one of the key features of the Dragon LAN Chip is that it automatically detects a wide range of online game packets to give them priority processing.
Legit Bottom Line: Overall, the performance of the ECS Z170 Claymore met our expectations. It's performance matched what we have seen with more expensive motherboards.